The Institut de recherche Robert-Sauvé en santé et en sécurité du travail (IRSST) in Montreal...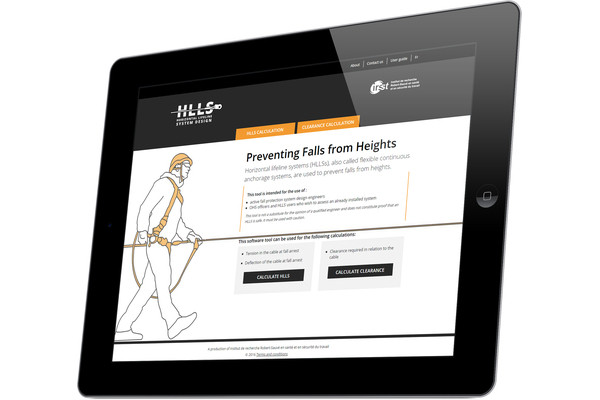 The Institut de recherche Robert-Sauvé en santé et en sécurité du travail (IRSST) in Montreal has updated its technical guide Protecting Against Falls from Heights – Horizontal Lifeline Design and launched a related mobile app.
This new version of the guide reflects amendments made to the Quebec Safety Code for the Construction Industry that require a lanyard, which connects a worker's safety harness to the anchoring system, to be equipped with an energy absorber.
It proposes a new analytical method for designing horizontal lifeline systems, which was put through 42 dynamic tests of falls from heights to study the influence of a number of parameters (span, anchorage flexibility, cable diameter and deflection) on horizontal lifelines, as well as through digital simulations and double validation.
The app can be used to design horizontal lifeline systems, also called flexible continuous anchorage systems. The new tool offers a user-friendly way to calculate cable tension and deflection for fall arrest purposes, as well as the clearance required in relation to the cable. The app can also be used by prevention officers to check the compliance of an existing system, but it does not replace the expert opinion of an engineer, IRSST says.
"Even though under Quebec regulations, workers exposed to a risk of falling 3 metres or more must be secured, around 6,000 falls from heights occur every year in Quebec, and many of them are fatal. The guide and application will help engineers test the validity of their systems or certain working assumptions at the pre-design or design stages or in the field," says Bertrand Galy, an IRSST researcher and co-developer of the app.
"Prevention officers and (OHS) inspectors will also be able to use the guide and app to pre-validate installations. These resources could also be used in fall prevention training sessions."