Honeywell is working to protect people returning to work and public places with individual personal protective equipment (PPE) kits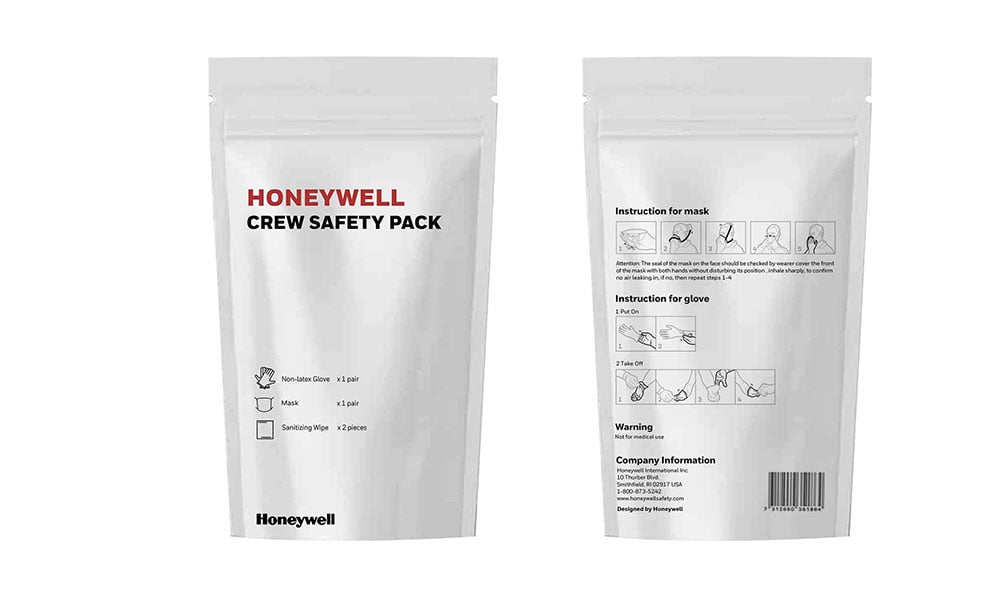 The kits — which come in sealed packets containing gloves, masks and hand wipes — are a part of Honeywell's efforts to help protect people as they return to public spaces and workplaces. These efforts include new technology to detect elevated body temperature, monitor air quality in buildings and determine if people in large groups are social distancing properly. Beyond use for air travel, the Honeywell Safety Packs will also be available for use in office buildings, warehouses, retail stores, sports arenas, schools and other public spaces.
"We strive to provide airlines with products and systems that help keep their passengers and employees safer," said Mike Madsen, president and CEO, Honeywell Aerospace. "That goal of making safety simple and accessible remains the same, but the solution has evolved. Through collaboration with other Honeywell businesses, we acted quickly to develop a brand-new solution for aircraft hygiene."
A recent informal survey conducted by Honeywell found that frequent flyers would like PPE, and that an array of solutions will help give them peace of mind to travel again.
"Health and safety are at the core of everything we do at Honeywell, and we're bringing new solutions to the market that build on our long legacy of safety innovation," said Will Lange, president of Honeywell's personal protective equipment business. "From body temperature monitoring systems powered by artificial intelligence to N95 face masks, we're helping improve safety for workers and workplaces."
Honeywell offers two versions of the safety packs for air travel: one for passengers and one for the flight crew. The passenger version is designed for single use and contains latex-free gloves, a safety mask and hand wipes. Kits for crews and airline employees are available for single or longer-term use, with an option for a reusable version that has a mask with interchangeable filters, reusable safety glasses and hand wipes.
Both versions of the safety kits come in resealable bags for easy transportation and are available for airline, cargo and business aviation aircraft. The kits' packaging can also be branded by the airline