​The summer heat may seem like a welcome respite to many. But for those making their living...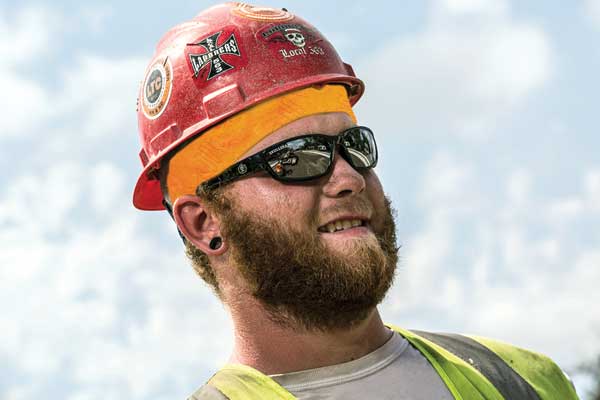 The summer heat may seem like a welcome respite to many. But for those making their living in the elements (and high-temperature indoor environments), the summer heat offers no break from on-the-job hazards.
In its continued effort to curb heat-related workplace injuries, Ergodyne has announced an expansion of its industry-leading line of Chill-Its cooling solutions, offering more worker-preferred options than ever to help mitigate the effects of working in the heat.
The new additions to the Chill-Its line includes a dew rag with Hi Cool performance fabric, moisture-wicking and quick-drying properties. It is comfortable to wear under hats, helmets or alone. The line also includes bandanas, a triangle hat, headband and cap.
The Chill-Its 6485 Multi-Band is a "work and weekend favourite," Ergodyne said in a release, and is now available in hi-vis orange. A supremely versatile all-season solution with many uses, the multi-band blocks wind, sun and dust and is moisture-wicking and quick-drying with a stretch fabric.
"Our Chill-Its cooling products have always lived up to their name and provided relief to workers in hot environments," said Alsie Nelson, product manager, Ergodyne. "And by giving workers the widest selection of cooling solutions available, they can be sure to find the right solution to match their specific job demands and personal preferences."
Of course the dangers of heat stress go beyond the job site to athletics, weekend recreation and everyday life. And the same things that make Chill-Its cooling products a favourite on the job have made them desirable for those looking to beat the heat off the clock, too.
"Our Chill-Its line of cooling innovations has found an enthusiastic audience beyond the job site," said Tom Votel, president and CEO, Ergodyne. "And in fact, it's something we strive for, because in the end, a safety risk is a safety risk, whether it's a construction site or your own backyard."
This product write-up originally appeared in the April/May 2018 issue of COS.