Radians' newest collection includes new hearing, eyewear and high visibility safety products...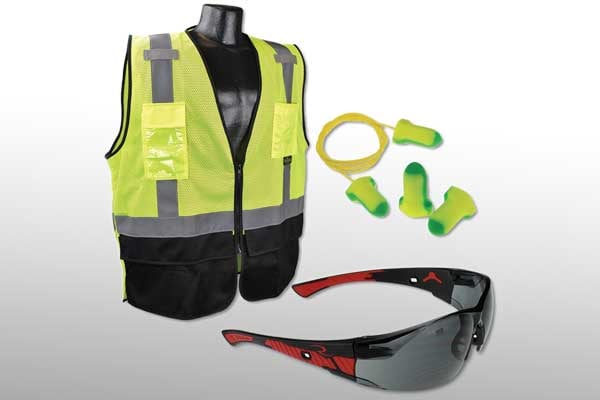 Radians' newest collection includes new hearing, eyewear and high visibility safety products that rally to multi-coloured trends in the safety industry.
"Many people underestimate the power that style and colour have in the industrial workforce," said Chris O' Donnell, Radians' hearing and eyewear product manager. "Style helps drive compliance and you can't have protection without compliance. Workers want safety gear that makes them feel and look good."
Radians new Deterrent multi-colour foam earplugs offer outstanding hearing protection with an NRR32 rating. The green and yellow multi-colour pattern makes them fun to wear. Tested according to ANSI specs S3.19, Deterrent features soft, slow-recovery foam for a low-pressure, comfortable fit in virtually any size of ear canal. They are available uncorded and corded in individual polybags and in bulk and case packaging for sustainability in large workforces.
If there is a protection category that lends itself to self-expression, safety eyewear takes the lead. Radians new Obliterator has an athletic look with moulded red and black temples. The lightweight frame has an adjustable rubber nose piece that is comfortable, while providing a no-slip fit. Available in several lens colours, Obliterator meets ANSI Z87.1 standards and provides 99.9 per cent UVA/UVB protection. Obliterator IQ is also available with anti-fog technology, removable foam-lining and an adjustable head strap.
Another trend in the safety industry is high visibility apparel designed with black colour-blocking that helps conceal signs of a dirty work environment without compromising a worker's visibility. High visibility apparel with colour-blocking is an excellent choice for surveyors, engineers and construction staff who need to present a professional image at the job site.
Radians' new SV7B Surveyor Type R Class 2 Safety Vest with black colour-blocking projects a professional image, offers high visibility protection, and maintains its job site functionality with two mic tabs, a zipper closure, a rear plan pocket, radio pocket, split pencil pocket and lower front pockets.