Draeger has introduced the X-plore 8000, a new powered air-purifying respirator...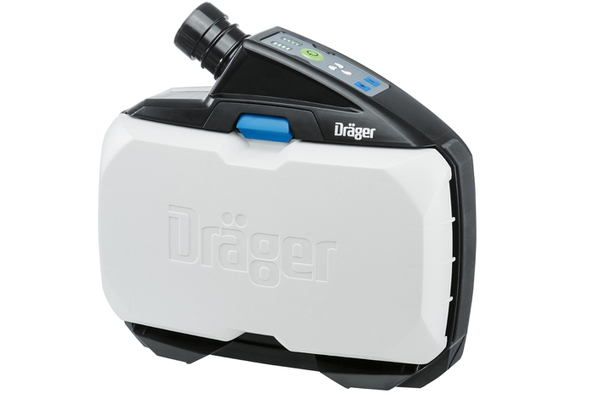 Draeger has introduced the X-plore 8000, a new powered air-purifying respirator (PAPR) with NIOSH approval. The X-plore 8000 combines intuitive handling with intelligent electronics to maximize work site safety by allowing users to fully focus on the task at hand, said the manufacturer. It provides protection that helps facilitate both efficient and accurate performance.

Many of today's workplace environments place high demands on workers' respiratory equipment, requiring devices to withstand the harshest of conditions. The X-plore 8000 features a heavy-duty design that also includes rubber protectors to make the unit more robust against mechanical impact, while the splashguard lid protects the filter from environmental damage. It's also equipped with a choice of standard or high capacity rechargeable batteries incorporating the latest Li-ion technology to deliver power for a minimum of four or eight hours, respectively.

To support workers' daily routines, the X-plore 8000's design affords considerable security and comfort. An advanced carrying system ensures ideal weight distribution and a special adaptor plate provides a stable connection between the unit and the belt. A comfort pad is also available as an optional accessory. Traeger says the new series of short and long hoods are made with lightweight, low noise materials and together with guided air inlets for comfortable cooling, promote continued user wearability, making them ideal for long periods of use without sacrificing comfort or safety.

"Understanding every workplace has unique conditions, the rugged design of the X-plore 8000 was engineered to meet and exceed those challenges," said Paula Varsamis, product portfolio manager, breathing protection at Draeger. "Its intuitive operation allows users to focus on the task at hand, while remaining confident in the X-plore 8000's capabilities."

In addition to the optical and acoustical alarm, the unit is also equipped with a vibration alarm. The alarms alert the user if the rechargeable battery charge level is low, if there are obstructions in the airflow or if the filter is missing or blocked. While the unit automatically selects the correct minimum flow rate and displays the saturation of the particle filter at all times, an optical sensor adds an additional safety layer, preventing use without a filter. The entire system features error-proof hose connectors and uniform colour codes on all exchangeable elements.

Low maintenance leads to low operating costs. The X-plore 8000 facilitates fast and easy disassembly for cleaning, while its self-adjustment and self-check systems feature advanced temperature and pressure sensor technology to ensure the right flow rate for any application. The simple and efficient charging system allows rapid charging (under four hours for an empty rechargeable battery).
The X-plore 8000 offers a number of user-friendly and customizable solutions. A variety of carrying systems, headgear, hoses and filters, components and accessories can be combined to best fit the user's application. And system upgrades are possible at any time.

www.draeger.com