Real-time visibility on workers' readiness for safe work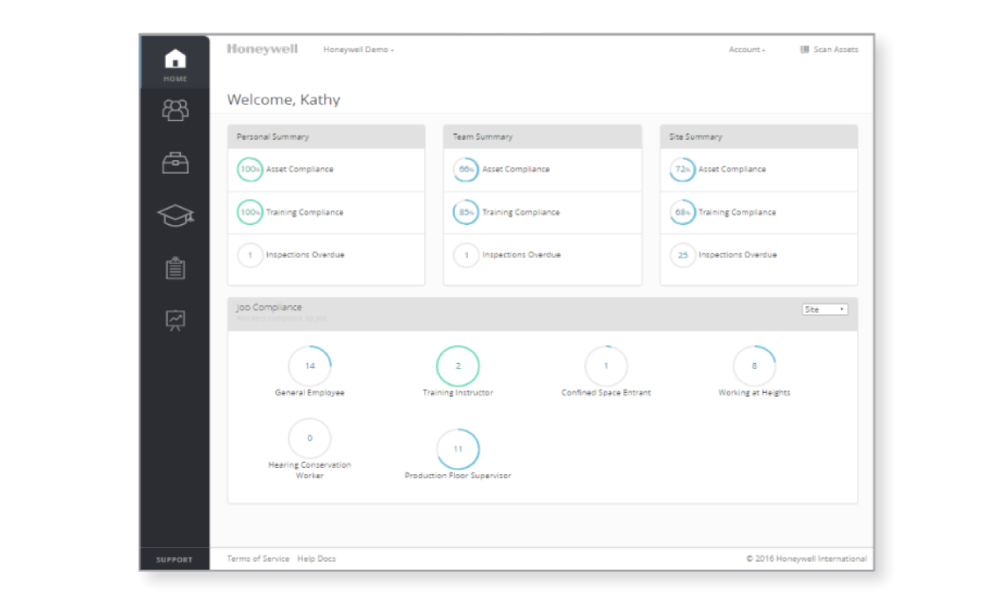 Safety managers, especially those in high-risk industries, need to ensure that workers comply with government regulation and corporate-issued safety policies. As part of this compliance, workers need to have equipment that has been inspected for safety and training that certifies them to complete certain tasks.
However, many safety managers have an ad-hoc approach to compliance administration, involving a mix of paper-based systems, databases and mammoth spreadsheets, which can put the visibility, accuracy and reliability of safety data at risk. These ad-hoc compliance systems also hamper productivity. Safety managers may spend more than 50 per cent of their time – in some cases all of their time – collecting, analyzing and reporting compliance information.
Honeywell Safety Suite Worker Compliance is a cloud-based solution for managing safety compliance. The solution is part of Honeywell Safety Suite, a software-as-a-service (SaaS) platform.
This software application monitors workers' exposure to gas, weather, and physiological conditions in real-time. It also relays data from your fleet of wireless monitors to a centralized system for a comprehensive view of worker safety.
Worker Compliance combines data about equipment safety and worker training into one centralized online interface, providing real-time visibility on workers' readiness for a job. This visibility includes an inventory of a company's personal protective equipment (PPE) and other assets – along with the compliance status of each piece of equipment, the worker assigned to it and the worker's training status.
Using the software on a desktop computer or mobile device, safety managers can:
assess compliance, quickly determine whether PPE and other equipment have been inspected and are compliant with safety requirements
assign equipment, designate PPE and other equipment for certain workers
automate training administration, assign training to workers, automate registration and quickly see whether workers are compliant with training requirements
manage ongoing equipment inspections and safety observations
input data and create a centralized audit trail for compliance – for every asset and worker