myComply has expanded its ability to reduce risk on construction job sites...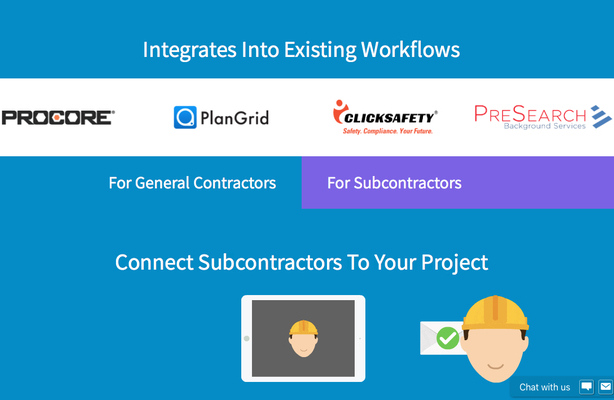 myComply has expanded its ability to reduce risk on construction job sites by seamlessly integrating PreSearch and ClickSafety capabilities into its mobile and cloud-based solution. PreSearch delivers the industry's leading background screening services through simplified processes and affordable options for employers and workers. ClickSafety makes safety training accessible to all in the most convenient and affordable way possible, said myComply.
"Our partnership with ClickSafety allows workers to obtain world-class training in an online classroom setting where they can learn at their own pace. Users now have the ability to both access and verify training through our solution," said Lee Evans, co-founder and CEO of myComply. "Plus, with the integration of PreSearch, general contractors can now also easily perform background screening on new employees and provide records on request."
ClickSafety offers popular construction safety training courses through an online classroom setting. Through the integration with myComply, construction workers can peruse the ClickSafety course library via a convenient portal, and sign up for any of the available training courses. Once a course is completed, the certificate will automatically be displayed on the worker's myComply profile.
PreSearch delivers industry leading background screening services through simplified processes, clear reporting, and flexible pricing options. Recognizing that every organization is different, PreSearch does not require users to sign up for a set number of searches to get the best price. Screening options are structured so that users pay for what they need, without signup fees or member costs. Users of myComply can access PreSearch directly from the solution for direction on how to easily and affordably perform background checks on employees, if required.
"This expansion of myComply's capabilities ensures users can seamlessly access safety training and improve overall site security from within a single solution, making it more convenient, easy-to-use, and affordable," said Evans.
myComply uses mobile technology and a cloud-based service to centrally manage and verify safety certification and training requirements, while enabling project permit holders to easily access the necessary information for all workers on a job site. Designed specifically for the construction industry, myComply also works offline, ensuring it can be used in remote locations that may not have access to cellular service.