Iris Technologies, a Canadian assistive technology start-up, is offering...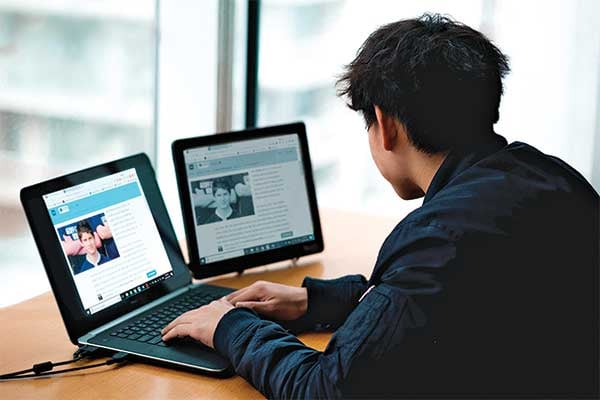 Iris Technologies, a Canadian assistive technology start-up, is offering concussion patients a faster road back to work and the classroom. With the launch of their flagship product, the Iris Monitor, they offer the world's first computer monitor clinically proven to help concussion patients reduce the painful symptoms of light sensitivity when using a computer.
Co-founders Conor Ross and Colin Harding, graduates of Queen's University in Kingston, Ont., are passionate about making a difference in the lives of concussion patients.
"When my brother suffered a concussion two years ago, painful light sensitivity kept him out of school and away from his friends for a long time, which made him feel isolated. Ever since then, we have been committed to developing assistive technologies to help concussion patients regain control of their lives and reconnect with society," said Ross.
The Iris Monitor features a unique 13.3-inch e-paper screen, which uses magnetized polymer to create shapes on the display, as opposed to the light modulating liquid crystals of a typical liquid crystal display (LCD) computer screen. By adapting current monitor technology, the Iris Monitor features a screen that is not constantly refreshing and is not backlit. For post-concussion syndrome sufferers, symptoms triggered by light and motion are significantly reduced. This allows users to reintroduce daily computer tasks and increase their level of productivity.
With an overwhelming one in five Canadians affected by sport-related concussion injury and 1.5 million currently living with a brain injury, the inability of many concussion patients to return to work is costing patients, businesses and insurers significant financial losses.
"My most painful concussion symptom to date has been severe sensitivity to light, which made using my computer next to impossible," said David Goldband, vice-president at Grant Thornton, a Toronto-based accounting firm. "Not only has the Iris Monitor allowed me to use my computer again and get back to work much sooner, it helped me reconnect with my friends and family online."
In a recent clinical trial, the Iris Monitor enabled concussion patients to use their computers longer, with a significant reduction in the often-painful symptoms caused by the light sensitivity typically triggered by LCD screens.
"Computer screen intolerance due to light sensitivity occurs in up to 43 per cent of individuals facing ongoing symptoms after a concussion. In severe cases, painful symptoms such as photophobia and light sensitivity can last several years or even permanently," said Charles Tator, neurosurgeon and director of the Canadian Concussion Centre at Toronto Western Hospital, who led the clinical study of the Iris Monitor. "Clinical study participants who used the monitor reported fewer exacerbated symptoms, an increased ability to focus and that the screen was easier on the eyes."
Iris Technologies is already seeing positive interest and demand for the Iris Monitor. Some of the company's customers include: Yale University, the University of Toronto, Bloorview School Authority, Appleby College, IBM, Grant Thornton, the Government of Ontario, an insurance company and a selection of human resources departments and occupational therapy clinics.
This article originally appeared in the August/September 2018 issue of COS.