Deaths of four workers 42 years ago serves as a safety reminder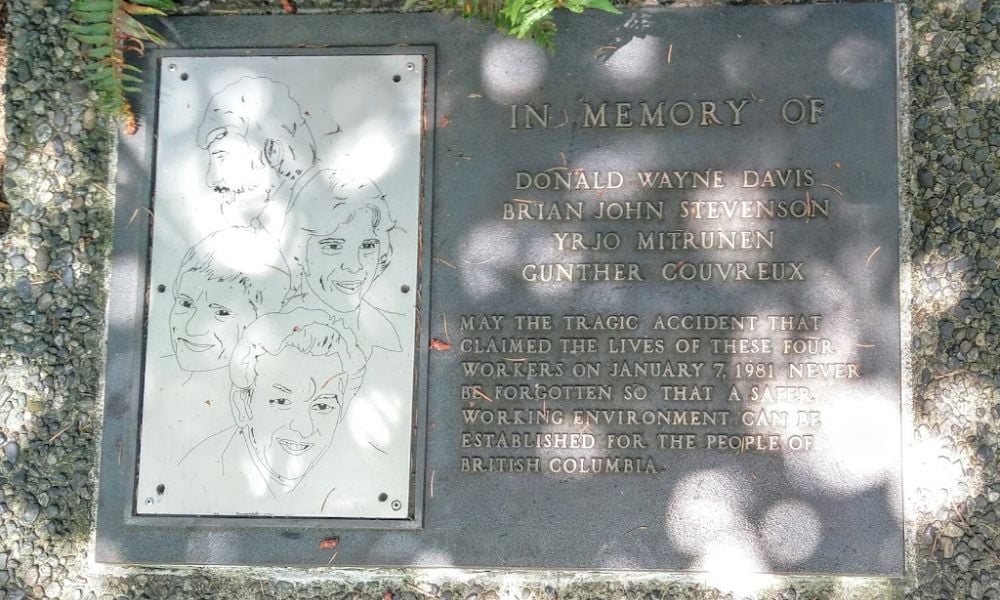 A memorial was held recently in Vancouver to remember four workers who died on the job 42 years ago. The tragedy serves as a reminder about the importance of safe workplaces.
Carpenters Gunther Couvreaux, Brian Stevenson, Donald Davis, and Yrjo Mitrunen fell 36 floors to their death when their fly form in the Bentall IV tower collapsed.
It happened on January 7th, 1981 while construction of the skyscraper was still underway. It would be completed later that year.
"It was an event that shook the entire construction community in British Columbia," says Brynn Bourke of B.C. Building Trades, in a CTV News report.
She goes on to say the deaths of those four workers represent a disturbing trend that has continued over the past four decades. "Since the Bentall disaster, we have lost 1,141 construction workers," says Bourke, referring to the statistics in British Columbia. "Last year, 30 workers died in construction. That's 30 more families who lost a loved one."
Donald Davis' son, Mike Davis, attended the service. "I was 13 years old, my dad would come home from work and put down his lunch box and play basketball with me in the driveway," he recalls. "He seemed like he was the loudest one on the sidelines at my soccer games. And one day, he just didn't come home. And I carry that my whole life."
Brian Stevenson was 21 years old when he died. His sister-in-law, Diane Stevenson, says even after so many years, the family is still heartbroken by the tragedy.
"It's just the possibilities of what we missed. What those 42 years could have been. You know, that he was that young. He was about to be married in about six months," says Stevenson. "They're not just numbers. They're not just statistics. Those were real vibrant people who were lost."