Three workers were killed in blast and fire in September 2021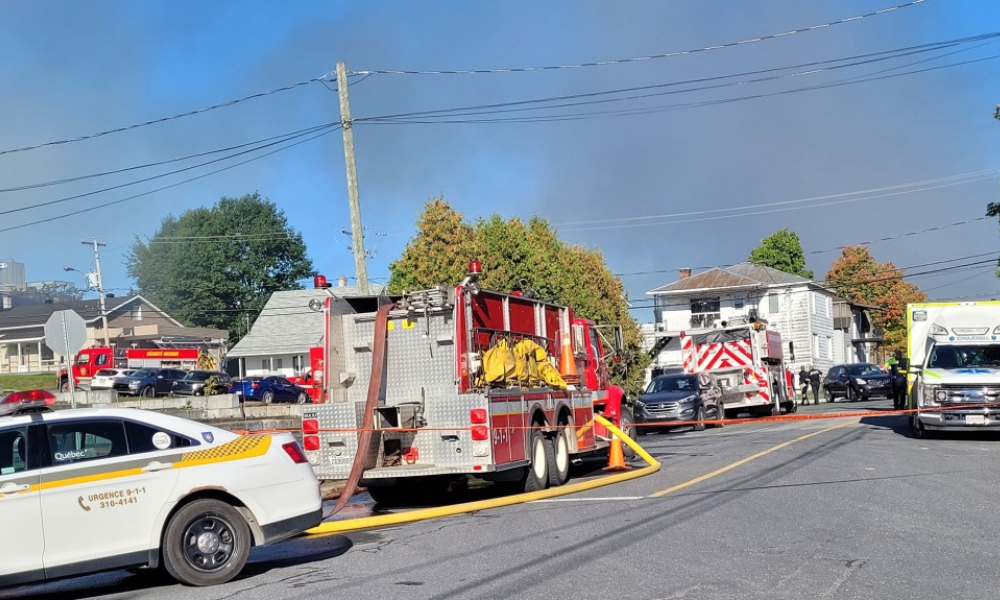 Quebec's Director of Criminal and Penal Prosecutions (DPCP) is laying charges against Bois Ouvré de Beauceville and Séchoirs de Beauce, following a tragic work accident that resulted in the loss of three lives and left five workers injured. The charges include three counts of criminal negligence causing death and five counts of criminal negligence causing bodily harm to the workers involved.
The devastating incident occurred on September 20, 2021, when an explosion and fire broke out at the Bois Ouvré plant in Beauceville, Quebec.
Bois Ouvré de Beauceville issued a statement responding to the charges and saying it is committed to thoroughly reviewing the case.
"We take note of the charges filed today against our company in the wake of the tragedy in September 2021. We will review the full case in the coming days, however, out of concern for the victims and their loved ones, we will not comment while the legal process takes its course," reads the statement.
The Steelworkers union (USW), which represents the workers employed by the companies, welcomes the charges. Francois Cardinal, a representative of the USW union, says workplace safety needs to be prioritized. "Occupational health and safety prevention is too often 'ignored' or even 'trivialized," says Cardinal.
The devastating explosion and resulting charges have deeply impacted the families of the victims. Jean Lachance, Mario Morin, and Martin Roy lost their lives.
Roy's sister, Suzy Roy, tells CBC News she is satisfied with the charges saying, "this is for the memory of my brother and also the new employees. Whether it be this company or another. The safety and security of people while they're at work is important...So people can come home after their shift."
Julie Hébert, the health and safety coordinator for the union, echoed the sentiments of the families, stressing the impact this incident has had on the community.
"The union will continue to provide support and assistance. We hope that this case will be a breakthrough and lead to more charges being pressed in cases of fatalities and critical injury," says Hébert.
She also emphasizes the importance of holding companies criminally responsible, highlighting the Westray Law, an amendment introduced in 2004 following a deadly coal mine explosion in Nova Scotia. She noted that these charges against private companies are rare, and workers have been advocating for such measures for years.
Martine Savard, the prosecutor overseeing the case, clarified that if found guilty, company representatives will not face jail time but will be subject to fines. Savard says, "it's really the company that is subject to a fine. There is no maximum or minimum fine. So the court really has the power to impose the penalty that is appropriate in the circumstances."
The court proceedings for the two companies are scheduled to begin on June 9.