'We are all grateful for their dedication and expertise'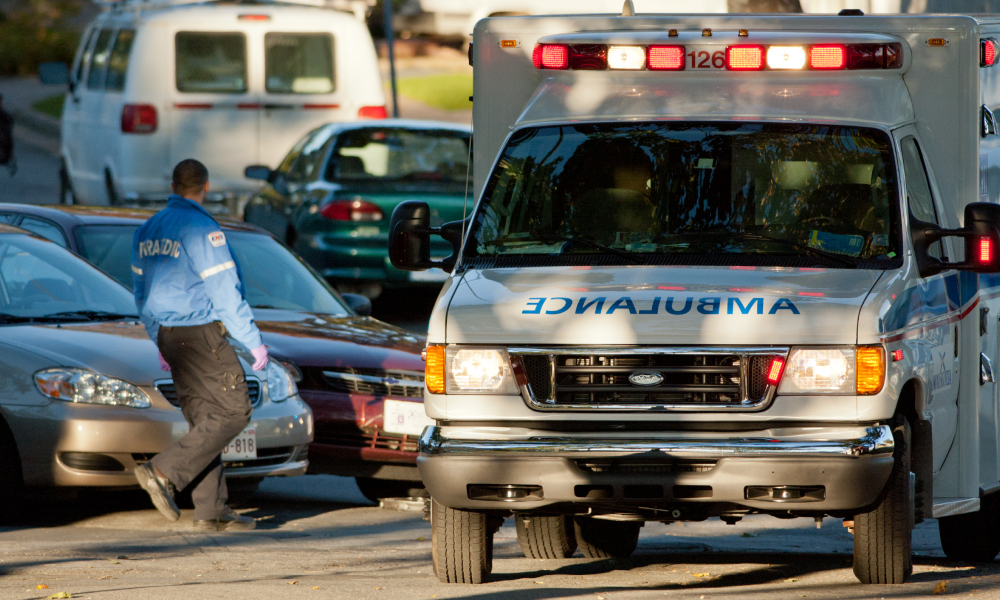 Nova Scotia celebrated the eighth annual Medic Monday this week to recognize and thank highly-skilled and dedicated paramedics for their service.
"It's a day where we recognize and appreciate the crucial role of dedicated, hard-working paramedics in our healthcare system, who face constant on-the-job pressures," said Tim Houston, member of the legislative assembly for Pictou East, in a Twitter post.
Last year more than 1,200 paramedics responded to over 180,000 calls across Nova Scotia, according to the government.
"When Nova Scotians need urgent medical care, paramedics are there to help," said Randy Delorey, minister of health and wellness. "They are highly trained and experienced to respond in emergencies and save lives. Many also work on collaborative health-care teams in communities across the province. We are all grateful for their dedication and expertise."
The government also noted that paramedics are involved in a wide range of health-care activities, from responding to emergencies, to providing in-home support for palliative care patients, to providing care to seniors in nursing homes through initiatives such as the Extended Care Paramedic Program. Also, amid the COVID-19 pandemic, they are at the frontlines working to save lives.
Paramedics are involved in initiatives including:
the Extended Care Paramedic Program in Halifax that allows seniors to be treated in their home rather than an emergency department
a check-in program called VISIT in the Annapolis Valley that allows paramedics to check in on some seniors identified by local doctors
a Community-Based Paramedic Program in Cape Breton Regional Municipality that supports patients after being released from hospital
"I've been incredibly fortunate that I've able to maintain a career for 21 years doing a job that I love. It is a privilege and an honour providing care for Nova Scotians, but to me there is a lot more to this profession than what we do out there each and every day," said Jerry Galway, a paramedic in New Glasgow. "Being a paramedic would simply not be possible without family – people at work and at home who continually offer support and encouragement so that we're able to do this job to the best of our ability."
Among all Ontario workers who acquired the COVID-19 coronavirus from January 15 to June 22, 2020, 17 per cent were healthcare workers, according to data from Public Health Ontario.
Exemplary service
On Sept. 24, Twenty-one Nova Scotia paramedics were awarded the Emergency Medical Services Exemplary Service Medal for their dedication to the health and safety of all Nova Scotians.
"It is my great pleasure to invest these members of the Emergency Medical Services with the Exemplary Service Medal," said Lt.-Gov. Arthur J. LeBlanc. "Their dedication and commitment to the people they serve – quite often in the most distressing of circumstances – is most deserving of this recognition, which I am honoured to present to them on behalf of Her Majesty The Queen."
The paramedics who received the medals are:
Francine Butts, Chaswood, Halifax Regional Municipality
Colleen Carey, Hammonds Plains
Kevin Carey, Hammonds Plains
Charles Charmichael, Georges River, Cape Breton Regional Municipality
Joseph Gallant, New Germany, Lunenburg Co.
Ryan Grist, Dayspring, Lunenburg Co.
Rhonda Helpard, Steep Creek, Guysborough Co.
Angela Hickox, Truro
Greg MacKinnon, Kentville
Angie Matheson, Port Hastings, Inverness Co.
John Mosher, Kentville
Christopher Nordland, Dartmouth
Donna Reid, Hammonds Plains
Peter Rose, Dartmouth
John Rossiter (posthumous)
Shane Strong, Saint-Anne-Du-Ruisseau, Yarmouth Co.
Sean Teed, Glen Haven, Halifax Regional Municipality
Matthew Vaughan, Westville, Pictou Co.
Mark Walker, Hammonds Plains
Jim Wells, Brookside, Halifax Regional Municipality
Kelsey Wells, Brookside, Halifax Regional Municipality
Last month, the federal government announced a temporary measure that will give asylum claimants working in the health-care sector during the COVID-19 pandemic a chance at permanent residency.