We are pleased to introduce our 2020 nominees for Safety Leader of the Year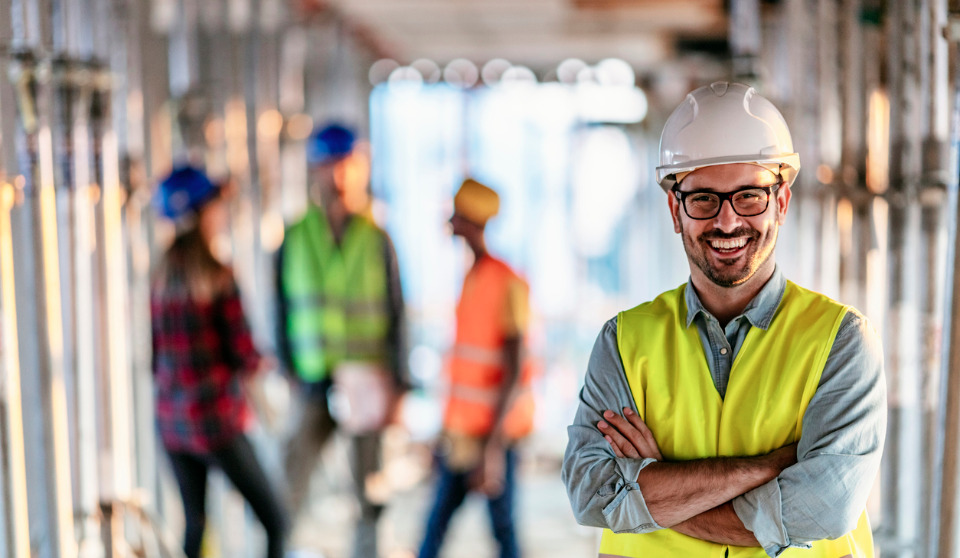 This has been a unique year for employers throughout Canada. The current pandemic has impacted every single workplace and has cemented how important the health and safety profession is. With worker safety more important now than ever before, safety heroes are emerging as an essential, trusted voice in the workplace. It is almost impossible to tell what the landscape will look like in the coming months — if not years. But with leaders like these, we're definitely in safe hands. In their own words, our finalists cover their stellar careers, what being a safety leader means to them and how they have faced the many challenges brought by COVID-19.
Please note that by the time you have this in your hands, the winner of Canada's Safety Leader of the Year will have been announced (winners were announced live during a ceremony on Oct. 22).
Sean Cammaert, Exposure Reduction Process (ERP) Implementation Leader at BASF
"First of all, leadership in any realm is a privilege and is something that I have never taken lightly. Being a Safety Leader brings in many different angles that all have potential to have life-altering consequences and, as such, I take this privilege also very seriously and very personally.
"For me, being a safety leader means that I have the responsibility to ensure that every employee within our organization, regardless of title, arrives to work every day, and that they have the knowledge and ability to recognize and control exposures, effectively remove barriers and feel empowered to speak up when something is not safe so that, at the end of the day, every employee can go home to their loved ones and that our community is a better place because our organization is in it.
"I feel that COVID-19 has made me more aware of peoples' mental health and has taught me to be more flexible and empathetic with my team and our organization as a whole. We have all had to adapt very quickly to new threats to our health, to new work environments at home and for many of us with children of all ages now at home occupying the same space (and internet). These are things that in the past we didn't really think about or perhaps took advantage off, but, in today's new norm, we have all had to adopt new practices, new ways of communicating and, as leaders, new ways to keep our teams motivated, providing a safe workplace for employees in which trust, transparency and open communication exists as the foundation of everything we do in an effort to truly empower employees to be a part of creating a culture that recognizes safety as its core value."
Angela Keenan, Occupational Health Safety & Wellness Manager at Nova Scotia Health Authority
"As a leader, my goal is to remain committed to identifying opportunities for personal and organizational growth, creating a workplace culture that recognizes and embeds the fundamentals of occupational health safety and wellness in its strategic direction. As a leader of safety professionals, it is an honour to inspire, motivate and identify opportunities for organizational change toward OH&S compliance. It is a privilege to collaborate, influence and engage with the organization at all levels to collectively do more together than apart impacting the physical and psychological safety for all.
"COVID-19 has changed the OHS profession, it has propelled it to the forefront. Globally, households now understand the importance of personal education and normalized risk assessments and mitigation of risk through controls such as PPE. It has highlighted the growing need for organizations to ensure they have robust and appropriately resourced health, safety and wellness teams focused on ensuring workplace safety, both physical and psychological. COVID-19 has increased prevalence of vicarious trauma in the workplace due to continual and immersive exposure to risk and potential harm, acute and long term. OHS professionals have a responsibility to continually promote the profession and its importance through the lens of influence, not authority.
"Education, 'the right to know' is personally by far the most important pillar in health and safety. As an OHS leader, my professional goal is to model OHS principles every day, in everything I do; to lead through self, to influence and inspire change in others."
Hans Loeffelholz, Sector Lead, Occupational Health and Safety, at British Columbia Public School Employers' Association (BCPSEA)
Hans Loeffelholz has built up more than 20 years contributing to the field of environmental, health and safety. He recently joined the British Columbia Public School Employers' Association (BCPSEA) as the sector lead, occupational health and safety, where he will support the future growth of occupational health and safety programs at K-12 school districts across the province. Prior to BCPSEA, Loeffelholz spent three-and-a-half years with the North Vancouver School District as the occupational health and safety manager. During his time in the public education sector, he has shared his passion for safe and healthy workplaces with both educators and other OHS professionals in the sector. His vision brought together a community of professionals in the sector using technology to share experiences, learn, and grow in real time. He has also worked extensively with educators to manage complex work situations by clarifying instructions for workers and identifying new tools.
Loeffelholz has a background working for industry-leading multinational corporations including, Siemens and Abbott Laboratories. In both organizations, he was instrumental in the implementation and maintenance of ISO 14001 registered environmental management systems. During that period, he focused on incorporating safety and environmental protection into organizational change management practices. Loeffelholz worked on a number of environmental sustainability projects from waste and toxic chemical reduction to tree planting. He earned his designation as a Canadian Registered Safety Professional in 2007 and as an Environmental Professional in 2005. Loeffelholz currently volunteers as a director for the School Safety Association of British Columbia and sits on two sector committees chaired by WorkSafeBC.
Kody Messenger, Corporate Compliance Advisor at Enger
"My view of safety and being a safety leader grows out of my background as a commercial diver. As a diver, I was faced with all kinds of different challenges and hazards and was expected to be competent and adaptable in face of them. Making mistakes and neglecting safety in that world was a thin line between living and dying. I remember feeling this disconnect between safety and the work I was doing, however. It felt as if safety needed to babysit us to prevent us from dying at work. Once I switched into occupational health and safety, I was committed to giving people the benefit of the doubt and helping them make their work easier. I felt that it was important to treat people as the experts they are in their fields, that they were solutions to be empowered and not problems to be managed. It's vital for us to remember that people want to be safe and that they don't need people to tell them to be safe. We have to hold in tension that errors are normal, and even the best and most competent workers and teams make them. I believe that we as safety leaders are in place to facilitate worker and organizational empowerment, to help them make work better and not there to constrain their operations unnecessarily."
Erin Oliver, Vice President of Health & Safety & Sustainability at Modern Niagara Group, Inc.,
Erin Oliver has spent more than 25 years as a health and safety professional leveraging her education in kinesiology and forensics to guide her leadership. In her role with Modern Niagara Group, Oliver manages the company's national health and safety program to ensure all employees work in a safe and healthy environment. She oversees all facets of the program including training, development, injury prevention, rehabilitation, wellness and mental health. She also oversees corporate sustainability.
Prior to joining Modern Niagara, Oliver founded a consulting firm that specialized in inspections, investigations and OHS program development for a wide range of clients. She was an active member of the Ontario Labour Management Regulatory Advisory Committee, the Occupational Disease and Research Advisory Committee. She is an active member of the Provincial Labour Management Health & Safety Committee for pipe trades and a contributor to the Ontario General Contracting Association's safety committee.
Oliver is a past president of the Ontario Kinesiology Association and currently registered with the Ontario College of Kinesiologists. She has been a Canadian Registered Safety Professional since 2000 and is a part-time professor of Kinesiology at the University of Toronto. Oliver has been a member of the Prevention Council of Ontario since 2017. Her vision for workplace health and safety in Ontario is to ensure that every worker goes home as safe and healthy as they started each day.
Most recently, Oliver has been awarded the 2020 Recognition Award by the Board of Registered Safety Professionals for her dedication to nurturing and mentoring health and safety practitioners.
Robert Palmer, Director of Flight Operations Safety at Air Canada
"I am truly humbled and profoundly honoured to be a finalist in this year's Canada's Safety Leader of the Year award process. Being a leader in the world of safety, regardless of the industry or organization, is unquestionably one of the most difficult leadership roles in business today. A safety leader is required to be more than just a safety champion. They must inspire everyone in the organization, build solid relationships based on trust, transparency and honesty and develop our teams to be successful while creating the next generation of great safety leaders.
"COVID-19 has been an incredible challenge for us all. Our lives have been disrupted and, in some cases, changed forever. Our careers have become unstable, our assumptions have been eliminated and the very foundation of how we do what we do has been shaken. As a safety leader during these times our skills become critical. We must develop protocols that appeal to the entire organization, that serve our clients and ensure their health is protected and protect our employee's health and welfare. The opportunity for distraction has never been higher and our partnerships with other levels of management and union members has never been more essential. Our connectedness is what results in success and is the force that will ensure our survival.
"We must continue to connect the day-to-day work of our entire organization to the positive safety outcomes of that work. In the airline industry, we need look no further than passengers being greeted by their loved ones after a journey. This emotional moment is created by the entire airline organization coming together in support of the operation. Every single airline employee has a role in creating that moment of embrace, smiles, laughter, tears and joy. "
Virginie Tremblay, Director of Health & Safety Management systems at Canada Post/Postes Canada
Virginie Tremblay is a health and safety professional with a bachelor's degree in mechanical engineering from the University of Sherbrooke. She is a Canadian Registered Safety Professional (CRSP), a Certified Human Resource Professional (CHRP) and currently volunteers on the internal audit committee of the Board of Canadian Registered Safety Professionals (BCRSP).
Tremblay has more than 10 years of progressive managerial experience over a career that has spanned almost two decades. She started her career at L'Oréal Canada, a world leader in cosmetics, skin care and sun protection. She held various managerial roles in operations before joining its Engineering and Facility Management team. In that role, she led the company's safety initiatives and helped bring international recognition to its Montreal plant.
Tremblay left L'Oréal for Canada Post in 2014. Since joining its Health and Safety team as national manager, she has led the Crown corporation's national technical health and safety team, which supports engineering, maintenance, real estate and corporate projects. She manages national safety programs and policies related to technical and environmental hazards in more than 6,000 facilities, including 21 mail processing plants across Canada. The Canada Post segment employs about 53,000 people and operates Canada's largest retail network.
As one of the Crown corporation's leading safety advocates, Tremblay is a steadfast believer in collaboration, education and continuous improvement. Named director of health and safety management systems in June, in the middle of a worldwide COVID-19 pandemic, Tremblay offers her own succinct perspective on workplace safety.
"True safety leaders seek collaboration at all levels and between all functions to prevent workers from getting hurt. That was on full display as the corporation responded to the global COVID-19 pandemic. Our essential workers emerged as heroes. They continued to support Canadian communities and meet the postal needs of Canadians uninterrupted, even while the company scrambled to introduce new processes and procedures to keep our employees safe. Today, our safety protocols and measures are second to none, but that doesn't mean we don't have work to do. Our company safety slogan is 'Make it safe, Make it home' and that is something we all have to work on 24/7 to ensure it happens."
Steve Wrixon, General Manager of Health and Safety at Cementation Canada, Inc.
"I am honoured to be named a finalist for Safety Leader of Year. I share this with the current and past leaders of Cementation. I wouldn't be here without their guidance and commitment to health and safety.
"To me, being a safety leader starts with exhibiting care and respect for your fellow employees. The people in the mining industry are passionate and hard working, which motivates me to do my best as a safety professional, so they make it home healthy and safe every day. Inspiring others within our organization to strengthen their commitment to make our workplaces safe is the most rewarding part of my job because I know that with a concentrated effort we can make a difference.
"In order to be a safety leader, significant time must be spent in the field, interacting with the workforce, gathering ideas, feedback and continually exhibiting visible felt leadership. I enjoy travelling across the country to our projects and I am constantly impressed by the work being performed by our people in challenging conditions.
"The most important thing I do is strive to reduce risk to our employees. The best way I can help achieve this is through collaboration. I enjoy bringing together experts within our company and industry to work toward reducing risk for the betterment of the industry. Anything we can do to prevent an injury or illness makes an immeasurable impact to preserve the quality of life of our people and their families, which is what safety is all about."
This article originally appeared in the Nov/Dec 2020 issue of COS.