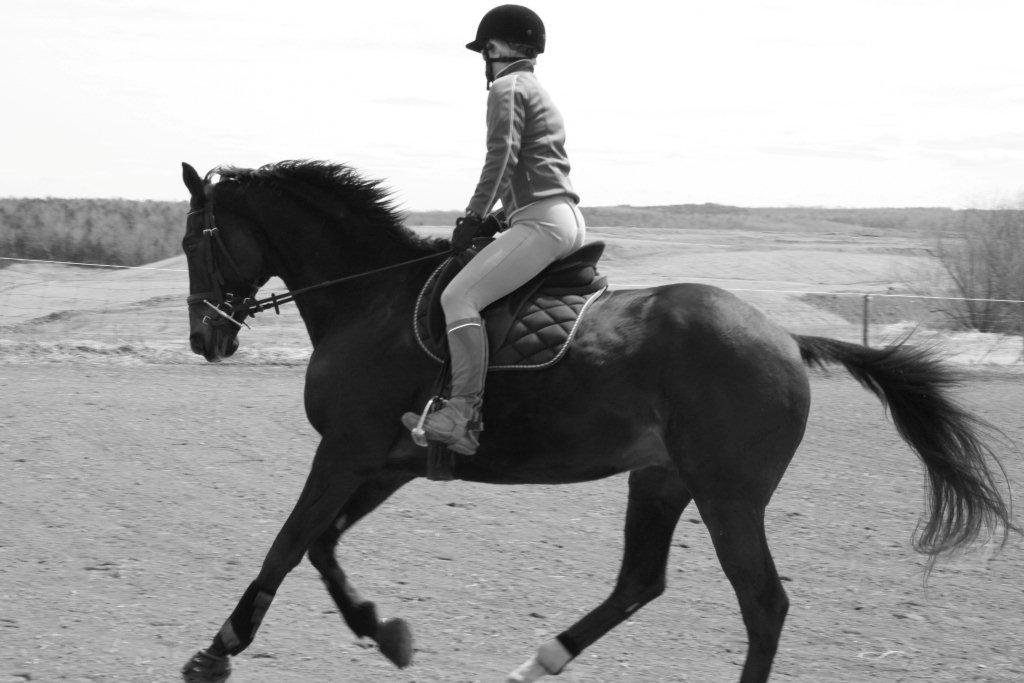 Imagine walking down the corridor to your office and being greeted by a life-sized cardboard version of your co-worker Vicky as she delivers her stand-up routine at the local comedy club. Or, maybe it's an almost life-sized shot of client manager Rebecca and her horse as they perform an intricate movement at a recent dressage competition. Talk about exciting engagement.
That's exactly what the staff at many of American Express's locations across Canada encounter. As the company walks its marketing talk by recognizing the "Potentialists" – people who are taking the time to identify their passions and realize their potential – in its own workplaces. (American Express in Canada operates as Amex Bank of Canada and Amex Canada Inc.)
Initially launched as a
marketing campaign
encouraging Amex members/card users to realize that membership can help them realize their potential ("We can get you there", "We can get you in", "We can help you.."), company insiders, including HR soon realized that the philosophy could power internal staff programs as well.
"Our philosophy is to recognize and help those people who want to enrich life," says Peter Hagert, vice president, human resources, Amex Bank of Canada and Amex Canada Inc. "We realized we could take examples from our own staff, and bring the philosophy home to our employees."
Study provide impetus for external and internal programs
According to a study conducted by the company in September 2009, a growing number of Canadians are rethinking their priorities and are searching for new experiences to help them live life to the fullest. The results show a growing trend towards a way of life referred to as "Lateral Living" with more people exploring alternative avenues towards personal fulfillment and success. According to the study, more than a quarter of people (28 per cent) fall into this category, and can be described as "The New Potentialists".
This manifests itself in people branching off from the traditional path of their life to reach their full potential as individuals through the pursuit of their passions. That can mean throwing themselves into charity work, embarking on a second career, or going on adventure travel trips.
Because living as a Potentialist means more than simply checking off boxes for places seen and activities completed, many Potentialists and non-Potentialists are currently devoting much consideration to their passions, even to the point of developing a 'Potential List'. A Potential List formally identifies and outlines the life-enriching things a person wants to experience during his or her lifetime. According to the survey, more than a third of Canadians (38 per cent) actively have a Potential List, and nearly everyone in this group (94 per cent) predicts they will accomplish all or some of the goals they have set out for themselves. Topping the items included in Canadians' Potential Lists are travel (77 per cent), philanthropy (41 per cent), learn a new language (32 per cent) and living in a different country (32 per cent) – all activities that align with priorities previously identified by Potentialists to actively live an enriching life.
Interestingly, when comparing the statistics from September 2009 and now, this gap has grown even wider. In September, when asked to prioritize aspects of their lives, nearly half of Canadians (45 per cent) said that time with family and friends is on top, while monetary and career success were less important (9 per cent and 7 per cent respectively). The current survey has found that time with family and friends has risen in importance to 54 per cent, with monetary success and career success actually dropping in importance to 6 per cent and 3 per cent respectively.
"Our current ad campaign encourages people to realize their potential, and it's encouraging to see – even over such a short period of time – that Canadians are reflecting this attitude by genuinely moving towards becoming a part of this Potentialist class," said David Barnes, VP Communications at American Express Canada in a recent press release. "We're seeing people take action on their dreams to make them a reality and truly enrich their lives, and American Express is there to help make this happen."
Workplace application mirrors external campaign
By bringing the philosophy to life, Amex wanted to give the message that working at Amex wasn't just about a 9-to-5 job, but that the company wanted to know the whole person. Whether employees dreamed of taking a sabbatical to travel around Africa, or mentor with the company's top people, the philosophy was to encourage people to tell their managers about their passions – and to explore them while working within Amex.
Hagert notes that a fairly large percentage of the Amex population – some 20 per cent – was already involved in some sort of flexible work arrangement. The company's goal is to get the best from their people, not just hours. It wasn't, therefore, a bit leap to bring a "potentialist" philosophy into the workplace. Different people are interested in different opportunities, Hagert notes, and how those opportunities are explored needs to be flexible.
It may involve either paid or unpaid time, volunteer work, mentorships or flexible hours of work. The option to explore potential is introduced to employees as early as during orientation, and then further discussed as part of the ongoing employee development process. Employees are encouraged to bring interests up with their team leaders.
HR's role in all this is to provide the framework and infrastructure to make it all possible. HR doesn't track the various flexible options, nor in fact do department members even necessarily know about individual arrangements.
Amex's philosophy, says Hagert, is to do anything and everything for their clients and the internal goal is for employees to live that philosophy. Within the company, they have employees that take extra steps such as tracking volcanoes and terrorist activities to let their clients know about potential hot zones. They go out of their way to help clients get home safely from their travels. "They're proud to work for us," he says.
The message to employees: Be bold, you can do more than you think.
General manager and dressage rider, Rebecca Borgal agrees, noting that after returning to work after the birth of her second child she didn't want to travel as much for business as she previously had. As a manager in client management at American Express Business Travel, Borgal assists organizations at the senior level across Canada develop their corporate travel programs.
As a result of accessing Amex's Realize the Potential Program, she now works out of a home office near Halifax, Nova Scotia, conducting much of her business via the internet, email and telephone. In her home-based office, Borgal is able to divide her time effectively between her work, family and her other passion – horseback riding.
"The program was looking for employees' passions and offered the ability to accommodate them," Borgal notes.
Her job, like any other job, has goals and objectives that are both tied into the compensation and must be met. But, Amex offered her the opportunity for more flexible hours of work, maintaining the work/life balance she sought. With the flexibility and support offered at Amex, Borgal says she couldn't imagine making a change of company.
Moreover, her mentor within Amex not only helped to develop her professional career, but also encouraged her as a dressage rider. Now, with two kids and two horses in her life, Borgal is about to purchase a farm with her non-horsey husband. Over the years, Borgal has found that her passion for horses and riding has ignited her passion in her work.
Check out
The Potentialist Predictor
on Facebook!