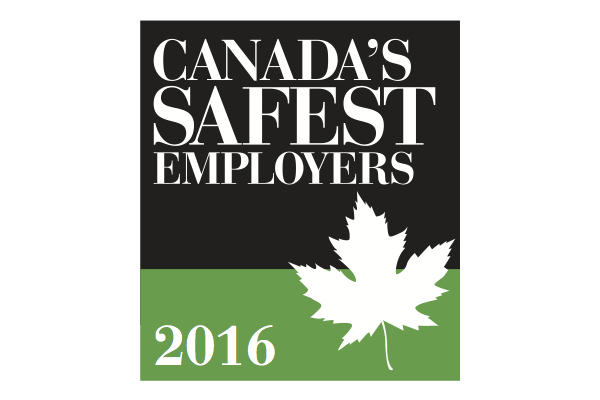 Canadian Occupational Safety
is pleased to announce the winners of the sixth annual Canada's Safest Employers awards, recognizing health and safety excellence from coast to coast. The 41 winning companies were celebrated at a gala event in Toronto on Oct. 24.
Canada's Safest Employers awards boast 10 industry-specific categories, ranging from hospitality and health care to mining and manufacturing. Companies are judged on a wide range of occupational health and safety elements including employee training, OHS management systems, incident investigation, emergency preparedness and innovative health and safety initiatives.
Special awards were also handed out for wellness, psychological safety, young worker safety and overall culture.
Watch for the October/November 2016 issue of
COS
for complete coverage on the winners.
Congratulations to the 2016 winners. Click on the company name of each gold winner for an exclusive article and video outlining its award-winning programs.
HOSPITALITY
Gold:
Tinhorn Creek Vineyards
Silver: Horizon North Camps & Catering
BUILDING AND CONSTRUCTION
Gold:
EllisDon
Silvers: Borger Group of Companies; Chemco
MANUFACTURING
Gold:
GSK Mississauga Manufacturing Plant
Silvers: Durabuilt Windows & Doors; CGC
PUBLIC SECTOR / NON-PROFIT
Gold:
Defence Construction Canada
Silvers: Sudbury & District Health Unit; Habitat for Humanity Canada
HEALTH CARE
Gold:
GE Healthcare
Silvers: Calgary Laboratory Services; Canadian Blood Services
UTILITIES AND ELECTRICAL
Gold:
PowerStream
Silvers: Toronto Hydro; Burlington Hydro
TRANSPORTATION
Gold:
Westcan Bulk Transport
Silvers: Voyageur; Horizon North Transportation & Logistics
OIL AND GAS
Gold:
Suncor - East Coast Canada Business Area
Silvers: Pronghorn Controls; Weatherford Canada Partnership
RETAIL AND SERVICES
Gold:
CHEP
Silvers: Morguard; Univar Canada
MINING AND NATURAL RESOURCES
Gold:
Cementation Canada
Silvers: Agnico Eagle Mines Meadowbank Division; Ausenco Engineering Canada
WELLNESS
Gold:
PowerStream
Silvers: Holland College; Sault Area Hospital
PSYCHOLOGICAL SAFETY
Gold:
NB Power
Silvers: Canadian Security Intelligence Service; County of Wellington
YOUNG WORKER SAFETY
Gold:
Techmation Electric & Controls
Silvers: Crystal Fountains; Innovative Automation
CANADA'S BEST HEALTH + SAFETY CULTURE
Gold:
NB Power
Silvers:
Borger Group of Companies;
Techmation Electric & Controls
Visit
www.safestemployers.com
for pictures from the gala and more information about the awards. The 2017 nomination process will open early next year.
The 2016 Safety Leader of the Year award was also presented on Oct. 24 to Adrian Khan, environmental health and safety manager at Mother Parkers Tea and Coffee in Mississauga, Ont. He will be profiled in the December/January issue of
COS
.