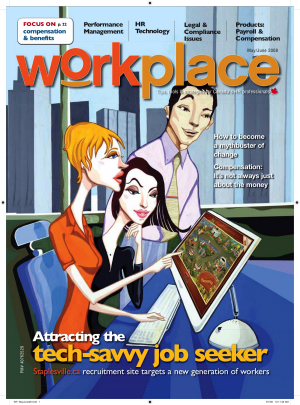 According to a recent poll commissioned by retailer
STAPLES Business Depot
, approximately three-quarters of Canadians say they are not in their dream jobs. And about one-third of Canadians (32 per cent) say they would change jobs more often if the process of searching for a job wasn't so difficult. Staples decided it was time to market its jobs with the same innovation and fervour with which it markets its products with the introduction of its
staplesville.ca
on-line recruitment site.
The survey results are good news for those employers struggling to fill vacant jobs. Although the scarcity of workers may seem to be more of a western Canadian phenomenon, Alan Ward, vice president, human resources, STAPLES Business Depot, says the trend in the western provinces is now coming east, particularly in the retail sector. While many businesses in the manufacturing sector in Ontario and Quebec may be in layoff mode, retail employers are finding that many of their vacant positions are going unfilled.
Yet many job seekers may not see working in retail as their dream job. Too often, they see retail as a stop-gap job, not as a career. Savvy retailers recognize that this is a perception they have to address. "Doing nothing is not an option," says Ward.
Staples realized that finding frontline staff was not just an HR problem; it was a business problem. Taking a step back, they decided to tackle it as they would any other business problem.
Looking at the different workforce segments, the folks at STAPLESBusiness Depot decided their recruitment focus should initially be on the younger worker demographic and new Canadians. Then, with the assistance of Angus Reid, they embarked on a market research project, receiving some "rich and surprising input" from focus groups.
Staples, said the focus groups, was "big, successful, conservative, and dull," says Ward. "They also said there was a lack of career opportunity - that there were only sales jobs."
Yet, Ward and his team knew that among their existing employees the perception was much more positive. The retailer employs a great many part-timers who enjoy flexibility in their work hours; there is currently no minimum number of hours an employee must work each week. Moreover, there are many opportunities for advancement within the organization. Certainly, there are positions to move to within the stores, but other areas of possible opportunity and interest can be found in the corporate division, delivery services, and fulfillment.
Staples already offers its employees bonuses, flexible benefits, retirement savings plans, employee stock purchase plans, associate discounts, computer purchase plans, and associate scholarship awards.
Defining the targets
So how could they re-launch the Staples employment brand to capture the attention of their target employee market - young people and new Canadians - and differentiate themselves from other retail employers? Their market research found that Millennial, Gen Y, and new immigrant job-seekers have had unsatisfactory experiences in the workforce and have high expectations. When job-seeking, these groups are looking for positions that offer everything from pensions and financial rewards - good pay, benefits and tangible perks - to self-expression to personal fulfillment to training and development opportunities and growth potential.
Furthermore, looking at research conducted by DECODE (
www.decode.net
), a firm that helps to decode young adults and young families, Staples discovered that not unlike previous generations, most young workers and new Canadians (70 per cent) are realistic and willing to accept a starting job that was not their ideal. And over 50 per cent of them would like to find an organization where they could spend their whole career.
What they're looking for in a job, says DECODE's Eric Meerkamper, are good people and institutions they can connect with. For this new generation of workers there needs to be a connection between their work and the community, and a sense of belonging to both.
And, on top of all this, Ward and the Staples team found that the workers they want to attract are technologically savvy. According to the commissioned poll, some 91 per cent of Canadians now go online to look for a job. That doesn't even take into account the numbers who use the various social media such as Facebook, YouTube and blogging. Creating an online job community Welcome to Staplesville.ca – the interactive virtual village created by the Staples team to revolutionize not only their approach to recruiting but to set a new standard for online recruiting. Designed to challenge the misconceptions about retail jobs, the site provides detailed company information, interviewing tips, and helps young and talented job seekers find the job for which they are best suited.
Staplesville.ca was inspired by Cinema Verde, animation, and silent movies. Job seekers enter the site via a map of a small town, but first they have to choose an avatar, or online persona. There are over 20 customized avatars that journey for the user through the different locations in the town of Staplesville, such as the Community Centre, the Jobservatory, and Perks Café. There's even a theatre where visitors can view a video with an unusual take on job searching tips.
"Staplesville is the front end of the recruiting process," says Ward. "At the back end, the system is set up so that retail job seekers can choose the store they're interested in. That store has a 48-hour window in which to engage the job seeker." After that time, other interested stores can contact the candidate.
"Too many young people think of retail as a place to work for a short time until something better comes along," Ward says. "We're working very hard to change that perception, and Staplesville.ca is a big part of that. We want to attract enthusiastic people and we want to help them recognize that a career in retail does not have to be short-lived."
STAPLES and the staplesvill.ca site were recently awarded the 2008 Workplace Innovation Award for Recruitment. To choose your own avatar and take a tour, visit
www.staplesville.ca
.