Coveted award is top prize in Canada's Safest Employers portfolio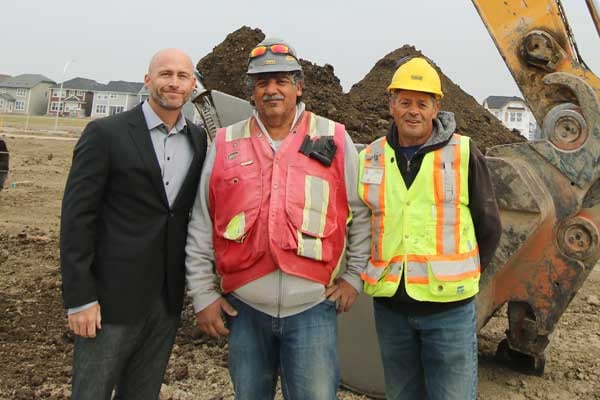 When workers at the Borger Group of Companies point to the company's family atmosphere as one of the main reasons for its great safety culture, they mean that almost literally.
"One of the cool things about our company is that over half of our team underground is related to someone who worked, or is working, at Borger," says Bill Borger, president and CEO of the Calgary-based construction company. "We have a family feel to our company. We don't want anybody getting hurt. It's about as simple as that."
At Borger, there are many ways the 410 workers are encouraged to take responsibility for safety. Workers carry S.O.S. (Speak Out for Safety) cards and if something on a work site raises a safety concern, they can "play" the card. When they give the card to an on-site senior manager, the manager must shut down the site. During the safety stand-down, the manager conducts a mock drill and chairs a safety meeting to discuss the issue at hand before production starts up again.
During presidential safety stand-downs, the CEO looks over a site and, if anything is out of order, will play his own S.O.S. card, hold an impromptu safety meeting and initiate a mock drill.
Engaging workers is achieved partly through a tendency within the company to gamify safety and provide many opportunities for recognition. As a reward for safety participation and achievements, for example, employees earn Borger Bucks, which can be redeemed for gift cards, event tickets and safety gear. Weekly SPC (safety, production and cost saving) awards recognize safe performance. The Golden Hard Hat, awarded to crews who work safely, comes with a trophy, a plaque to put up in the team's job shack and hard hat decals for the crew members.
At the annual Innovation Fair, more than 70 workers submit ideas to improve different aspects of work, including health and safety. Winners can receive scholarships, cash prizes and trophies. Participants receive Borger Bucks, while workers involved in creating or implementing a winning innovation receive coins and enter the Borger Innovation Coin game, which includes awards and photo contests.
Annual cash awards recognize workers who have demonstrated safety excellence. A performance-based bonus system also recognizes safe performance. In fact, workers' safety score is worth twice as many points as other factors in the determination of individual bonuses.
When safety milestones are reached, the company marks the occasion by distributing a large number of Borger Bucks company-wide or going to an event. One year, Borger Group took all employees to a Calgary Stampeders football game. Currently, the company is close to one year with no lost-time incidents.
Senior managers at Borger show they take safety seriously in many ways. The Borger Broadcast, a weekly communication by the CEO to all employees, provides safety and wellness messages and announces safety award winners.
A software program allows senior managers from all divisions and safety team members to share in real-time postings about safety incidents, information on changes in working conditions and announcements of new initiatives.
"Within five minutes of any incident happening, everyone in senior management is aware of the incident," Borger says.
Borger Group has a huge number of courses, both in-class and online, for employees. New workers go through an extensive on-boarding training program that includes courses on safety, the environment, as well as respect in the workplace.
"We expect everybody to conduct themselves as professionals. That steers people away from sexual abuse, mental abuse, bullying and harassment. We have a zero-tolerance policy on that," says Hassan Hussein, safety manager, who reports directly to the CEO.
Online videos and courses are found in Borger University, accessible through the Borger App, where workers can also find company news, site activities and conditions updates. Push notifications prompt workers to complete required courses, and by going to the team portal, they also get updated information on the Borger University course credits they've earned.
The Borger App gives workers access to wikiBorger. With a quick search on a cellphone, they can find important safety material, such as policies, procedures and safe work practices. Instead of sitting in a binder in a manager's office, the information is available to workers in the field, when and where they need it.
"It's one of our fundamental things. We strongly believe in the right to information for every team member, whether they started today or they've been with us for years. WikiBorger really gives people that access to information that sometimes is just not out there," Hussein says.
Workers with excellent safety records, who have been with Borger for many years, are accepted into the Borger Nexus program, identified by a Nexus sticker worn on the hard hat. Workers in the Nexus program are fast-tracked through the annual re-hiring process.
"We are extremely proud of what we've been able to accomplish over the years with respect to working in this industry and figuring out how to do our jobs without hurting people. And that's no small thing," Hussein says.
Borger's BONSAI committee (Board on Sustainability and Impact) meets monthly to discuss environmental and social sustainability improvement initiatives. Members come up with ideas on how the company can have a better environmental footprint. The goal is to lower it as much as possible, Hussein says.
"We spend thousands of dollars on recycling programs to make sure we don't send things to the landfill that don't belong there. And we have been able to prove that we are reducing our carbon footprint," he says.
Borger Group donates about five per cent of its pre-tax net income annually to community causes, such as Alberta Children's Hospital Foundation, Calgary Women's Emergency Shelter, Resolve Campaign to End Homelessness, Calgary Food Bank, Big Brothers Big Sisters and the Calgary Foundation for Mental Health.
Ultimately, Borger believes valuing worker safety is part of being good corporate citizens.
"No one ever wants to get that phone call that someone's been hurt on our site," he says. "It would be devastating. Our social responsibility is safety."