Award is highest honour among Canada's Safest Employers portfolio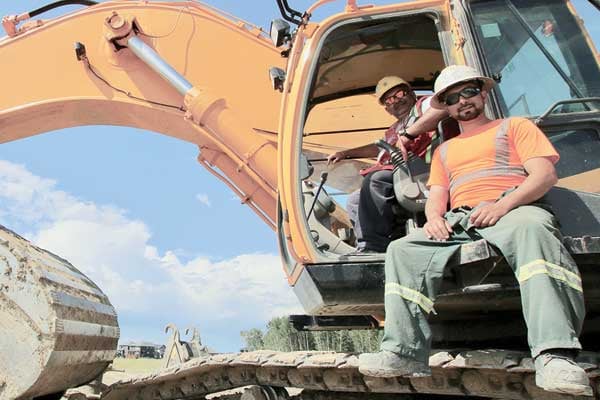 New workers at Borger Group of Companies regularly point out safety concerns to senior leaders — and they are not afraid to do so.
"That to us is a bit of a leading indicator that our introduction to the new team member is successful," says Hassan Hussein, safety manager. "Whenever a new team member engages us and says, 'I believe there is a better way to do a job' or 'I believe there is something wrong with what you guys are doing here' it is really reassuring to us."
Every Borger Group team member has an S.O.S (Speak Out for Safety) card in their pocket at all times. Anyone can hand their card to a leader on site if they have concerns related to safety, and the site is shut down immediately. If an S.O.S. card is played, Bill Borger, president and CEO, will make himself available at a moment's notice, Hussein says.
"He will drop what he's doing and it doesn't matter if he is golfing with a client or taking a day off to be with his family, he will drop all that and come to the job site and make everyone aware that safety is number 1 without question."
Borger Group has recentlty been focusing on mental health. Everyone in the leadership group is now required to take a mental health awareness course, and managers makes themselves available if any worker wants to turn to them for support.
"We have worked very hard to drive the message to our team that they are not alone," says Hussein. "Our focus for this year is trying to take the stigma away from people from trying to deal with this issue and have them come forth and say, 'I have a problem and I need help.'"
Borger is an extremely active CEO when it comes to safety. He conducts a weekly recording — the Borger Broadcast — that is available to all 360 employees on the Borger app where he provides company updates and safety tips.
"[It's about] making sure everyone in the company is aware of safety, near misses and serious incidents and making sure everyone sees the pattern of what is going on in the organization. In a group like ours, knowledge is incredibly important and they recognize they are not invincible," he says. "Even if their crew didn't have an incident, just to realize that they do happen in our organization keeps them on their toes."
Borger also announces the winners of the company's many awards programs on the Borger Broadcast, including for the weekly SPC (Safety, Production & Cost Savings) awards, the Golden Hard Hat (awarded weekly to crews demonstrating safety excellence) and the Golden Recycle Bin (for the most environmentally conscious crew of the month).
The winners also receive Borger Bucks, which can be redeemed for items ranging from Visa and restaurant gift cards to event and sporting tickets. The supervisory team also doles out Borger Bucks whenever warranted to recognize individual safety excellence.
Borger University — the company's online education portal — is where workers can further their professional development. Team members are compensated for completing mandatory courses with Borger Bucks, with additional rewards for voluntary completion of non-mandatory courses.
"We have tapped into something where we can't keep up with their thirst for knowledge," Hussein says. "When they are saying 'We want more,' that's a pretty good feeling."
Borger Group, which is headquartered in Rocky View County, Alta., is doing a lot of work on First Nations lands and is encouraging its employees to be very respectful.
"It's meant a lot to the First Nations team because they are aware we are making a deliberate intention to respect the land, especially as it relates to any littering or the way we drive across their land and showing respect to their heritage," says Borger. "That's partly why we got the work."
Borger Group is hiring a number of First Nations individuals to work on these projects and provides them with a full suite of training beforehand to ensure they are qualified.
Many years ago, an employee told Borger that if safety was so important at the company, it should explicitly be made so. Borger thought that was a good point and decided to make safety worth double that of any other factor for performance-based bonuses.
"It really sets the message and the tone of what we expect of them. We never want you to get the job done unless you can do it safely," says Borger. "And, quite honestly, you end up always getting gold from people when you put their safety and well-being ahead of profits."
The company's exceptional safety culture is evidenced by how many family members end up working for them.
"We know we have a safe place to work when someone who has worked for you for 20 years wants to pass that legacy on to their children and have them come here and make this place a place where they can have a career," says Hussein.
The family atmosphere is right at home at Borger Group — the company was started by Borger's great-grandfather and has always been led by a member of the Borger family. In 2019, Borger Group celebrated 100 years in operation.
"You're not in business long if you can't keep your team safe, nor do you attract the best people," says Borger. "We show that we care about them and in turn they've looked after us as well."