Emily Taal hopes more women will follow her into the skilled trades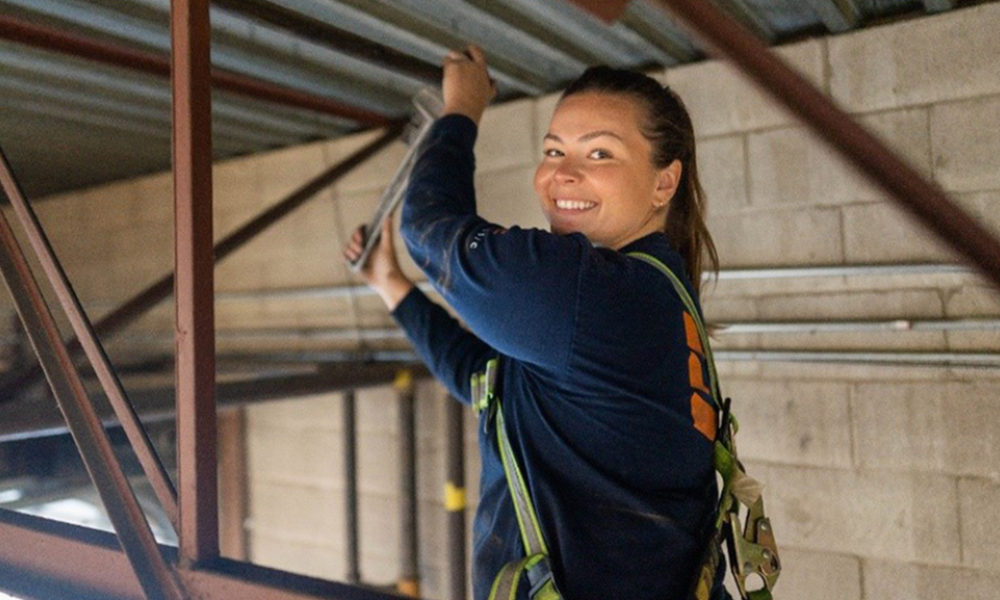 When Emily Taal was fresh out of high school, she didn't see herself working as a skilled tradesperson. Now the Toronto native has become the first woman at Classic Fire + Life Safety to receive her sprinkler fitter certification.
"It feels really good to know that I'm setting an example for other women to come," says Taal, who previously worked in business administration. It was a conversation with a friend who also works as a sprinkler fitter that set Taal on the apprenticeship path. A total of 7,200 working hours and nearly five years later, she obtained her certificate of qualification.
Taal thanks Classic Fire + Life Safety for giving her the opportunity to work in the field while doing her apprenticeship training and says everyone at the company has always been supportive. She admitted, though, that at times she has felt like a bit of an outsider.
"You get on a job site sometimes and you feel like you have to prove yourself. Being in a male dominated construction site can be intimidating," says Taal, who has never experienced any kind of harassment or bullying and says those pressures "just come from myself."
Read more: Safety trailblazer prepares to pass torch to next generation
Taal hopes those feelings will slowly dwindle over time and as more women enter the sprinkler fitting trade. She wants others who are considering it as an option to "just go for it" and not be bogged down by self-doubt. "We can do the job just as well as any man can do it."
BuildForce Canada estimated that in 2020 only about 5 per cent of the nearly 1.1 million employed tradespeople were women, indicating there is still a lot of work to do to close the gender gap. But Taal believes she is seeing more women in the field working as electricians, drywallers, plumbers and in other trades.
Classic Fire + Life Safety says it recently onboarded several women fire alarm technicians who are carving out a space for themselves in positions traditionally held by men.
The company's vice president of human resources, Melissa Diaz, says they're happy to see this shift, "and we want to ensure that more women, either those on our team or looking to work with us, know that we support them."
For now, Taal plans to continue to learn on the job and grow into her career, while serving as an example that when it comes to a skilled trade like sprinkler fitting, gender doesn't matter.
"She is an inspiration," says the company's president Randy Bird, "and reminds us all about the importance of continuous training and education."