Safety director led his company to CSA Z1000 success in the midst of a merger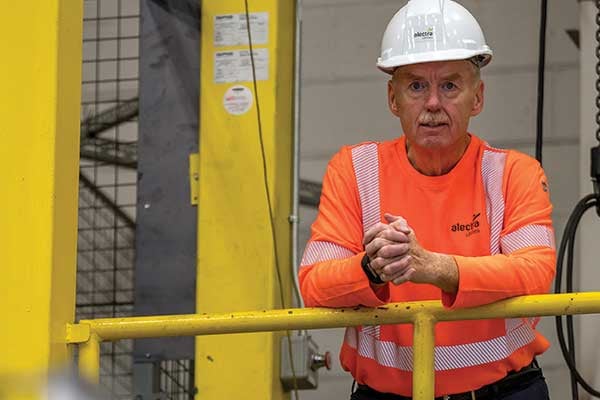 Nearly one year ago, Horizon Utilities, PowerStream and Enersource merged together and acquired Brampton Hydro to become Alectra Utilities. The electricity utility and distributor serves municipalities north and west of Toronto in Ontario— including Hamilton, Mississauga and Vaughan — and is the second largest municipally-owned electricity utility in North America (after Los Angeles.) Undergoing mergers and acquisitions can wreak havoc on many aspects of an organization, including occupational health and safety, but this was not the case at Alectra.
Doug Matthew, director of health, safety, wellness and environment, successfully led the organization through the merger and acquisition while maintaining a strong culture of safety.
"There (was) a tremendous amount of uncertainly among employees and Doug instantly recognized the need to elevate the amount of communications and continued focus on health and safety because employees can get very quickly distracted in that environment," says Max Cananzi, president and CEO of Alectra Utilities. "Doug was instrumental in leading that effort and being able to communicate and stay focused on what needed to be done, and never waver from our health and safety commitments."
Matthew demonstrated his commitment to transparent communication by launching a newsletter called Safety Between the Lines. Even the name is symbolic because Alectra's employees operate on overhead and underground distribution lines, while the remainder of the company is in between those lines providing support to the crews.
WATCH THE EXCLUSIVE VIDEO HERE
"I very much believe the more communicating we do, the more knowledge is shared, the more commitment is garnered from all of our employees," says Kim Boyle, senior vice-president, people and safety, Alectra Utilities.
To further ensure a successful merger, Matthew was very strategic in aligning the members of the amalgamated health and safety departments with appropriate areas of the business.
"We took the time early on to find out their strengths. We have team members that are former linemen. We have team members that came from a business application. We took those strengths and split the safety team up into environmental, corporate services and a lines distribution organization," he says. "For example, our LDC (lines distribution company) team has all linemen in it and other professionals who can help that business line grow."
Matthew's success with maintaining safety during the mergers and acquisition is one reason why he is the winner of the 2017 Safety Leader of the Year award, presented by Canadian Occupational Safety. He holds the Canadian Registered Safety Professional designation and in October, he became one of only 50 Canadians to receive his Certified Utility Safety Professional (CUSP) accreditation.
Yet another reason for the win is Matthew's hard work in Horizon (now a part of Alectra) achieving CSA Z1000 Occupational Health and Safety Management in 2016 — the first utility in Canada to achieve this standard. When Matthew was hired in 2014, it was expected he would lead the charge in achieving the certification.
"The framework had been in place when Doug joined the organization. What Doug did though is take that bare-bones framework and through a number of small working teams, tackled it, added flesh to those bones and by using these small teams, he was able to really take advantage of each individual's capabilities and their contributions, so they very quickly built a holistic program," says Boyle.
Matthew started by conducting a gap analysis and putting action plans in place to close the gaps. He assembled an internal audit team to implement corrective action response procedures. Both internal and external mock audits were performed to get the company ready for the CSA Z1000 final audit.
When it came to training employees within the organization, Matthew and his team rolled it out in small steps so the trainees never felt overwhelmed by the volume of material, the timing of the training or the complexity of what they were learning, says Boyle.
For all staff, Matthew provided an eight-week continuous learning training slide deck that was sent out each Monday and posted on all safety boards. Matthew took the time to sit down with each executive to explain what an external auditor may ask during the certification audit and prepped them with specific answers. He also had meetings with department directors and senior managers to explain the CSA Z1000 system.
When the final audit was conducted, the utility passed with flying colours — no exceptions. Organizations typically have about 30 issues identified in the first audit.
But it doesn't stop there. Matthew says Alectra will always examine its safety system in order to improve upon it.
"CSA Z1000 is all about continuous improvement. It's all about making it better year after year after year, and that's been the biggest bonus for us going into the Z1000 program is allowing us to have a formalized process to continuous improvement in safety because once you get to a point where you're not having loss times or medical aids or incidents, what do you do?" says Matthew.
COMMUNICATION STYLE
Something Matthew is lauded for by colleagues, employees and his higher-ups is his communication style. Whether it be in the boardroom or on the shop floor, Matthew is able to effectively communicate with pretty much anyone.
"What's essential in communications is you've got to know your audience. And so when speaking to board members or the executive, you need to adjust your style slightly and be able to speak their language and communicate the things that are important to that group," says Cananzi. "Equally when talking to people in the field or in the office, you've got to also be able to use words and examples that relate to those individuals and Doug does that very fluidly."
Matthew's sense of humour also helps him communicate with others. He uses it everywhere from making meetings a bit more fun to reducing tension during difficult conversations.
"People take health and safety very seriously and it is a very serious thing, but you need to make people feel comfortable with the messages you're sending and Doug uses humour to relax people and get them to open up a little," says Kathy Lerette, senior vice-president, business transformation, Alectra Utilities. "People have responded so positively to Doug."
Matthew is a big believer in transparent communication. Because he is very open and honest, people tend to open up to him, which really helps Alectra get to the root of any problems that may arise, says Lerette.
He also has a personality that is very calming, says Cananzi.
"He is a consummate professional… I don't think I have ever seen him get upset over anything, really. He's just very calm, decisive, moves ahead, and that makes him a great leader," he says.
Matthew is very approachable and regularly reaches out to workers in the field, encouraging them to use best practices and procedures as well as to speak up if they see any potential hazards or near misses.
"If something is out of alignment, he wants to hear about it and he'll take that issue on, and I think that really endears him to the workforce," says Brian Ross, health and safety specialist, Alectra Utilities.
Matthew is always scanning the room or work site for potential hazards, and if he sees something, he jumps on it, says Cananzi. He is quick to educate workers on the proper methods or how to resolve the safety issue — and he does it the right way.
"Sometimes safety incidents can be sensitive to those employees who have been involved, but he is always respectful and able to get the message across," Cananzi says.
MR. SAFETY
Matthew's friends call him Mr. Safety, which demonstrates just how integrated safety is into his way of thinking, says Boyle. He has been known to cut his lawn wearing full personal protective equipment (PPE) and he never allows anyone who may have a glass in hand on his pool deck. He also has a strong commitment to personal wellness. Matthew walks at least 15 kilometres per day, he keeps a strict eye on what he eats and he lost 200 pounds in less than two years. Cananzi says this is a true testament to Matthew's willpower and resiliency — once he sets his mind on something, he achieves it.
"Too late in life I actually understood the benefit of walking and keeping active and I hope anybody that (wants to get healthy) does it sooner in life rather than later," Matthew says. "I'm enjoying walking now whether it be walking the dog, walking with my wife, walking through the malls at lunch just to get that activity. It's important to me."
Matthew is very involved in the community. He is the vice chair of the Hamilton chapter of the Canadian Society of Safety Engineering. He is also a member of two committees of the Infrastructure Health and Safety Association. Additionally, he is a member of the Electrical Safety Authority's Community Powerline Safety Alliance. He is also a member of the Association of Electrical Utility Safety Professionals.
Matthew is always volunteering with various charities when opportunities arise through Alectra.
"He is a wonderful role model from that perspective," says Cananzi. "People enjoy going out to events that they know Doug is going to be there. He makes things fun and people really respect that."
THE NEXT GENERATION
Right now, Matthew is in the safety profession for his grandson, Emmett, who is just one-and-a-half years old.
"I know 20 years from now he is going to be in the workplace, so I want to make sure not just me but any other safety professional is looking out for those youngsters in the world to make it safer."
In an effort to achieve this, he is a frequent speaker at My Safe Work events with Rob Ellis, an initiative with a particular focus on young worker safety.
Matthew is an instructor in the OHS certificate program at Humber College in Toronto, covering courses on claims management, auditing and safety essentials. He also teaches new immigrant engineers and he impresses upon them the importance of thinking about the full life cycle of their projects.
"It's always important when you're dealing with engineers that you make sure they understand that there's people at the end of the building they're designing, the truck they're developing… People are going to drive or operate this machine or fix it down the road," says Matthew. "Build those safe applications into it."
This passion for teaching is seen at Alectra, where Matthew regularly helps others tap into their natural talents, says Ross, who was in the trade for 25 years but always had an interest in safety.
"Doug saw something in me and empowered me to take that to the next level. In doing so, I became a health and safety specialist for the first time… and all through the help of Doug and his approach to helping people realize their potential," he says.
Mentoring "new safety folks" is very important to Matthew. He takes this responsibility very seriously and has taken many a young safety practitioner under his wing over the course of his career.
"My leadership style is one of giving them as much rope as possible, make sure they're supported and every once in a while, give them some hints and tips," Matthew says. "There are some people you have to hand-hold a little bit more but it's nice to see them blossom. They come in as a raw safety person and three or four years later, now they're leading charge."
Matthew believes one of the most impactful things a safety leader can do is build a strong safety team that can keep the organization moving forward in the safety mindset.
"That's a great legacy," he says. "You can leave a policy or procedure behind, but when you leave the people behind, that's the real strength of the safety program — the people."
Amanda Silliker is the editor of Canadian Occupational Safety.
This article originally appeared in the December/January 2018 issue of COS.