WSIB Chair on how it has expanded its services to protect workers in Ontario amid the pandemic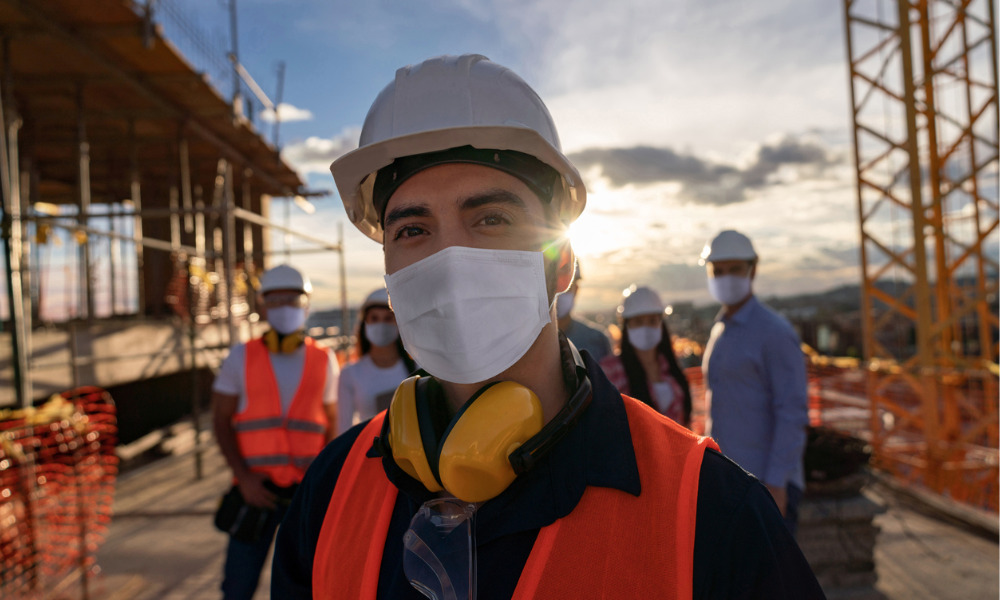 COS recently spoke with Elizabeth Witmer, Ontario's Workplace Safety and Insurance Board (WSIB) Chair.
Witmer will serve a fourth term as Chair of the WSIB Board of Directors, with her new term bringing her to Dec. 31, 2021. Witmer is the former Deputy Premier of Ontario, she also served as Minister of Labour from 1995-1997 and as Minister of Health from 1997-2001.
Premium deferral program
The WSIB recognizes that COVID-19 has impacted both the economy and the people of Ontario, says Witmer: "Last March, we recognized that we needed to do what we could in order to support employers, and also to support the employees."
One of the first initiatives that the WSIB undertook was to put into place a premium deferral program. With the onset of COVID-19, the decision was made to hold 2021 rates at 2020 levels.
The WSIB told employers that they would defer the payments between March to August 2020. Employers could then start to repay the WSIB on Jan. 1, 2020, with the full payment being required by June 30, 2021. The deferral program was also interest fee-free.
Employers are free to make the payment in one lump sum, or in installments. Witmer estimates that around 190,000 business took advantage of the financial relief.
"It has helped to get these employers through these very unprecedented times […] We have done everything we can to quickly respond to the challenging circumstances," she says.
None of this would have been possible, says Witmer, if the board had not eliminated the unfunded liability in 2019.
"That put us and continues to put us on a very firm financial foundation," says Witmer.
Quick and easy access
Since the start of the pandemic, the WSIB has expanded its services to help protect as many injured people in need as possible: "Our focus is on ensuring that we have healthy and safe workplaces," says Witmer.
Witmer says that WSIB will continue to focus on adjudicating claims as quickly as possible, to ensure that employees can get the help they need to return to work. A large part of the WSIB's mission centres around the injured person, or the person who is/was sick.
"We have a special team within our operations division that is dedicated to these COVID claims," says Witmer.
The WSIB is also focused on increasing access to hospitals throughout Ontario through a network of health providers throughout the entire province.
"We are now making health services available to people as close to home as possible throughout the entire province of Ontario," she says.
Health and Safety Excellence program
Another thing that the WSIB has done is to promote its Health and Safety Excellence program.
"We took a look at our Health and Safety Excellence program, because one of the things that COVID has done is to shine a very bright spotlight on health and safety in the workplace," says Witmer. "We recognized the need to do what we could to keep people safe and to keep businesses operational."
The program has a number of topics available to employers, notably new topics related to COVID-19 and pandemic readiness.
Witmer says that businesses have taken advantage of the program in order to help make their workplaces safer. The program connects businesses with WSIB-approved providers to help develop an appropriate health and safety program.
Another advantage to enrolling in the program, says Witmer, is that users have the opportunity to earn rebates. The WSIB expects that as a result businesses participating in the program, it will be able to give back to employers about $1.5 million in rebates this February.
"That is money they can reinvest in health and safety programs and, ultimately, make those workplaces as safe as they possibly can be," she says.
Digital transformation
Witmer says that in addition to this historic focus, they also want to improve the experience that people have contacting and communicating with the WSIB – notably through expanding online services.
Another top priority for the WSIB has been to modernize its operations: "We want to make our business as simple as possible for people to use," says Witmer.
The WSIB has improved its online services, which now includes a new service for people with claims who can now access their claim status and other claim-related details online. Users can also send messages directly through the website.
"We want to make it as easy as possible for people to be able to communicate with us […] That is especially important at the moment with so many in-person services being closed," says Witmer.
"We know that everybody continues to be very challenged because of the pandemic," says Witmer. "We are continuing to look at what else we can do in order to be more responsive, because we know that there is a lot of stress, anxiety and fear."