Baycrest was recently awarded the Certificate of Recognition accreditation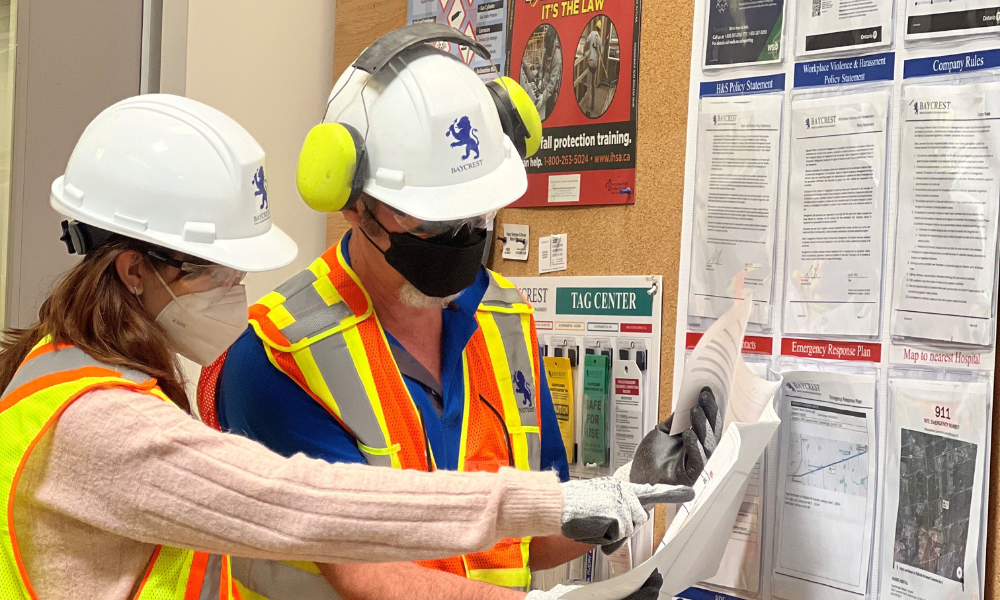 Project and construction management firm Baycrest was recently awarded the Certificate of Recognition (COR) accreditation by the Infrastructure Health and Safety Association (IHSA).
The project was spearheaded by Julie-Anne Nardi, Projects Operation Director, Baycrest, who became aware of the COR program around four years ago.
"It was becoming more common in the industry, and so I looked further into it," says Nardi. "I thought that this is something that Baycrest should do, I thought it would improve our health and safety culture. And so I started pushing to try and get this implemented."
The COR program is a health and safety management system (HSMS) which is offered to companies in the construction sector. The accreditation program verifies that the company's health and safety program has reached a national standard.
"I wanted to push the company to achieve a higher standard for health and safety, and saw that the construction industry was in this direction. [Baycrest] wanted to be one of first construction companies to achieve COR, and also be a leader in this venue," says Nardi. "We looked at it as an investment back into the company. It would also help reduce some of the WSIB claims and help us create a strong return to work program as well."
Nardi says that getting COR not only improves the company's safety culture, it improves the culture of the overall business.
Worker safety was also top of mind for Nardi: "One of the main reasons was also to remove the stigma around health and safety, to let our employees know that we value, and we want them to go home to their families at the end of the day."
This stigma stems from fear of reprisal around bringing up unsafe working conditions and not seeing the immediate benefits of incorporating health and safety into daily construction tasks.
The first step in the project? Having a strong leader, someone that was knowledgeable in health and safety, who had great communication skills and attention to detail, says Nardi. Diana Gamboa was brought on full-time as Baycrest's Occupational Health & Safety Manager in 2019.
Additional health and safety consultants were also brought onto the project.
"They helped guide us through the process every step of the way, so that we made sure that we were doing things correctly," says Nardi.
The next step was implementing training. "We pushed the training that we received out to the sites – our OHS manager and field supervisor went out to the different sites and did a lot of training with our supervisors, ensuring that they knew what they were doing," she says.
Baycrest also implemented cloud-based health and safety software to help ease the processing of all the necessary paperwork.
Despite being necessary, the process did hit some bumps along the way.
"Right of the bat, we faced a lot of pushback," says Nardi. "Employees and workers weren't used to having health and safety as one of their top priorities – it was more around getting the work done."
She also received some pushback about the amount of documentation that was required to achieve COR:
"Some of our workers weren't used to doing so much paperwork," says Nardi, but the key to this was communicating with them and incorporating it into every processes with project management and on-site requirements.
Another challenge was actually selling the project to the management team, and making a business case for importance of improving health and safety standards to such a high degree.
"One of the obstacles was the cost to initiate [COR] upfront," says Nardi, but she made the case to "look at is more of an investment back into the company, because it really elevates the company as a whole."
Changing ingrained habits and behaviours can be difficult, but Nardi saw that the industry was changing and that the company needed to follow suit. To sell the idea, she needed to make a very strong business case – with communication being a huge part of implementing change within the organization and on work sites.
For other firms who are looking into COR accreditation and wishing to take the leap, Nardi says that having "a really good leader who can spearhead the implementation" is crucial, as is having the right tools in place (such as software to track and organize paperwork, for example). Outside counsel from a safety consulting firm was also essential.
Nardi says that "having management support every step of the way, and having everyone on board to really push through [changes]" was welcome support.