From saving lives to selling eggs, safety is at the heart of everything Krista Harris does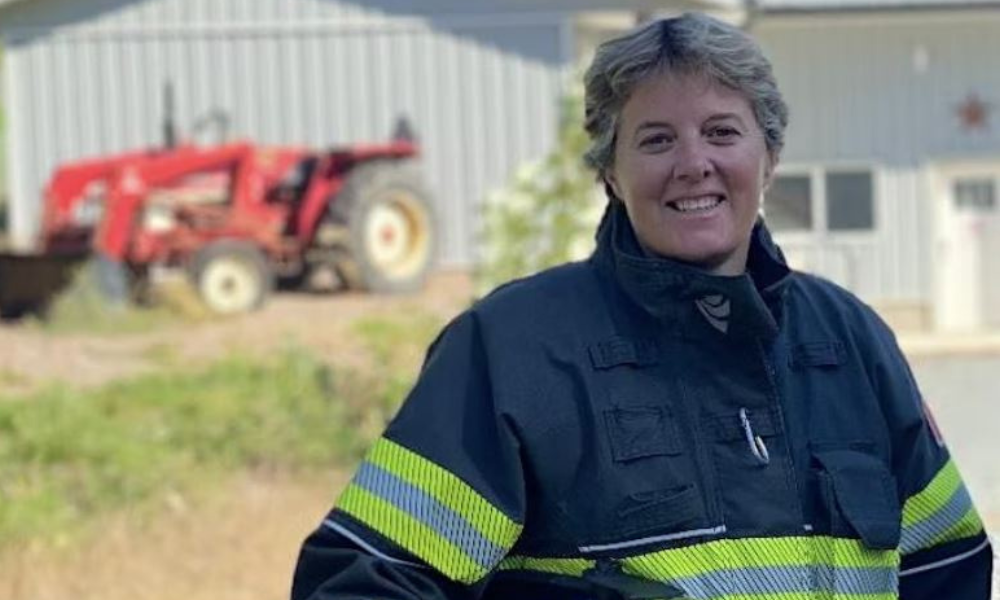 From fighting fires to operating an egg farm with her family and being part of a massive coordination effort to respond to a devastating flood, safety is always at the heart of every role Krista Harris performs.
"I'm not a safety expert," says Harris, who repeatedly makes it clear she does not feel qualified to hold that kind of title. But she has been saving lives with the Abbotsford Fire Department for nearly 20 years.
It's her job to help people in some of the most unsafe scenarios imaginable. Sometimes she saves lives while she's not on the job, like the time she and her wife, who is also a firefighter, rescued a mom and two kids from a vehicle filled with carbon monoxide on boxing day in 2018.
Safety and teamwork are two threads interwoven throughout Harris' life. She grew up loving team sports and played university basketball. Once she graduated though "I just had a void there," says Harris, who ended up living right across the street from a fire hall, "and I thought oh, this looks fun."
But Harris is motivated by more than fun. "It's a job that's extremely exciting, and very fulfilling to be able to save people, help people, you don't save them all, but it's just a huge boost to your soul."
While Harris enjoys firefighting, she also loves her family deeply. She grew up on a hobby farm with many animals and when the opportunity arose to start an egg farm with her wife, sister and brother-in-law, Harris seized the opportunity. But she also knows first-hand that running a farm comes with inherent risks, "safety has been sort of subconsciously worked into our family, because we're trying to avoid what we've had to see and do all these years."
Harris has responded to several farm mishaps and "most are preventable." Everybody who works on B Jack Farms are family, either Harris' own children, or her nieces and nephews. That's part of the reason Harris tries to implement the same safety standards commercial farms must adhere to on her own family-run farm.
"We all made a commitment to making sure that just because we don't have the same standard, and safety checks and requirements that large employers and large farms have, we can use what they are enforcing, and we can use those larger resources and apply them to our small family run business."
The farm has been accident free. But mother nature is an undeniable force. In the fall of 2021, an unprecedented flooding event caused widespread damage across large swaths of British Columbia. Abbotsford was one of the hardest hit regions.
"It was a devastating time for many of our friends and the farming community," says Harris. Her wife, Cathy Van-Martin, serves as the emergency operations director for all of poultry in the province, and of course Harris worked around the clock in her capacity as a firefighter, a duty she still performs while running the farm.
"It was yet again, an interesting way to combine our past emergency services career with farming," says Harris. Animals needed saving, water and food supplies needed to be re-established, and everyone needed access to PPE. Harris describes a logistical challenge that required a safety-first approach.
"The work that was done by the people who were suffering the most, to continue to care for their animals, and their farms and their neighbours' farms, was unbelievable," says Harris. She says she used to say if you ever need something done, call a firefighter. Now, she says call a farmer.
Farmers also want to hear from Harris. She will be speaking during an online forum hosted by the Canadian Agricultural Safety Association on Thursday November 24. Harris will expand on her farm's philosophy around sustainability and safety in the egg industry.