Honda of Canada Mfg safety specialist on the challenges and solutions of working at a huge manufacturing plant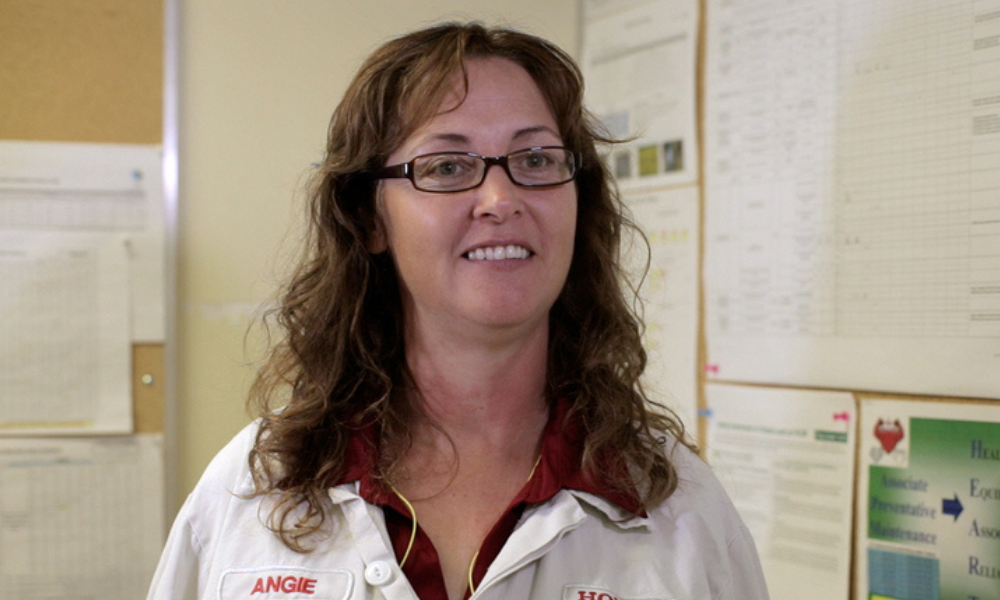 The business of manufacturing is one that is intrinsically tied to that of safety; there are so many different angles to approach in a plant – and every piece of the puzzle is finely honed to ensure that everything is as it should be.
"With a population of4,200, we're like our own little town. We have to have everything in place," says Angie Trumpler of Honda of Canada Mfg.
Trumpler has been with Honda for over thirty years, and has seen every aspect of safety at her plant. Currently, she is Corporate Construction Project Leader and Construction Safety Specialist. "I've worked in every department, I've worked with thousands of associates, and I've been able to touch their lives – and they've been able to touch mine."
Manufacturing safety has many different moving parts. First of all, safety inside the plant. "Because we are dealing with so many associates, and you're dealing with equipment and the humans interacting with this equipment, you have to ensure that everything is ergonomically friendly," says Trumpler. Ergonomics and kinesiology are huge in preventing injury.
Another important aspect is medical safety. A company as big as Honda has a staff of medical personnel and emergency response personnel on site. "We have a huge, incredible staff of nurses who dedicate their lives in the humanitarian efforts of if someone is injured or sore, they give them the care they need." In addition, Honda of Canada Mfg. has physiotherapists, and athletic conditioning specialists offered in-house.
At the organization, every industrial setting has emergency services such an internal fire brigade who receive extensive training. The fire brigade is trained to deal with hazards inherent to the setting, so for example dealing with hazardous material spills. "All of this pre-planning to avoid disaster is done by resident experts," says Trumpler.
In such a big, varied environment, there are so many different teams needed to ensure worker safety. Safety isn't just someone walking around doing a workplace inspection with a checklist, says Trumpler, "that's one side of safety. Does that need to happen? Absolutely, because that's our grassroots safety. But it takes off from there."
Honda is a very dynamic company, so they are often building new facilities and the safety of those building these new facilities. "When it comes to our building expansions, we need experts for that." The organization also has a team dedicated to confined space safety.
Trumpler says that this is why industrial safety is such a wonderful career, because it is so varied and safety professionals can really cut their teeth on a wide variety of projects. Over the last few decades, she has learned a thing or two about effective safety leadership.
To be a leader in safety is to ensure that the organization is properly dealing with the negative outcome of an injury or an illness, or an accident taking place on site – "nobody wants that to happen."
It's up to leaders to make sure that they have done their due diligence, which will help avoid these negative outcomes. "It's difficult for those that are new to safety to understand how much pre-work needs to go in because the actual technical tasks take place," says Trumpler.
Leaders need that experience, either through real world knowledge or education, to better equip themselves to handle health and safety at work by preparing yourself for any scenarios which might arise.
And safety isn't proprietary, "a safety leader is always willing to share the information that they know, they're always willing to teach," she says. "It's all about safety for everyone. It's not about individual safety, it's about looking out for the whole team."