CEO takes safety personally and says it has to be his top priority if the firm is to succeed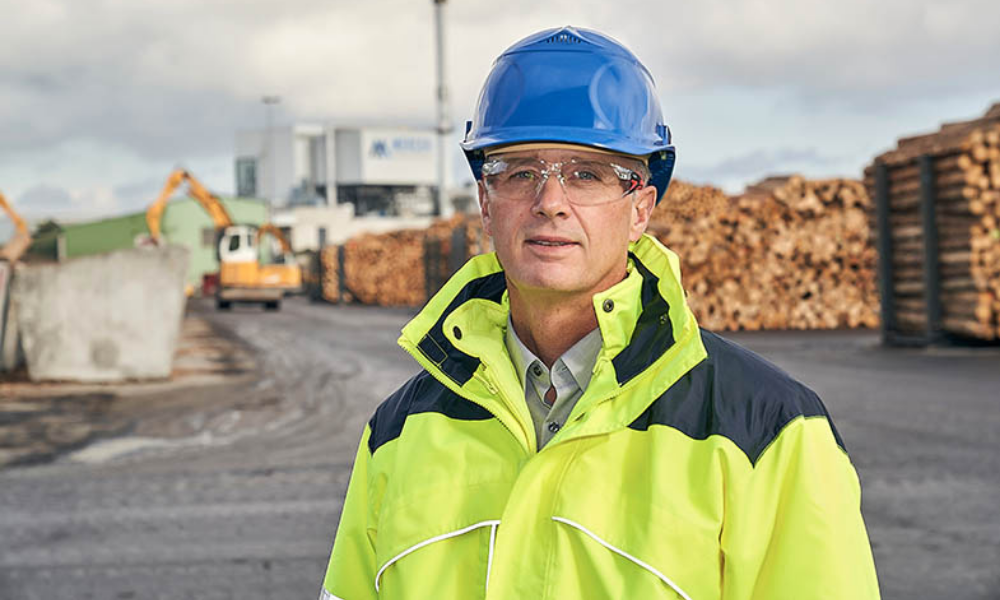 When David Gandossi took charge of his company, he soon realized safety standards were nowhere near where he wanted them to be. Safety immediately became his top issue.
He said: "I think as an industrial leader that's got to be my number one priority […] I just take it really personal, I know how quickly these things can happen."
Gandossi is President and CEO of Mercer International, a world leader in pulp production which is headquartered in Vancouver, and was recently named as the CEO of the Year at the Canada's Safest Employers Awards.
Starting out as a chartered accountant in Canada, he moved into the forest industry and has been involved in that sector since 1994.
During the early years of his career, he also worked in construction where he "recognized early on the risks of not paying attention or not being trained".
Gandossi started with Mercer in 2003 and has worked with the team to build the company over the last almost 20 years – and this includes building the company's safety program.
"When I became CEO, I recognized that our safety performance wasn't where it needed to be."
To help in his endeavour, Gandossi reached out to leaders at other companies which were excelling in health and safety performance.
"One nice thing about health and safety," says Gandossi, "is that everybody is willing to share."
This is a sentiment that has been echoed by a number of safety professionals, that safety isn't proprietary and can only be improved when OHS leaders are willing to work together.
After, the team at Mercer spent a significant amount of time developing the safety program and building a framework that they hoped "would drive the realization around the safety mindset all the way through the company."
Building the right culture
Gandossi highlights the importance of finding the right leadership to bring organizational culture forward.
In almost every mill, Mercer changed health and safety leadership with safety officers now sitting at the top of the house as a "respected and charismatic leader."
In 2016, Mercer brought Mark Goebel on board as Health and Safety Manager.
"Mark is a tremendous safety leader in so many ways and together we built a team that could deliver," says Gandossi.
Goebel started his career in 1989 in a pulp mill. He initially worked in operations, but had a desire to work in emergency services. After five years at the mill, he landed the chance to work in what was called "plant protection" at the time as an industry emergency responder.
During his 17 years in that industry, Goebel had "first-hand experience with the aftermath of poor management and poor safety making decisions."
Goebel says that he is inherently a risk taker, which is why he enjoys doing his job in an industry and a workplace where safety is essential: "It's super important, it's very meaningful, it's very critical."
And so, he says, what drives him is having had those experiences. After almost two decades, he decided to shift gears and wanted to become more influential on the prevention side of things.
Before joining Mercer, Goebel spent 10 years in the mining sector. He is now Vice President of Health and Safety at Mercer.
Organizational challenges
Even with the best intentions, there are still hurdles when building a strong safety culture.
"The biggest challenge to an effective health and safety culture is the people that are involved leading the company," says Goebel.
Speaking about his experience at Mercer, he says that "true, real, demonstrated support from the top at Mercer is critical for our success because that cascades down through the organization in more ways that you would actually think."
Goebel says that the organization is full of "good" people because of the culture it has built, and the prioritization of the value of health and safety is right at the top of the house.
Everyone is a safety leader, and they lead by values every day, but this kind of culture can only be built if upper management makes safety a priority:
"If you don't have that kind of support, it's an uphill struggle," says Goebel.
Safety leadership
So what makes a good safety leader?
"The individual has got to have gravitas," says Gandossi. "[They] need to be true leaders, they can't be schooled in safety without being good leaders."
In addition, good leadership is something that develops over time, he says, "you can't learn it in a schoolroom."
Gandossi says that there are other fundamental skills that good safety leaders need to have, such as excellent communication skills and a true passion for health and safety.
"They're hard shoes to fill," says Gandossi.
Goebel adds that safety leaders also need to have the ability to be adaptable. By this he means that safety leaders need to understand when to switch the tone – when to switch between soft encouragement and a firmer tone.
"[It's] hard to teach someone," says Goebel, "how do you adjust to being supportive […] and when do you bridge over to being a little more critical or holding people accountable."
With such an important role, safety leaders also need to gain respect for people at every level of the organization.
Gandossi and Goebel are also keen to empower their workers to be autonomous, and provide support to empower people in the organization – part of this is done by including employees in the decision making process.
Ultimately, Goebel says that though they have made strides, safety is a continuous learning process and that his organization still has a way to go before it's at the top of its game.