Occupational exposure series: I couldn't walk away, says advocate fighting to get former foundry employees and their families the help they need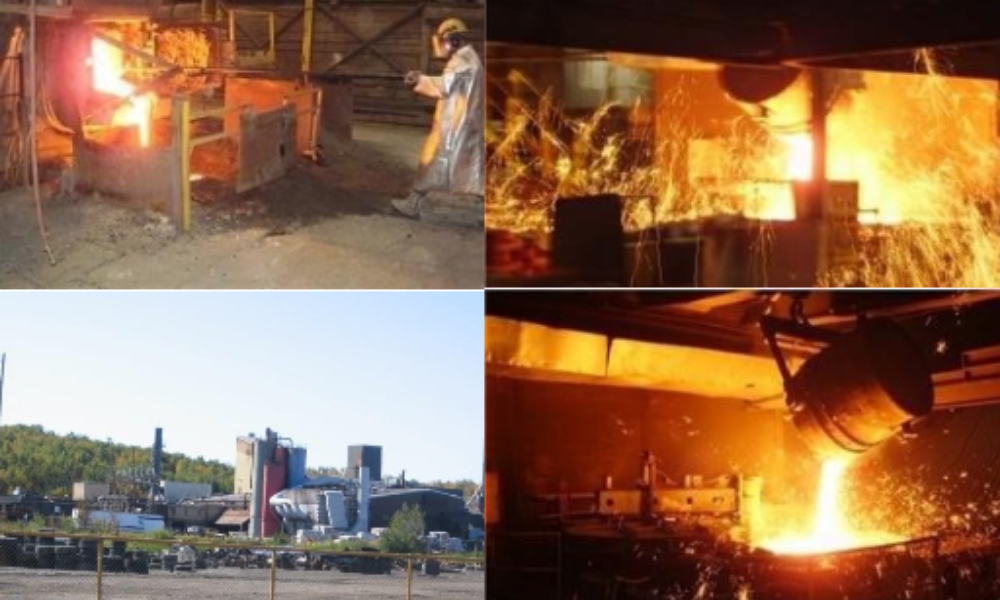 It all started with a phone call.
"I received a call from the WSIB asking if I would assist a past employee of Neelon Casting. The worker had been diagnosed with chronic obstructive pulmonary disease (COPD) and he was palliative," says Jessica Montgomery, Disability Specialist, United Steelworkers (USW) Local 2020.
Neelon Casting was a foundry plant in Sudbury, Ont., which opened in 1975 and was operational until it was shut down in 2007. Montgomery told COS that initially she had no idea what kind of things the worker was exposed to, or even what his job duties were.
Upon doing some research, she came across a Facebook group dedicated to past Neelon employees. Soon after joining the group, she was contacted by a flurry of workers who helped provide more information – notably about the nature of the exposures.
In addition, she made a request to the WSIB for all previously denied, abandoned and allowed claims. Montgomery also made a Freedom of Information request to the Ministry of Labour to gather any complaints issued.
She supplied all of these documents to the WSIB, and the claim got allowed. But this was just the beginning.
Firsthand perspectives
Going back to the Facebook group, Montgomery noticed a pinned post of all the obituaries of Neelon workers who had passed away. There were at least 57 of them, many of whom had died in their late 50s or early 60s.
"I didn't really think it was a coincidence that all these workers were fairly young, so I made a post in the [Facebook] group and asked who else is sick. A ton of them messaged me," she says.
Many had been diagnosed, or had family members, diagnosed with COPD, lung cancer, silicosis, etc. Though keen to get justice for the workers, Montgomery realized that she couldn't take on the project on her own. USW joined forces with the Occupational Health Clinics for Ontario Workers Inc. (OHCOW).
One of the most pressing issues was, and still is, getting testimonials from those who had worked at the plant.
The group of workers has been instrumental in helping the WSIB get a better picture of what conditions were like in the workplace. This will help Union and OHCOW provide a clearer retroactive exposure profile of the plant, which in turn will help with claim reviews.
"One thing that never changes, that disappears through time as people pass away, is their firsthand perspectives, what they experienced. And that is the heart and soul of what we're trying to do with this report," says Andrew Zarnke, Occupational Hygienist, OHCOW. "There's a latency period for a lot of these occupational illnesses that the workers are experiencing, so now they're coming forward within the last couple of years."
Combined exposures
During its 32 years in operation, more than 2,000 unionized workers were employed at Neelon Casting.
Workers at the plant were exposed to a number of toxic substances, including silica, carbon monoxide (CO), contaminated green sand, lead, antimony, triethylamine gas (TEA) and solvents.
Hundreds of workers have come forward since the start of the project and COPD is the most prevalent illness in the cluster, says Zarnke.
There are also a number of cancers, such as lung cancer, as well as lung disease and chronic asthma.
In addition, there are women's health issues such as chronic migraines or early menopause that are as of yet non compensable.
"We're also looking at a workplace with combined exposures. So a lot of workers also have multiple diagnoses," says Zarnke.
Workers broadly knew about the health effects, but it was a place to work and the jobs typically required minimal education to work there. Some men left high school to work there, says Montgomery, which is why most of those making claims are very young. To what extent the workers knew the full adverse effects of the substances is a question mark.
"They weren't educated on health and safety to what we educate workers now," says Montgomery.
It is also hard to determine whether the employers knew or took action.
"I haven't been placing blame, that's not my intention. I'm just trying to get workers and their survivors these benefits, and bring some justice and light to it," she says. "My goal is to get these workers and their families the help they need."
Blacking out
CO exposure at Neelon was a particularly fraught issue. "Workers were exposed to high levels of CO throughout the whole time that they were there," says Zarnke. The levels were so high that "workers were getting in trouble, because they were falling asleep".
Eventually, someone realized that it was the CO levels, and when they were finally monitored, CO levels were 10 to 100 times the normal levels.
"People were passing out and blacking out from it," he says.
Workers were also being exposed to triethylamine gas (TEA), which has respiratory affects. The levels of TEA at the plant were around 50 times what the current occupational limit is now.
The immediate, acute effect of TEA is that workers would get blue halos in their eyes, affected their vision. Zarnke says that there were accounts of workers having to wait in the parking lot of the plant after their shift just so they could drive home safely.
Lastly, workers were exposed to high heat. "The heat exposure there was extreme," says Zarnke, which would then exacerbate all of the other exposures – especially with regard to cardiovascular diseases, for example.
The gold standard
Compared to previous clusters we have reported on, such as the workers exposed to McIntyre Powder, Zarnke says that the path to getting claims believed and accepted was a lot less restricted.
The claims process has improved over the past few years, the Union and OHCOW are working in partnership with the Ministry of Labour and the WSIB, who are each doing their part to assist the workers with their claims.
Montgomery says that it is the "gold standard on how we should be working together for these workers and their families. It's not perfect by any means, but it's been easier for the workers to navigate."
"Because foundry work has been identified as being dangerous for hundreds of years, there's been a lot of studies done on historical foundry operations around the world. So there was a lot of information," says Zarnke.
Though normally unions can only represent unionized workers with their WSIB claims, the WSIB did recognize how large this cohort is and how many people are sick, says Montgomery. In addition, Sudbury is a small community and resources are limited, so the WSIB allowed Montgomery to represent all the workers.
The cluster comprises not only unionized employees but also non-unionized workers and contractors who came forward after being diagnosed with various illnesses.
USW and OHCOW have agreed to support whatever worker comes forward.
Tip of the iceberg
Since the start of the project, Montgomery has spoken to around 500 past employees.
Since September 2020, she has initiated 188 new claims, there are also 46 previously abandoned or denied claims under review.
"I made the commitment to see this through. After reading all of those obituaries I couldn't walk away from those stories, because where would they be," says Montgomery. "These [claims] are life changing for these people, for these widows."
"It's not even close to being over, a lot of these claims will be with me for the rest of my career […] We're not even at the tip of the iceberg at this point in the project."
This is the third part of our new series on occupational exposures. Over the next few weeks, COS will be shining a spotlight on the issue and speaking with occupational disease advocates about the dangers of workplace exposures.
Here are the first (miners exposed to aluminium dust) and second (exposures at GE plant in Peterborough) parts of the series.