Company wins gold in manufacturing category of Canada's Safest Employers awards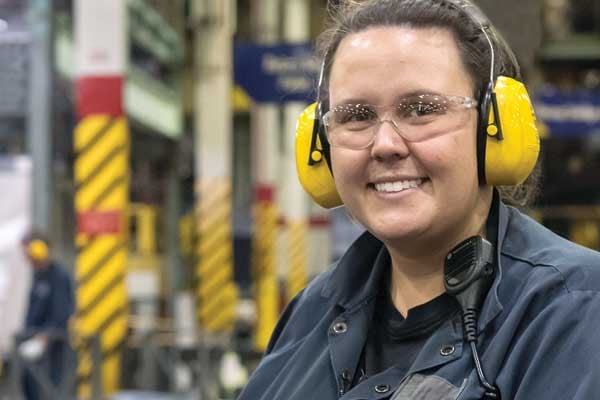 Michelin Pictou County in Nova Scotia has a highly trained emergency response team with 62 members that are trained firefighters and first responders.
"I have personally seen it where within less than a minute we have MERT (Michelin emergency response team) members that are right there," says Trevor Hunt, environment and risk prevention manager.
The team is not only critical in keeping the plant safe but also in keeping its surrounding communities safe. Most of the team members are volunteer firefighters, with 24 fire departments being served by Michelin employees across the region.
Recently, Michelin's Why I Work Safely poster campaign was a great success in engaging its 705 employees in safety. Each week, a winning poster is selected and displayed throughout the plant.
"It's about being able to enjoy your sports activities, your family is a big one that we get — people post pictures of things they are doing with their children or spouses — or travel. The gist of it is to connect to that emotion and to get people to think of what's really important," says Shaun Briand, site personnel manager. "Production isn't really very important in the big scheme of things."
Michelin Pictou County's leadership team walks the plant floor once a week, focusing on safety, quality and efficiency. The cross-functional team is made up of managers from different areas and different levels and is invaluable in getting a "different set of eyes" on the floor, says Hunt.
"We tend to see a lot of the managers of [a particular] area are used to looking at the risks that are out there and sometimes they don't see some of the risks because they just walk by it every day," says Hunt.
Having this high-level team walking the floor also allows some of the more serious issues to be expedited and resolved quickly. Additionally, it provides a great opportunity for employees to chat with senior leaders about safety, and they often do open up to them about concerns they have, says Hunt.
The company's Total Participation Program requires all employees to record a safety action that they have completed each month, which helps to highlight positive safety events.
"It's fairly lightweight; it's not something huge that people have to do but it takes some time to stop and think about what you have done during the month that contributed to safety on the site," says Hunt. "The program makes sure that everyone takes time out of their month to focus on safety and contribute in some way or another."
Ensuring workers keep their mind on task is very important at the tire manufacturer. It is in the process of rolling out a new behavioural safety program called Max Your 10, based on NB Power's program Up Your 10. The name comes from the fact that we use only about 10 per cent of our brain power thinking about the here and now. Max Your 10 focuses on trying to get more out of that 10 per cent and being more aware during at-risk tasks.
"People are worrying about family, kids, money, aging parents — there's lots of things that can occupy your mind and take you away from what's right in front of you," says Briand. "If you see someone else not focused or drifting away or visibly distracted, then you can step in and say, 'Hey, are you in the 10?'"