Company wins gold in building and construction category of Canada's Safest Employers awards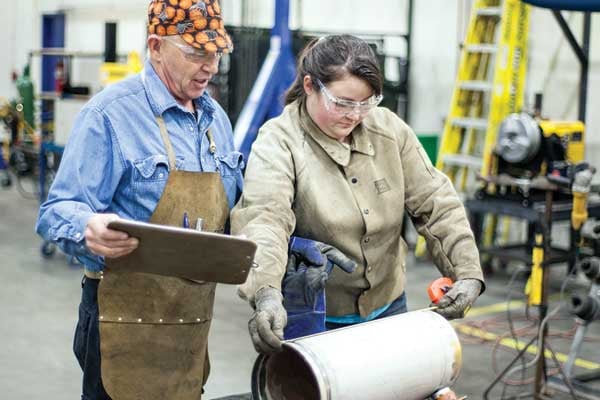 Modern Niagara is an "open source" to its partners, subcontractors and even competitors.
"We don't use our safety program as a competitive advantage at the expense of any worker's health and safety — not our workers or anybody else's," says Erin Oliver, vice-president, employee health and safety. "Our competitor's workforce today might become our own tomorrow. We recognize there's a fluidity to the workforce."
If the Modern Niagara safety team sees anything that doesn't meet it's "strict and stringent" safety standards, it does not hesitate to have frank discussions with sub-contractors.
"We will also notify the executive what we've found and what we've actioned and made adjustments to," says Jim Warner, executive vice-president. "The bottom line is we are all accountable on it and we will fail if we don't collaborate and succeed together."
Modern Niagara is a mechanical, electrical, services and controls contractor headquartered in Ottawa with regional offices in Vancouver, Calgary, Edmonton and Toronto. The company has 2,500 employees.
Executives and senior management members make the effort to be present on Modern Niagara work sites. At a minimum of once per month, they perform documented site inspections.
"As the business evolves, it's important that the field workers see that the executives come out and make sure they understand what's going on and understand what the craft is and what the hardships are on the job site," says Oliver. "They can emphasize with them and support them."
Once an inspection is completed, either by senior management, middle management, supervisors or health and safety worker reps, any hazards or concerns identified are given a risk ranking. Each item identified is assigned to a particular person or group for rectification with an expected close-out date. All observations and hazards on each project are logged into the company's health and safety management system. iPads and smartphones have been provided to all field teams, which allows for easy digitization of inspections, creating real-time data that can be shared and accessed at any time. Data collected from all inspections generates more than 15 key grouping metrics that graph trends statistically over a period of time. The trends can also be segregated by project, supervisor, division, trade and much more. This allows the safety department in conjunction with management teams to develop comprehensive strategies to tackle the concerns that arise, Oliver says.
One avenue Modern Niagara uses to engage workers in safety is the Stand Up Moment, a program premised on the concept of "See something, say something." Employees are encouraged to identify hazardous conditions on site or report new ideas, innovations, tools, equipment or methods.
"I had a foreman email me at 1 o'clock in the morning about a new type of hard hat that's coming out with cranial protection built in… That's a Stand Up Moment. And we are actually going to look at those hard hats to see if they are worth the investment because head injuries are a phenomenon of construction," Oliver says.
Every day at Modern Niagara, work crews are given a Plan of Day card, which prompts them to perform an inspection of their work area, define their daily tasks, determine applicable hazards, record their concerns and explain how they will be mitigated. Signatures are required prior to starting work, as well as initials after each break in work.
Modern Niagara also has a full library of high-level job hazard assessments (JHA) for the majority of the tasks that its employees perform, which are available via iPad and smartphone. This means that if a supervisor creates a JHA for a particular task in Vancouver, a supervisor in Ottawa can peruse the library for that JHA.
Also available on iPads and smartphones is an innovative "playbook" that includes video clips on the proper execution of various tasks. With the touch of a button, a supervisor can access the video as well as a step-by-step, hands-on guide to properly completing a task.
Something that is a bit unique at Modern Niagara is that the safety department is included in the estimation phase of a new project. Safety specialists are often consulted about specific work tasks and the issues the estimating teams see from the project tender.
"There is a cost to safety and to doing it correctly… There are times we actually lose a job because we have compensated for what's required on a job where someone else hasn't," says Warner. "Those are the jobs we don't want anyway."