Company wins gold in oil and gas category of Canada's Safest Employers awards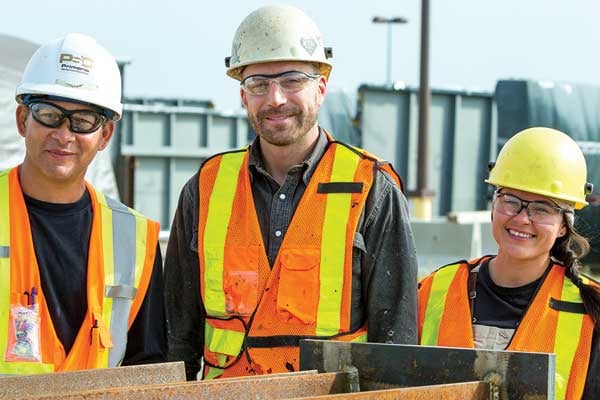 At Primoris Canada, they don't just track their safety performance, they're keeping score.
For the Edmonton-based oil and gas construction company, which has 689 direct and 68 contract employees, a central component of the safety management program is a Health, Safety and Environment Scorecard. Every month, each work site completes a scorecard, which later will be used to measure HSE performance against managers' established expectations.
"It's like a health check of where each location is at with the implementation of our expectations," says Kim Taylor, director, HSE.
Completed scorecards show leading and lagging indicators, as well as the number of inspections, observations, focus audits, hazard identification cards and other HSE compliance components. The card is also used to record safety culture activities and environmental protection strategies.
Scorecard data is compiled, and work sites are given a percentage score. The results are summarized first in a business-unit level report and then in an overall Canadian executive report. They are compared with the expectations set for each item. These scorecards give senior leaders a snapshot of how the health and safety system is being implemented at the work sites and serves as a measurement of the company's safety performance.
"It's been one of the best programs that we've implemented. It allows us to stay on track, stay focused," says Taylor.
Another element of the safety program is the company's hazard assessment and control strategy, which occurs over four phases of the work process. The first phase, called the operational HSE assessment, is particularly important. It refers to the planning done before work on a project is started. The HSE team and project manager meet and cover every aspect of pre-planning: area hazards, hazard assessments completed, how each task will be conducted, training required and equipment and tools to be used.
The information is all documented and, after the project starts, the operational HSE assessment will be reviewed monthly to ensure the project stays on track with the plan established in the pre-planning phase.
"It allows us to be very prepared on all aspects of safety before a project gets started. It acts as a gap analysis for our system, showing what we currently have and what we need to develop before the project starts," Taylor says.
Primoris' talisman program was introduced in 2011, following a serious incident caused in part by an employee's failure to adhere to company safety rules.
Under the program, every new worker has a meeting with a senior manager. The manager explains company expectations around working safely but also talks about why they work safely, connecting safety to the things in life that are most important to them. The worker receives a coin, or talisman, which they will carry with them every day to work.
The new worker also signs the Talisman Commitment form, pledging their commitment to working safely, and is asked to bring in photos of the people and things that matter most to them. These are posted on the walls in all their work sites.
"It's been one of our biggest initiatives," Taylor says. "The coin engages our workers and reminds them of what they're working safely for."
Primoris values continuous improvement. It achieves that in part by having an effective incident learning system, which helps reduce the risk of recurrence and improves employee awareness. After every incident, the safety team develops a short "lessons learned" Powerpoint presentation summarizing the incident and its key lessons. It is distributed to all work locations for review at safety meetings.
Workers at Primoris are encouraged to look out for one another and intervene in unsafe situations.
"It's important they feel supported and empowered to do the right thing, stop unsafe work and enjoy their career here," Taylor says.