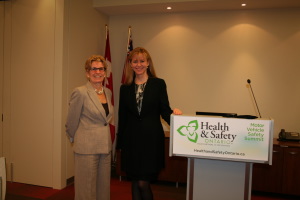 Motor vehicle incidents continue to be a leading cause of workplace injuries and fatalities across Ontario. It is this fact that led over 100 members of Ontario's business sector to Mississauga on Oct. 26.
They came to the Centre for Health and Safety Innovation for a summit to develop a multi-year plan to reduce the rate of workplace injuries and fatalities caused by motor vehicles.
According to the Workplace Safety and Insurance Board (WSIB), from 2005 to 2009, the number of motor vehicle-related lost-time injuries in Ontario dropped by almost 32 per cent, consistently dropping each year from 2,924 in 2005 to 2,001 in 2009. Over the same time span, the number of motor vehicle fatalities dropped 20 per cent, from 30 to 24.
This figure, however, is misleading because fatalities increased to 34 in 2006 and then to 47 in 2007, before dropping to 27 in 2008 and 24 in 2009.
While the downward trend in workplace injuries and fatalities is commendable, many attendees and speakers at the motor vehicle safety summit said there is still more work to be done to eliminate fatalities and injuries entirely.
Ontario's Transportation Minister, Kathleen Wynne, attended the summit to talk about what her ministry is doing to keep drivers safe. She discussed laws that limit the number of hours truckers are allowed to drive without sleep, speed limiters on large trucks and the stiffest penalties for driving infractions in Canada.
She also mentioned how her ministry works in tandem with the public in order to learn what needs to be done.
"We know, as a ministry, we need to work in partnership with all of you because you're on the front line," she told attendees of the summit. "We know the issues you're dealing with, so we're very proud of what we've done. But we want to continue to work with the people who have been giving us advice."
Emceeing the summit was Elizabeth Mills, president and CEO of Workplace Safety & Prevention Services. She spoke of how change can only begin when people feel it's needed and the appropriate attention is given. In other words, and specific to driving safely, the public's belief system determines what governments can enact to make driving safer.
Also present was WSIB chief prevention officer Tom Beegan, who said it's key that workers, and the general public as well, obey the laws when it comes to driving. He also said when it comes to changing a culture, he wonders if people are truly committed to bringing about the change.
To illustrate what can happen when people intend, and commit, to change, he recounted a story about a man sitting in a car in the centre lane of a major street. On both sides of the car were trucks. The driver of one truck leaned out of his window and yelled at the other truck driver, 'Put down the phone!'
This dovetailed into what Beegan had to say about what is required to reduce workplace deaths: a fundamental change in thinking and philosophy. People need to acknowledge that what is happening in workplaces is unacceptable, he said.
"We tend to talk about the negatives, for sure. And we tend to remember the traumatic and the awful events, but (a culture change) can be done," he said.
Science of driver safety
A large part of the day was devoted to Jeff Linkenbach, who discussed the science of the positive and transforming cultural norms in relation to improving driver safety. He talked about the need to question and change your paradigm if you want to see change, as well as recognizing there will be differences in results depending on whether a positive or negative message is used.
Linkenbach spoke about the concept of norms and perception. Perception is key, he said, because it matters how people perceive something relative to what it really is. In general, people want to believe what they think most other people believe. This often leads to a misperception of what is really happening (the norm).
He also spoke about what it will take to get from where we are today to that future where things are safer. He stressed the need to "go slow to go far to go fast," which emphasizes the big picture. It means in order to effect change, one must slow down to assess what they already have and then set a plan in motion to achieve the sought-after results.
WSIB chair Steve Mahoney was among the guest speakers. He echoed other participants when he said that to bring about the change that is needed, it's going to take continued societal, attitudinal and generational shifts in thinking. And these are changes he sees coming to pass in his own family. A father and grandfather, he sees how his grandkids are virtually chained to their car seats where his kids were once virtually thrown into the back seat with the dog. As time passes, people are getting safer and safer, he says.
"Maybe the goal of zero (workplace incidents) is not so crazy after all," he said.
Beyond increasing safety, Mahoney touched on prevention as a crucial ingredient in creating a safer workplace.
"I absolutely applaud the message, prevention is the key," he said. "But more than just going on about victims in workplace incidents, we need to focus on how we change the societal attitudes."
On the whole, the summit sought to begin a dialogue on driving safely at work. Participants talked with each other about their own experiences with work and driving, sharing why they feel it's important to improve driver safety.
Mills said the summit serves as a launch pad for a process to look into what can be done to make driving and work safer.
(Photos courtesy of Workplace Safety & Prevention Services)
----------------
Timothy Bryant is a freelance writer based in Toronto.