Company wins gold in chemistry category of Canada's Safest Employers awards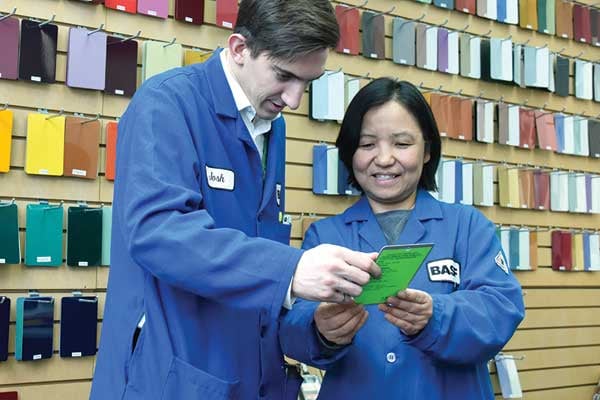 At BASF Canada, hazards are taken extremely seriously and are tackled by various teams.
First, leaders and supervisors evaluate how workers are doing their job, not if they are doing the job correctly, as part of the company's exposure reduction process (ERP).
"It's breaking away from the mould in which we are looking for right or wrong, in which we want to have our supervisors and leadership have initial conversations where they watch somebody work and then give them feedback on what they see as safe or at risk," says Sean Cammaert, ERP implementation leader and interim EHS team lead for BASF Canada.
The leaders also ask employees if they have any recommendations for how the company could make changes to improve the safety of their tasks.
Next, a steering committee made up of floor workers analyzes the site's history of incidents and injuries and the contributing behaviours. They then conduct peer-to-peer observations and provide feedback.
"Now you have leadership doing this and peers doing this. What it essentially is doing is we are changing the culture to more of a trust-based culture versus a fear-based culture around safety," Cammaert says. "[It's] generating more and more conversations every single day around exposures on the site."
Finally, all the information on the at-risk conditions is gathered and goes to the barrier removal team. Aptly named, this team removes the barriers that put people at risk.
If a near miss or incident occurs due to a personal performance issue, BASF employs its ABC analysis tool, which stands for antecedents (triggers), behaviours and consequences. The tool allows the incident investigation team to gain a better understanding of what influenced the individual to make the decision to act the way they did. Once this is determined, the individual is coached on changing the antecedents and consequences of the undesired behaviour.
"It helps us identify why people do the things they do," says Cammaert. "When it comes to behaviours that put people at risk, the first thing we want to understand is what was that antecedent, what was that trigger that caused you to do that."
New employees at BASF undergo an extensive onboarding program. At the Windsor, Ont. site, employees undergo eight days of face-to-face training, which is a significant departure from the previous two-day model.
"It's important to be done face to face because you can gauge the employee's understanding of the content," says Erika Harris, EHS and Responsible Care specialist for BASF Canada, which is headquartered in Mississauga, Ont. and has 1,233 employees across the country. "If you just put them in front of a computer and they just have to flip through slides, they aren't really getting the interaction they need to retain that information and really understand the importance of their dedication to what we are training them on."
To further ensure understanding, BASF is now making videos for various tasks and showing these in the orientation. The videos feature current employees performing the tasks, which increases their engagement in safety.
The president of BASF Canada, Marcelo Lu, regularly visits manufacturing sites, promotes safety by making it the first discussion topic in town halls, conducts a podcast that always includes a safety topic and participates in the company's Global Safety Days. Additionally, every time there is a near miss or an incident at the company, the resulting report crosses Lu's desk.
"Leadership shapes the culture," says Cammaert. "If leadership is not involved from the get-go, then they really are not involved in what the organization is doing."