Maguire aspires to lead the creation and establishment of a Mi'kmaq safety association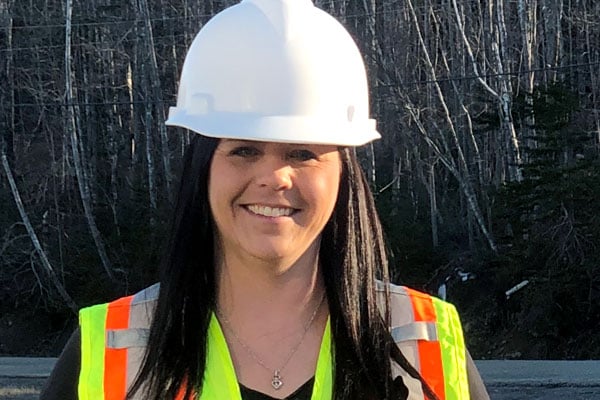 Stacey Maguire is the health and safety officer at Glooscap Ventures, owned by the Glooscap First Nation, in Hantsport, N.S. She was the recipient of the Canadian Society of Safety Engineering (CSSE)'s Outstanding Service Award for the Atlantic region in 2018. While she already has her certificate of occupational health and safety through the University of New Brunswick, she is currently working on her diploma, and she recently passed the Canadian Registered Safety Technician (CRST) exam. Before launching her safety career, she was the owner of Shortts Lake Doggy Daycare and Boarding for over six years.
Q. Why did you want to get into health and safety?

A. I recognized a void of health and safety programs and elements in First Nation communities, which gave me an opportunity to fill the gap by learning new skills and leading change initiatives. This field of work allows me to give back and contribute to my home community — as well as other First Nation communities in the region — through the implementation of culturally inclusive health and safety regimes.
Q. How do you promote safety outside of work?

A. I volunteer with the CSSE where I am the vice-chair of the Western Nova Scotia Chapter. I support and participate in the Threads of Life organization and its annual Steps for Life event in Halifax in May. I also participate in the newly formed Indigenous Relations Task Force of the CSSE, as well as the National First Nation Health and Safety Working Group through the Nokiiwin Tribal Council in Ontario.
Q. What past experiences helped prepare you for your current role?

A. Through a one-year mentorship program, I had the distinguished and dedicated support of Ennis Safety Services with Wanda Balsor as my mentor, which provided integral foundational experience and instilled confidence in me for my work in the health and safety field. In the past, I worked with the Confederacy of Mainland Mi'kmaq in the delivery of economic development program support for First Nations, which gave me experience and networking within various First Nations. My work with the urban off-reserve diabetes education and awareness program, through the Mi'kmaq First Nation Healing Society, also built on my program delivery skills and built networks and partnerships that I use in my current work.
Q. What do you like the most about being a safety professional?

A. No day is ever the same — the diversity of work is challenging and rewarding. When you see workplaces become safer, you know that you have been a part of the vision to ensure everyone goes home to their family safely at the end of every day. I love to learn, as it is challenging and rewarding, and this opportunity provides lots of both.
Q. What has been THE biggest challenge so far in your safety career?

A. It has to be that no formalized First Nation safety programs exist, so you are starting from ground zero to build the First Nation programs and safety culture. However, this challenge opens up the biggest opportunity and the most exciting part of my work.
Q. What are your career aspirations?

A. I strive to lead the creation and establishment of a Mi'kmaq safety association. I am driven to develop and implement a robust, comprehensive and culturally appropriate health and safety system within the Glooscap First Nation community that other First Nations can benefit from as well. I see the day when we can offer health and safety support to all Mi'kmaq communities in the realization of their OHS goals.