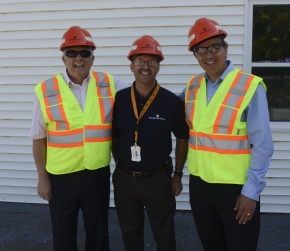 While winning the top prize of the Canada's Safest Employers lineup may certainly be an accomplishment, NB Power's president and CEO still doesn't want employees to believe they are the safest.
"It's the case of never letting complacency set in. You always have to question where you are and you always have to have doubt because it's the continuous effort and continuous reinforcement that's crucial. The minute you let go of that, complacency sets in and it's easy for people to go back to bad tendencies," says Gaëtan Thomas.
As president and CEO, Thomas truly believes he is the keeper of safety within the utility, which serves 400,000 customers in New Brunswick and has 2,500 employees. He believes he is ultimately the one who should be held accountable when there are any safety incidents and he sets the tone for NB Power's accountable, blameless culture.


WATCH THE EXCLUSIVE VIDEO HERE
"You need people to trust that the CEO and the executive are truly not going to blame people. You need to build the confidence in employees that they can have the courage to speak up or stop the job," he says. "You have to create the environment first."
From there, he says, you can give employees the training, tools and confidence to be personally held accountable for occupational health and safety. One way NB Power does this is through its performance management system, which includes a measurement on safety for all employees.
"Of course job competence is important, but how you get the work done, for us, is far more important than how fast you get it done," says Duff Boyd, director of health and safety. "And if you get a 'needs improvement' in that category, quite frankly, that will be a very strong conversation."
When measuring employees on safety, supervisors must consider whether they demonstrate that no job is of such urgency or importance to justify not taking the necessary steps and time to ensure the safety of every member of the workforce and the public. This can often be seen in their level of adherence to the NB Power/IBEW (International Brotherhood of Electrical Workers) Shared Commitment to Safety. For example, they follow the rules, would refuse unsafe work, would report incidents, lead by example and would have the courage to intervene if they see an unsafe act or conditions.
NB Power's board of directors is very supportive of the utility's safety initiatives and it has a human resources, safety and environment subcommittee. Boyd meets quarterly with the board of directors — a unique opportunity for a health and safety director — to report on safety issues and incidents, which gives an unfiltered, unbiased approach.
One day per week, Thomas and the executive team is in the field, which gives them a better sense of the challenges and risks employees are facing. This also provides an excellent opportunity to have safety-related conversations with employees.
"The best way to have these discussions with your folks is not to bring them into your head office. It's proven people are going to be more open and candid with the CEO or with their executive when you are in the field," says Thomas.
When management or corporate health and safety is not on site, employee safety champions act as their "eyes and ears." These individuals are responsible for not only overseeing safety in the field, but for also conducting incident investigations, providing work method interpretations to employees, researching equipment and personal protective equipment (PPE) needs and generally being the safety advocate.
"They also perform the invaluable task of recognizing when employees are involved in stressful situations, such as during storm response, where the focus inadvertently goes to customer first instead of safety first," says Boyd.
NB Power, which is headquartered in Fredericton, is very active in promoting electrical safety in the community. It has public safety campaigns with radio, TV and newspaper ads as well as school education campaigns. It also hosts contractor safety days for all contractors in the province (not just those working for NB Power). Safety champions also meet at least annually with first responder groups, fire department and police groups to teach and inform them about downed or damaged electrical line safety.
"All that, we do for free based on the social conscious that we are a utility but we're also a Crown corporation, so we're accountable to the citizens of this province," says Boyd. "We take that responsibility very, very seriously."
Employees are expected to demonstrate safety behaviours off the job as well, and speak up if they see a neighbour doing an unsafe act, says Thomas. Many employees at NB Power wear safety shoes and safety glasses to mow their lawns, for example.
NB Power has just three corporate values: safety, quality and innovation. And safety is always number 1.
"It's almost like safety is a gate that decisions have to pass through," says Boyd. "If it can make it through that, then we can discuss the other things — how to do it the most effectively and efficiently — but in the absence of it passing through the safety gate, it just doesn't happen."
According to a recent survey conducted by an external consultant, 92 per cent of NB Power employees said they feel safe working for the company. While this is impressive on paper, Boyd says he truly feels the award-winning safety culture every day in the field.
"When I listen to morning huddle discussions and people are getting their work assigned and they are actually talking about what they need in order to perform the work safely, it's a remarkable feeling," he says. "Culture is one of those things. It's undeniably part of intuition. It certainly is not black or white but you can feel it."


Learn more about the silver winners of this award here:
•Borger Group of Companies
•Techmation Electric & Controls