COS wraps up all the public health measures in every province and territory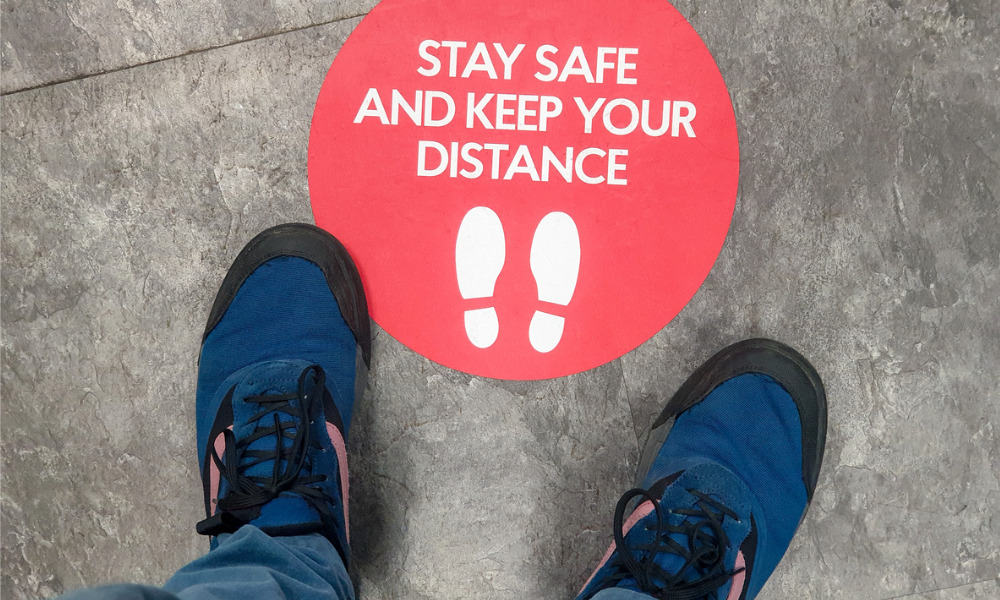 As Omicron is surging across Canada, provinces are scrambling to put into place new measures in hopes to curb the spread of the variant.
Putting a dampener on the holiday season, Canadians are being urged to keep gatherings small.
In addition, masking, vaccine and physical distancing measures are being reintroduced, and will most likely last throughout the winter amid this fresh wave of COVID.
Here are all of the new measures that have been introduced across Canada so far.
Alberta
Premier Jason Kenney announced minor changes to indoor gathering rules on Dec. 15. While indoor gatherings are still capped at 10 people, those people can now be from as many different households as desired.
This gathering rule applies to all Albertans regardless of their vaccine status.
British Columbia
B.C.'s new restrictions take effect on Dec. 20 and will extend to at least Jan. 31, 2022. These measures include:
limiting indoor, personal gatherings, including in rental and vacation properties to the household/residents plus 10 individuals, or one additional household maximum if all are aged 12 and older are fully vaccinated
the vaccine pass is required for events of all sizes
seating requirements and restricting movement between tables at food and liquor-serving premises. Capacity in bars and restaurants will be capped to 50 per cent
venues of 1,000 or more will be limited to 50 per cent of the seated capacity with masking and vaccine pass requirements
all sports tournaments will be halted until measures are lifted
all New Year's Eve organized gatherings and events will be restricted to being seated-only events
retail stores need to have a COVID-19 safety plan in place for holiday and Boxing Day sales.
In addition to the new provincial health officer orders, British Columbians are being advised to limit indoor gatherings to those who are fully vaccinated, to avoid all travel if non-vaccinated and avoid all non-essential travel outside of Canada.
Read more: General guidelines for safe working during the COVID-19 pandemic
Manitoba
The provincial government announced new measures on Dec. 17 aimed at curbing the spread of the variant. The new public health measures will take effect on Dec. 21 and will be in place until at least Jan. 11, 2022.
Household gatherings will all vaccinated people are restricted to the household and 10 additional guests. If there is an unvaccinated individual over 12, the gathering is restricted to the household and an additional five guests.
Where proof of vaccination is not required, public indoor gatherings will be capped at 25 per cent capacity or 25 people (whichever is lower). Outdoor gatherings will be capped at 50 people without proof of vaccine.
In addition, places such as museums, gyms, libraries and movie theatres will be limited to 50 per cent capacity. At restaurants, guests must remain seated and there will be a maximum of 10 people per table allowed.
New Brunswick
Interim COVID measures were announced over the weekend to slow the spread of the variant.
While the province remains at Level 1 of its public health measures, from Dec. 18 at midnight it introduced additional measures:
People must limit their household contacts to a maximum of a "steady 20"
Six feet (two metres) must be maintained between tables in restaurants – proof of vaccination is still required
Dining in restaurants is still permitted but two metres must be maintained between tables and proof of vaccination is still required
Entertainment centres, including movie theatres, professional sporting venues, casinos, etc., will be operating at 50 per cent capacity with distancing of six feet.
Newfoundland and Labrador
The province has reduced the interval for COVID booster doses to 22 weeks for everyone aged 18 and over.
As of Dec. 17, out-of-region individual travel for amateur sport, arts and recreation activities is no longer permitted.
As of Dec. 20, most communities in the province have moved to Alert Level 2. Under Level 2:
Weddings, funerals, burials, religious and cultural ceremonies are limited to 50 per cent venue capacity where the vaccine pass is in place and 25 per cent capacity where the vaccine pass is not in place
Spectators and attendees at fitness facilities, arenas, performance spaces, cinemas, and bingo halls are limited to 50 per cent venue capacity.
Bars and lounges are limited to 50 per cent capacity with physical distancing
Restaurants are limited to 75 per cent capacity with physical distancing
Employees are also encouraged to work from home where possible.
Some communities will be moving to Alert Level 3.
On Dec. 21, all vaccinated travellers will need to isolate for five days upon arrival and take a rapid test every day for five days. Rotational workers that are fully vaccinated will need to book a PCR test between days 0 and 3, take a rapid test each day for five days.
Northwest Territories
Non-residents are currently barred from entering the territory for leisure travel bar some exemptions.
On Dec. 17, the territory introduced new testing requirements for fully vaccinated travellers. Those who are fully vaccinated do not need self-isolate once they have an approved a Self-Isolation Plan (SIP). Some travellers may need to take a COVID test on Day 0 or 1, and on Day 8.
Those who are not fully vaccinated still need to self-isolate.
Nova Scotia
N.S. imposed an extensive list of new restrictions on Dec. 14 and Dec. 17, including:
physical distance of two metres (six feet) is required indoors and outdoors, except among people in the same household or a consistent social group of up to 20 people
places like fitness and recreation facilities, retail businesses, malls, museums, libraries and personal services like hair salons can operate at the maximum capacity possible with physical distancing
food establishments and liquor-licensed establishments must have physical distance between tables and a limit of 20 people per table. Mask requirements remain in place.
masks are required in areas of workplaces where physical distance cannot be achieved, as well as common areas, areas where people are serving the public and areas with poor ventilation
indoor and outdoor informal gatherings, typically at home, are limited to 20 people from the same household or consistent social group;
gathering limits of 50 per cent of capacity to a maximum of 150 people indoors and 250 outdoors apply to social gatherings, regular faith services, weddings, funerals and their associated receptions and visitation, special events, meetings, training, festivals, and audiences for sports events and arts and culture events (like performances and movie theatres) that are hosted by a recognized business or organization, including faith organizations
a limit of 60 participants indoors and outdoors broadly applies to sports and arts activities.
These restrictions will last until at least the new year.
Nunavut
Travellers departing or arriving at Iqaluit airport have to meet the federal travel requirements for both vaccinations and testing.
Ontario
The province has expanded COVID booster shot eligibility to all adults, provided it has been at least three months since their second dose.
New restrictions came into effect on Dec. 19, including:
Indoor social gathering limits have been reduced to 10 people, which 25 people are allowed to gather outdoors
50 per cent capacity limits are being introduced in settings such as restaurants, bars, strip clubs, personal care services, retailers, shopping malls, marinas and boating clubs, gyms and photography studios. Businesses or facilities will need to post signage stating capacity limits
In food and event spaces, a maximum of 10 people can be seated at a table, patrons will have to remain seated
Food or drink services will be prohibited at sporting events, theatres, cinemas, casinos, etc. The sale of alcohol will be restricted after 10 p.m., consumption of alcohol after 11 p.m. Bars, restaurants, meeting and event spaces and strip clubs will be required to close by 11 p.m.
No dancing is permitted, except for workers and performers
These limits do not apply to any portion of the business of place being used for a wedding, funeral, religious service, rite or ceremony.
Prince Edward Island
New COVID measures took effect on Dec. 18 and will be in place until at least Jan. 2, 2022.
CTV News reports that, among other things, personal gatherings are limited to household members plus 10 people (and not new people everyday but rather a steady social bubble).
Strict physical distancing between people from different households is required for events, venues, businesses, etc. In addition, physical distancing is now going to be a legal requirement, not just a recommendation.
Restaurants and eateries must maintain six feet between tables, clients must continue to show proof of vaccination. Masking is required for all patrons, there can be 10 people maximum per table and not dancing or karaoke is permitted.
Quebec
Quebec announced on Monday Dec. 20 that bars, gyms, spas, concert venues will be closed as of 5 p.m. Monday.
Restaurants will have to reduce their capacity to 50 per cent and limit their hours from 5 – 10 p.m.
Schools will be closing early for the holidays, shutting down as of Monday evening.
Professional sporting events will have to held without audiences. All tournaments and competitions are suspended.
Previously a recommendation, working from home is now being mandated for all non-essential workers – including civil servants.
In shops and malls, the limit has been set at one customer per 20 square meters of floor space. This measure does not affect personal care establishments.
Free rapid antigen tests will also be available in pharmacies for anyone 14 and over from Dec. 20.
People over 65 will be able to make an appointment for a booster shot, certain people with health conditions aged 60 and up will also be eligible.
Measures will also be tightened in long-term care homes.
Saskatchewan
The province has as-of-yet not announced any new public health measures.
Yukon
On December 10, residents of Old Crow were placed under new public health restrictions after multiple COVID-19 infections – including two confirmed cases of the Omicron variant.
All residents were told to self-isolate and stay inside their homes for at least 14 days. Each residence can form a social bubble with one other household. Non-essential travel to and from the community has been halted.
As of Dec. 17, there are 44 active cases in the Yukon reports CBC. Trained staff is going from door to door applying rapid antigen tests.