Strong contract management program ensures all workers on a project adhere to your safety policies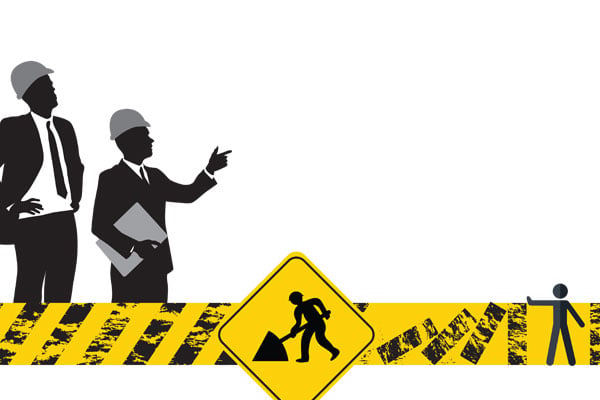 In October, contract workers at a Shell Canada oil drilling site near Fox Creek, Alta., were pumping water to another site. A pump started revving, so the workers went to investigate. Suddenly, a hose on the pump broke free and hit a contractor, Abdelghani Hemad, 47. He was treated by paramedics at the site and taken to hospital but died later that day.
Safety managers devote a great deal of time to developing and implementing a successful safety program to prevent their workers from being injured or killed. But when an independent contractor's workers are on the job, work site owners cannot assume those workers will comply with their rules. Employers — who are often deemed legally responsible for everyone on their site — need to have an effective contract management program to help ensure contractors work to the safety standards they have set and no worker is injured on their work site.
Before work starts, managers should have a clear picture of the specific job to be done and its risks, says Anne-Sophie Tétreault, senior expert, HSSEQ compliance and risk management processes at Cognibox in Shawinigan, Que. During this planning stage, managers need to determine what materials and safe work methods are to be used, what appropriate personal protective equipment (PPE) is required and how to create a safe work environment based on the specific conditions of the work and area.
"You do this in advance, before people are working under time pressures. You can say, 'This is the lock-out/tag-out I want you to follow when you are working at my site. This is the protective equipment I want you to wear. This is the permit that has to be signed and reviewed by my supervisor before your workers start work. Finally, this is the training and competence I want all your workers to have before they enter my premises,'" Tétreault says.
The risk assessment will help identify the qualifications the contractor is required to have to do the job safely and the company polices it needs to follow.
Pre-qualification and selection
Make sure the potential contractor has a formal health and safety program. Does it have a way of identifying and controlling risks and making sure workers are properly trained and equipped for the workplace? How many incidents did the contractor have over the last three or four years?
Patrick Robinson, president of Sherwood Park, Alta.-based CQ Network, says some companies have adopted a policy of requiring prospective contractors to have, or commit to getting, a Certificate of Recognition (COR).
"This is a level of approval that many purchasing organizations approach fairly pragmatically," he says. "All things being equal — the candidates for a project are relatively equal in technical capacity; their price is roughly the same; their execution, their team and plan — presuming all those things are relatively equal, many companies will say, 'We want to go with the one that has a COR.' This gives us a baseline understanding about their safety program; we know they've been accredited and audited."
The hiring employer can also look to a contractor's past safety record and request statistics, Robinson says. Statistics from the workers' compensation board can provide an objective measure that will help an employer to determine if the contractor is better, or worse, than the industry average.
However, he adds, it's important to remember you may have to take the company's particular circumstance into account. For example, if a small company with low exposure hours has one relatively serious event, it could skew the premium rate in a negative way and may not be reflective of actual performance. On the other hand, a large employer that has projects involving site populations of 3,000 or 4,000 people will end up with claims due to the sheer size of the workforce.
"While companies will look at WCB performance, those metrics, like any metric, need to be considered in context," Robinson says. "And automation helps with that, to be able to compile data and allow you to compare contractor to contractor."
Within a contractors' safety program, look for a training program, in particular, one that covers the basics of the specific industry. Some industries have their industry-sponsored initiatives that embody training and orientation standards, such as Petroleum Safety Training (PST) or the Construction Safety Training System (CSTS).
Some associations have published written contractor pre-qualification best practices for their industry, documents that are developed by sub-committees that bring together and expand on existing standards, Robinson adds. Three organizations that publish these best-practice guides are the Ontario General Contractors' Association, Canadian Association of Petroleum Producers and Construction Owners' Association of Alberta.
More progressive companies, Robinson adds, will also look at leading indicators, a metric used to drive and measure activities carried out to prevent and control injury. How frequently are safety meetings held? What kind of training is provided? To what level are you training supervisors? Do we have the right skill sets in the right jobs?
"These are areas of competence that companies are looking at now. They're proactive things that many purchasers will look at as part of the bigger assessment: What are we getting when we hire this company?" he says.
Jamie Wright, director of London, Ont.-based Mentor Safety Consultants, a safety consulting firm focusing on the construction, industrial and mining sectors, says the hiring company must verify the potential contractor is compliant with the latest occupational health and safety law — with construction or industrial regulations, for example — and that it has all the training required to come onto your site.
"Someone sits down with the contractor or it's in your bid package — it's always good to include it in your bid package — that the contractor has to meet these requirements and must prove compliance with the OHS act. You don't want to do that after the fact, first day of the job, with all these contractors standing around saying pull out your certificates. You're going to have a surprise."
When the contractor has been selected, sit down and review the job hazard assessment. The contractor may contribute good ideas based on its own expertise. At the end of the process, make sure you agree on what controls are going to be put in place to reduce workers' risk.
Orientation
With every new contractor or worker hired, use an orientation checklist and go through it before they start work to help ensure essential certificates and other documents are not missed, Wright says. Do they have their workers' compensation board certificates? Do they have the required trade certificates? Do they have their Workplace Hazardous Materials Information System (WHMIS) training? Do they have hazard reporting?
"You want to have a checklist of all the things that these contractors should have before they come on your job site and a process to verify it," he says.
A good policy, and one that is becoming more and more common in workplaces, is to require a pre-task plan — a hazard assessment that the subcontractor performs and submits to the contractor on a daily or weekly basis depending on the scope of the work.
Once work begins, be aware that conditions may change, Tétreault says. You may discover, for example, there's a better procedure for a task. If so, update the contract with the new procedure. If scheduled workers cannot make it and must be replaced, ensure the new workers are properly trained. Check that equipment is in good condition; don't just assume that equipment and PPE is functioning properly.
Supervision
The hiring company should expect to supervise the work, conducting regular spot checks. Workers may not all be aware of the agreed-on procedures and controls. Spot checks also serve to assure inspectors that the contractor is properly supervising the work, too.
"You don't want to substitute yourself and become your contractor. But you need to check that the contractor is on top of his game and also check the workers themselves," Tétreault says. "If there was a breakdown in communication, in the end, it's not usually the supervisor who is injured; it's the worker. So you need to make sure the workers appear to know what they're doing."
Maintaining open, regular communication between the hiring and contracted companies is essential, Wright says. Owners can achieve this by setting up joint health and safety and trades committees, for example, or holding daily safety toolbox talks first thing every morning.
"Safety is all about communication: talking about hazards, talking about controls, how you implement the controls and dealing with safety concerns as they come up. Keeping the avenues of communication open leads to a successful project," he says.
If deficiencies are not being corrected properly or in a timely manner, you need to communicate it and be prepared to take some disciplinary action, barring a worker from the site for lack of proper training, for example. You may even have to stop the work and end the contract, Tétreault adds.
Assessment
When the job is finished, assess and record your evaluation of the contractor's performance. Communicate your assessment to the contractor. You may also want to share your comments with others in the company, especially if there were aspects of the work the contractor did not do properly.
"Usually, big corporations don't have one project contract engineer. They may have a few dozen. It's good to record your assessment somewhere so your colleagues who may have the same contractor are on the lookout for the contractor's deficiencies," Tétreault says.
After the death of the contractor at the oil drilling site, a spokesperson for Shell Canada — the hiring company — expressed in a statement his sadness at the worker's death.
"The safety of our staff, contractors and neighbours is our top priority in everything we do," he said. "We are working closely with the parties involved to gather more information and learn from this incident."
Linda Johnson is a freelance journalist based in Toronto. She can be reached at [email protected]
This article originally appeared in the June/July 2017 issue of COS.