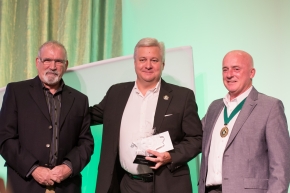 The Canadian Society of Safety Engineering (CSSE) handed out its annual awards at this year's professional development conference in Ottawa.

Peter Sturm, owner of Sturm Consulting, took home the coveted prize of Safety Professional of the Year. He has worked in the industry for 30 years and before starting his own consulting firm, he was the director of system collaboration at Ontario's Workplace Safety and Insurance Board.
He sits on a number of volunteer boards including the Centre for Safety and Health Sustainability, Minerva Canada, the Board of Canadian Registered Safety Professionals and the CSA Group.
Sturm took the stage to accept award, and addressed the crowd of 600 delegates:
"To my fiends out there, thank you. To my family, thank you. You guys are my family and I want to say from the bottom of my heart, thank you for the recognition. I truly appreciate it, and lets continue with the great work that we do."
Shannon Nicholson, supervisor OHSE, Hydro Ottawa, took home the national outstanding achievement award, which is bestowed upon a deserving member for exceptional service to their employer, client or safety community.
Nicholson has shown "tremendous leadership" in implementing occupational health and safety programs and initiatives at the utility company.
"She played an integral role in development and continuous improvement of the many initiatives that have been recognized as industry best practices, and will continue to improve the safety of Hydro Ottawa employees, contractors and the community they serve," said Jim Hopkins, president of CSSE.
Weatherford Canada is the winner of the CSSE's national special projects award for its HSE Excellence program. The program identifies individuals throughout the company with the respect of their peers and natural leadership skills — what Weatherford calls "locker room leaders" — to be safety champions.
Once chosen, the vice-president of the Calgary-based oil and gas company calls them directly, explains his vision for health and safety and asks for their personal support and commitment.
The participants compete a psychometric behaviour assessment to help them understand themselves, how they behave and how they are perceived in certain environments.
"The assessment is to empower them to become even better influencers," said Hopkins.
The classroom part of program is two full days and one evening where participates learn about impact of incidents and the real numbers behind the statistics.
"They learn how performance affects the business and start to understand how incidents have a ripple effects throughout the company, communities and families for many years following the incident itself," said Hopkins.
Since the implementation of the program, performance improvements for health and safety key performance indicators ranged from 40 to 90 per cent, morale improved in the target areas and overall understanding and adoption for HSE tools, increased significantly.
Photo from left to right: Dave Turner, chair of awards committee; Peter Sturm; Jim Hopkins (Credit: Erin Petruska)