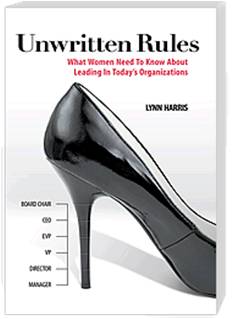 Unwritten Rules: What Women Need to Know About Leading in Today's Organizations
By Lynn Harris
Amazon Books (self-published); $24.95 (CAN)
In the introduction to her first chapter, author Lynn Harris repeats the story about a new CEO of a Fortune 500 company who walks into his first senior management meeting and asks: "Where are all the women?" And, in fact, despite "decades of efforts", to quote the recent
Catalyst report
, the number of women in top positions is declining, not only in Canada but worldwide.
Harris offers a number of reasons for this in her new book, but clearly the one she believes women need to focus on is learning the unwritten rules of the business world. "A lack of understanding of the organizational environment and its unwritten rules is an ignorance you simply can't afford," she writes.
"It's like having a snake in the room with the lights turned off – you never know when you might trip over it or get bitten, sometimes fatally."
Harris, a Montreal, QC-based executive coach, says her purpose behind writing
Unwritten Rules
was to "turn on the light," reveal where the snakes are hiding and teach women how to manage or to avoid them altogether.
For more about the book and how to order it, visit
www.unwrittenrulesthebook.com
.