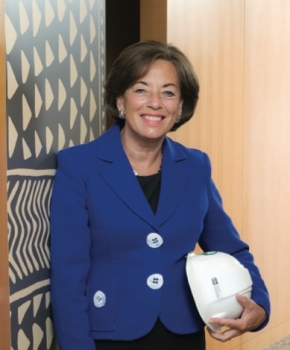 Ontario's newly appointed WSIB chair is no newbie in the OHS world, and she's counting on her track record of bipartisanship to achieve the agency's goal of financial sustainability and service excellence.
Over the last few years Ontario's Workplace Safety and Insurance Board (WSIB) has implemented sweeping operational and policy changes aimed at drastically improving service delivery and putting the province's workers' compensation board in more stable financial standing.

The efforts are paying off. Workers are getting back to work faster, with 91 per cent recovering from an injury in 2011 able to get back on the job within one year of their injury.

Compared to 2010, there were 20 per cent fewer injured workers in 2011 that were still on workers' compensation benefits after 12 months. And, for the first time in 10 years, WSIB achieved an operating surplus in 2011.

Despite the positive results, however, the WSIB is only at the beginning of a long journey towards service excellence and financial sustainability. At the helm of this uphill ride is newly appointed chair, Elizabeth Witmer.

But Witmer is not exactly new to the province's occupational health and safety landscape. She was instrumental to many of the institutional changes that transpired in the health and safety and workers' compensation system in the last decade, serving as Ontario's labour minister from 1995 to 1997.

Ontario Premier Dalton McGuinty appointed Witmer as the new WSIB chair, following former chair Steve Mahoney's departure last May. With 32 years in public service, Witmer brings significant experience to the table — not only in public governance, but also in the area of workplace health and safety.

"I bring to this position the ability that I have demonstrated in my past life as a politician: the ability to work in collaboration and co-operation, and respectfully, with the other parties, other stakeholders involved. I have always worked in a manner where I tried to build bipartisan consensus," Witmer says.

The manner in which Witmer was appointed may be characteristic of her bipartisan nature. She served as a Progressive Conservative MPP in the riding of Kitchener-Waterloo for 22 years before she stepped down to accept the appointment by the Liberal government.

But it wasn't politics that led her to accept the challenge to lead an agency beleaguered with controversy and more than $14 billion in unfunded liability.

"I have a very keen interest and passion for workplace health and safety because, when I first became the minister of labour in 1995, I had a visit from Paul Kells and his family, shortly after the death of their teenaged son," Witmer recalls.

Paul Kells' son, Sean, was killed in a workplace explosion in 1994, shortly after he started a summer job at an industrial warehouse in Brampton, Ont.

"That (visit) had a lasting impact on me," she says. "And so, as a result, I worked very hard as minister of labour to do everything I can to focus on workplace health and safety and the prevention of accidents."

As labour minister, Witmer introduced a workplace safety campaign strategy for young workers, which educated them about their responsibilities and their rights, including the right to refuse unsafe work.

It was also during her term as labour minister that Bill 99 was enacted — a piece of legislation that changed the name of the Ontario Workmen's Compensation Board to the Workplace Safety and Insurance Board.

"I did want people to understand that the focus always needed to be on safety and workplace first. That's where we need to focus our energies," Witmer says as the rationale for the name-change.

The same legislation also gave the WSIB a new prevention mandate — something that changed again recently with new legislation transferring the prevention role from the WSIB to the Ministry of Labour.

Witmer believes her ability to collaborate with other parties will prove beneficial in her new role as WSIB chair.

"I have always worked in a manner where I tried to build bipartisan consensus. I am very consultative by nature and a good listener, and I tend to focus on results," she says.

Changes at the board
Shortly after Witmer's appointment, Harry Arthurs, former dean of Osgoode Hall Law School and president of York University in Toronto, released his Funding Fairness report on the WSIB.

Witmer sees the Arthurs report as an opportunity for the WSIB to take to the streets and consult with stakeholders.

"The Arthurs report provides a guide for the WSIB as we move forward, and we have the opportunity now to make some very important policy and operational decisions about the design and the implementation of any new system," Witmer says.

In his report, Arthurs offers some recommendations for the WSIB to eliminate its unfunded liability, which is currently $14.2 billion. Arthurs also addressed the WSIB's controversial experience rating program, which provides premium rebates for employers with higher than average safety records.

Already, the WSIB says it is on track to eliminate its unfunded liability, Witmer says. This is prescribed in new legislation passed by the Ontario government requiring the WSIB to reach 60 per cent funding by 2017 and 100 per cent funding by 2027.

"We have already started to work very aggressively to meet this requirement to do everything we can to improve our delivery system, in order to ensure that we're providing very sound financial management of the system and that we are introducing fiscally responsible initiatives," Witmer says.

Many of the changes that will transpire at the WSIB in its effort to eliminate the unfunded liability will be on operational efficiencies — improvements to its service delivery system, claims processing and return-to-work.

Witmer says through service delivery improvement, the WSIB can achieve some positive financial gains as a result.

Managing its return to work process is an equally important objective for the WSIB.

"We do know that workers who are not able to return to work within 12 months (after their injury) are… less likely to ever return," Witmer says.

Working to get workers back on the job as quickly and as safely as possible benefits both workers' and WSIB's financial well-being, she says.

One significant change contributing to improvements in return to work is the increase in the number of specialty clinics available for injured workers in the province, Witmer explains. More focused specialty clinics mean workers are getting better help with their recovery so they can get back to work more quickly.

More organizational changes are underway in a bid to put the board on solid financial footing.

Last spring, the WSIB announced organizational changes that will affect more than 200 unionized and non-unionized workers at the board. Part of the reason for the restructuring was a recent legislation that transferred the prevention mandate from the WSIB to the Ontario Ministry of Labour. This change of mandate is part of the recommendations by the Tony Dean panel, which involved a year-long independent review of the province's occupational health and safety system with recommendations for improvement.

"I would say the entire operation system currently is under review and we will be, in many respects, downsizing our agency but at the same time providing better results to both workers and employers simply because of the improved service delivery model," the WSIB chair says.

In addition, the agency has put in place and strengthened its electronic services. It aims to further reduce service delivery costs and ensure claims are dealt with efficiently and effectively, in a manner fair to both employers and workers, Witmer points out.

Experience rating
Perhaps the most controversial component of the Harry Arthurs report — one that has caught significant media and public attention — is the WSIB's experience rating program.

A series of articles in the Toronto Star highlighted some of the flaws and loopholes that exist in the current experience rating program, where evidence points to the fact certain employers were able to cheat their way into getting a WSIB premium rebate, despite having serious injuries and even fatalities.

In his recommendations, Arthurs urges the WSIB to impose more aggressive rules and penalties against those who cheat the system through claims suppression. Claims suppression occurs when employers prevent workers from reporting a work-related injury or illness so the company maintains good safety performance and is eligible for premium rebates.

The Arthurs report proposes that, if the WSIB is not able to effectively prevent claims suppression, it should stop implementing its experience rating program.

Witmer admits the issue around experience rating is the more "difficult and challenging" to address, but it nevertheless needs to be resolved.

"I won't attempt to speculate about what may or may not happen (to the experience rating program), but certainly all of these need to be taken into consideration in any consultation… because this is a very significant issue and it's going to take some time in order to make sure that we get it right," Witmer says.

The Arthurs report, she says, is a good starting point to begin a conversation around the issue of experience rating. The WSIB has already begun extensive consultations with workplace parties on the issue, to come up with a system that better addresses the needs of all stakeholders.

Public image
Witmer's new role as chair of the WSIB opens up an opportunity for the agency to improve its public image. Faced with addressing its controversial programs and financial challenges, public perception of the WSIB is not exactly where the agency wants it to be.

Improving public perception of the board means focusing on improving the quality and timeliness of the services provided by the WSIB.

"This is a highly complex agency and so my mandate is to ensure some governance, but also oversee the strategic directions that we are undertaking, and to make sure that we do transform this agency into a modern and fiscally accountable workplace insurance system," Witmer says.

With the new service delivery model and focusing on timeliness and ensuring prompt claims processing, the agency hopes to eliminate some of the negative public perception, she says.

Indeed, these improvements have already resulted in higher client satisfaction rates, says Witmer, adding the WSIB is "going to continue to focus on that."

WSIB also needs to do a better job in communicating its mandate. Witmer offers her perspective on what's contributing to the negative public image.

"I think sometimes people forget what the purpose of the board is and, basically, its purpose is quite simple — to help workers who are injured on the job return to work... At the same time, the employers who pay into the system, they are protected from being sued because of this collective insurance plan.

"And I think sometimes people forget that the premiums that they pay at the end of the day help to support the system and do protect them from any financial loss as a result of an employee suing them."

Witmer believes that even before she assumed her new role, the WSIB was on the right track with its initiatives to modernize the agency. The return to work program is now "more successful than it has been in the past," the new and improved service delivery model is succeeding in reaching out to make sure the needs of stakeholders are being met and, more importantly, the agency is maintaining transparency in continuing to consult with stakeholders, she says.

"I hope at the end of my five-year mandate that we have the best workplace health and safety organization in all of Canada… that we are keeping the workplaces safe as possible, but when injuries, accidents, disease do happen, that we deal with people effectively, efficiently and fairly," Witmer says.