Marsh was recognized at CSSE conference in Halifax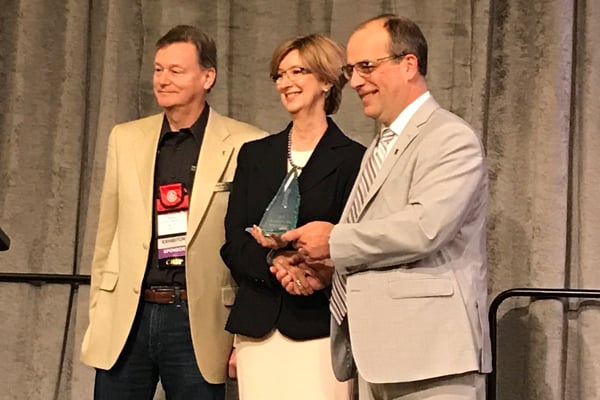 The Board of Canadian Registered Safety Professionals (BCRSP) has announced that Brenda Marsh, CRSP and senior OHS advisor at Environment and Climate Change Canada, has won the Volunteer of the Year award for 2017.
Upon receiving the award at the Canadian Society of Safety Engineering (CSSE) conference in Halifax on Sept. 18, she said, "It is a privilege to be recognized by the BCRSP. It never feels like work when I partner with such impressive professionals, not only to share knowledge and laughter but also to help each other to prosper in our occupations and future goals. CRSPs make a difference in the lives of thousands of Canadians and workers worldwide. What a great way for OHS professionals to contribute to Canada 150. I encourage you all to volunteer a little of your time to advance yourself and others."
Marsh has been a CRSP since 1999 and is a strong advocate of professionals sharing expertise with colleagues to bring out the best in everyone for themselves, their employers and workers. She is a passionate believer that this specialty certification sets a benchmark for public confidence and reaches a nationally recognized standard of excellence that leads to a change in organizational behaviour.
Beginning as a registered nurse from Sydney City Hospital, working in critical care for several years, Brenda went on to obtain diplomas in occupational health nursing from St. Lawrence College, adult education from St. F.X. University and a certificate in business communication at Saint Mary's University. She is a certified health and safety consultant (Canada).
For the past 25 years, she has worked as a director of occupational health services at the Queen Elizabeth Health II Sciences Centre and health and occupational health specialist at the Nova Scotia Department of Transportation and Public Works, both in in Halifax, N.S. Combined with her current work in the public service as a senior occupational health and safety advisor, she has worked with health care, lab and highway workers, science and field technicians, employees who work on bridges, cliffs and towers, those who work in, over and under water, in the air and in the enforcement field. Her jurisdictions have covered local, regional and national levels of counsel, working in many multidisciplinary teams with federal and provincial legislation.
She started volunteering with BCRSP in 2004 as an item writer and in 2011 joined the examination committee where she served as the co-chair and then chair. She was a participant on the CRSP Competency Review Task Force and is currently a member of the Item Bank Maintenance Committee and the Steering Committee for the CRSP technician certification.
Brenda continues to volunteer her time as a board member with the Occupational Health Nurses Association of Nova Scotia, the Canadian Occupational Health Nurses Association, Sun Safety Nova Scotia and Sun Safety at Work Canada. She is a member of the Canadian Society Safety Engineering, Nova Scotia Chapter and has previously served on the Canadian Nurses Association Certified Occupational Health Nurses (Canada) Exam Committee.
The Board's Volunteer of the Year program was initiated in 2001 in conjunction with its 25th anniversary and the United Nation's Year of the Volunteer.