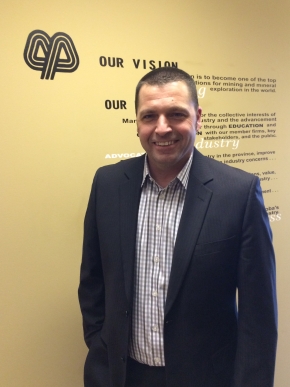 He calls it "The Story of Kayla." In the early 1990s, Kirk Regular was working for a mining company in northern Manitoba as a lead hoist mechanic. One cold, October evening, he got the call over the radio that everyone hates getting: "There's a casualty on the cage." Regular went to the cage to ensure the hoisting system and the air compressor were operating properly. The rescue team brought the young man up to the surface, but he sustained severe injuries and passed away on site that evening. That young man was the father of Kayla, the best friend of Regular's daughter.
About three weeks after the incident, Kayla was over at Regular's house playing with his daughter and Regular was walking her home — what the five-year-old then said to him changed him forever.
"She looked up to me with tears in her eyes and she said 'I don't have a daddy anymore. Would you be my daddy?' And that is absolutely beyond the shadow of a doubt why I got into safety," says Regular.
Since then, every opportunity he gets, Regular tries to spread the message of safety. In 2011, he became the president of the Mines Accident Prevention Association of Manitoba (MAPAM) in Winnipeg.
"I made a commitment to try to make a difference and ensure people understand there is no job too critical and no task too important that we can't take the time to manage risk as it is presented to us," he says.
MAPAM has served the mining industry for 53 years and 13 mining companies in the province are members. It provides consulting services, promotes and implements accident prevention programs and assists in workers' compensation management. MAPAM is about to transition to further enhance its mission statement, forging a stronger connection with the Mining Association of Manitoba.
"The work the association does touches so many facets of the industry and not necessarily just safety related aspects of the work we do, but it really reinforces the need to manage all risks to the business, not just personal risk," says Regular. "The mandate of the association is really risk prevention coupled with emergency preparedness."
The association helped the province's mining industry achieve a 0.43 lost-time injury frequency rate in 2012 — the lowest it has been in the 50-plus years the statistic has been recorded. Since then, the rate has remained low at 0.51 in 2013 and 0.64 in 2014, according to MAPAM.
The association has been focused on workers' compensation rates for contractors. A few years ago, mine operators realized their rates were much lower than companies doing the same work for them. The association assisted its contract firm members with approaching the Workers Compensation Board (WCB) and providing data that showed the contractors were held to the same standards for safety as the operating companies.
"We presented safety statistics, claims costs and it just made sense that those folks step away from the old way of thinking that contractors do all the dangerous work that operators won't," says Regular. "It's not like that anymore."
Last year was a success story when contracting firms were able to get cost relief on their WCB rates.
Emergency preparedness
MAPAM oversees mine rescue in the province. It co-ordinates emergency planning, preparedness and response protocols and certifies mine rescue instructors.
The association also provides regular updates on what new technology is out there for rescue operations and ensures Manitoba mine rescue personnel have the "latest and greatest" technology available, says Regular.
One of the most exciting roles of the association is managing the annual provincial mine rescue competition. Response personnel from all over the province form teams for this fun and challenging day. Teams are judged on several aspects, including first aid, firefighting and recovery.
"Mine rescue in Manitoba continues to be one of the best in the country," says Regular. "We continue to see and celebrate the success of Manitoba's mine rescue program."
Sharing expertise
The association gives an excellent platform for networking, relationship building and sharing best practices within the mining industry. It's really not only an association, but a tight-knit community that is accessible, without the filter of competitor-style conversation, says Regular, whose day job is manager of human resources, safety, health and environment at Vale Canada in Thompson, Man.
"It allows you to have a different view of the industry through other lenses and filters and not just your own, in your own world that you have to exist in every day," he says. "When we get together as an association… you get the opportunity to realize that's not the way that you would do it, but man that sounds good too."
For example, at one meeting, a member introduced new technology for mines with underground trains. The technology was used for getting cars back on the tracks safely. Up until then it was a high-risk activity, says Regular.
The ability to liaise with different contractors is another benefit of the association. It is able to get mechanized raise climbers, raise boring contractors, shaft sinking contractors and development contractors all in the same room to talk about safety and risk management.
"You just learn so much and lots of things you just take back and you don't even realize you're bringing it back… because it's the right thing to do and you just know it," says Regular.
One personal goal Regular has as president of the association is to sustain Manitoba as one of the top 10 jurisdictions for mining in the world. The province is currently ranked fourth in the annual Fraser Institute Mining Survey, which ranks the investment-attractiveness of global mining jurisdictions.
"I want Manitoba to be in a position to draw investment… (Where) investors just can't say no because it is so profitable," says Regular. "And you can't be profitable if you're not safe."
While the mining industry has a very strong safety performance record and is one of the safest industries in Manitoba, it's important it never loses its sense of vulnerability, says Regular.
"We do work in a very high-risk environment, everything from working underground in miles and miles of caves to handling heavy equipment in those caves and tunnels and bringing it to surface and processing it — not to mention the fact that we blow up rock underground," he says. "I believe the association has acted and will continue to act as sort of the conscious of the industry around that and ensuring that people realize that risk is present and we don't have to accept it. We can and will manage it every time."

This article originally appeared in the June/July 2015 issue of COS.