Short safety demonstrations to be given as workers sip coffee and consume refreshments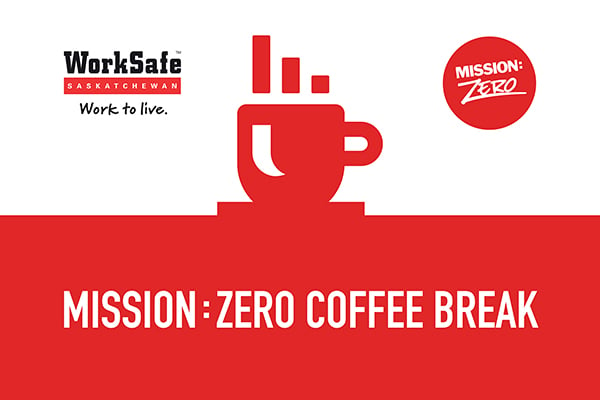 WorkSafe Saskatchewan and the Saskatchewan Construction Safety Association (SCSA) are co-hosting two coffee break events in September (today in Saskatoon and on Sept. 26 in Regina) for construction workers to remind them to stay safe on the job. As a break from their jobs, workers and leaders will enjoy refreshments and coffee as brief 15-minute safety tips and demonstrations will be given on-site.

In approximately 170 inspections of residential construction sites in 2016, the Occupational Health and Safety Division of the Ministry of Labour Relations and Workplace Safety (LRWS) in Saskatchewan found that only 60 per cent of workers were wearing hard hats when required and 64 per cent were wearing fall protection systems.
In addition, according to a 2016 Saskatchewan Workers' Compensation Board report, construction trades helpers and labourers had the third-highest number of total claims accepted in the province (885 claims), only 74 per cent of workers were trained in a fall protection plan and only 30 per cent of sites inspected were compliant with regulations for uncovered openings in the floor.
Shelly McFadden, director of prevention for the Saskatchewan Workers' Compensation Board, says, "Today's coffee break is to remind workers to keep Mission: Zero in mind. Zero is the only right number of injuries, and 100 per cent compliance is the goal for any industry."

"The legislation is just the lowest bar for safety – many home builders go above and beyond that, but we can all use a reminder to wear the equipment, focus on our tasks, and not cut corners. Take the time to do the job safely," says Collin Pullar, executive director of the SCSA. "We're doing our safety glass demonstration as a reminder to wear the proper equipment and to provide information about how to get training at the SCSA. That's what this coffee break is about. Taking time for safety is an investment we should all make every day."

Event organizers say that they hope to conduct a fall arrest demonstration and also do a demonstration with a nail gun, sooting at regular glasses in comparison to safety goggles to illustrate the importance of PPE.

OHS is continuing its inspections through the fall of 2017.