Tom Paisley of Irving Paper Limited won the safety leader award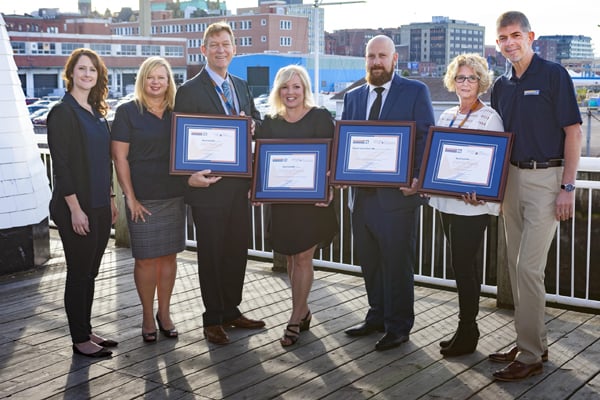 WorkSafeNB recognized 11 outstanding New Brunswickers who make health and safety a priority. They lead the way, inspiring and empowering others to do the same.
The agency's Safety Star Awards were presented in October in Saint John at its annual health and safety conference. The awards include two Health and Safety Educator Awards (one francophone and one anglophone); the Health and Safety Champion Award; and the Health and Safety Leader Award.
"These people are true safety stars," said Tim Petersen, WorkSafeNB's acting president and CEO. "They stand out and guide the way for other workers, educators and employers in our province."
WorkSafeNB honoured Lindsay Savoie, a Grade 2 teacher from Saint John's Champlain Heights School, with the Health and Safety Educator Award – anglophone sector. Savoie is a founding member of the Sweet Caroline Foundation, a volunteer organization dedicated to promoting allergy awareness.
A team of eight educators – Robert St-Coeur, Candy Savoie, Chantal Gagnon-Gallant, Jenny Voisine, Rock Francoeur, Éric Landry, Alain Bezeau and Serge LeBlanc – from École l'Odyssée, in Moncton, was recognized with the Health and Safety Educator Award – francophone sector.
"These teachers have made significant safety advances in their school's trade workshops. These practices are now being shared throughout the school district," Petersen said.
WorkSafeNB honoured Joanne Hardy, from Mount Saint Joseph Nursing Home in Miramichi, with the Health and Safety Champion Award. Hardy's strong desire for education is evident through her extensive work with patient transfer programs and her joint health and safety committee. She's known for her engaging personality and caring attitude for the welfare of others.
WorkSafeNB recognized Tom Paisley of Irving Paper Limited with the Health and Safety Leader Award. The mill manager challenges other senior managers to incorporate safety in daily conversation, use benchmarking tools to achieve safety goals, and question the organization's status quo.
"All our Safety Star Award winners are wonderful examples of excellence and leadership," Petersen said. "They show us that healthy and safe workplaces can start with one person or a small team of people. They have the power to influence others and make safety a part of their organizations' culture."
All award recipients were nominated by their peers or co-workers who provided a compelling case for their recognition.
An internal committee determined award recipients from all nominations. The educator award committee includes representation from the Department of Education and Early Childhood Development.