Functional fitness evaluations can screen out injuries but must be done right to avoid human rights violations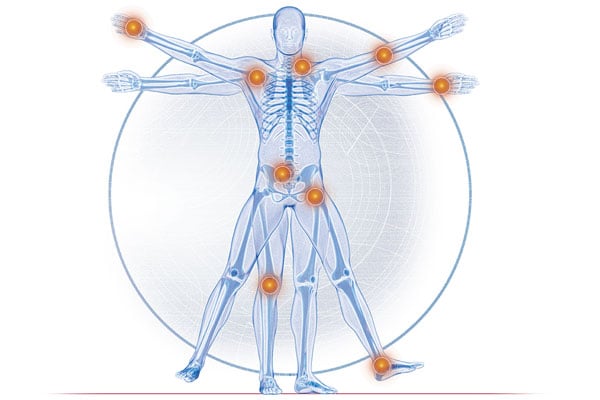 In 2009, Post Consumer Brands hired a new employee with a pre-existing condition injury. This ended up costing the company more than US$700,000 in workers' compensation costs. Additionally, employees at the cereal giant's production and warehousing facilities wer­­e getting injured within their first few years of employment.
"We wanted a new process to avoid injuries and it was important that it was objective from a legal standpoint," says Bob Lambert, senior manager of environmental, health and safety for Post Consumer Brands in Lakeville, Minn. "We don't want people to get hurt and change their quality of life, and we don't want to adversely affect the company."
Post Consumer Brands, which makes Shreddies and Shredded Wheat at its facility in Niagara Falls, Ont., decided to implement post-offer employment testing. As a result, workers' compensation incidents were reduced by 81 per cent; dollars incurred dropped by 90 per cent; and lost-time and restricted days decreased for employees in the first three years of employment. Additionally, 2015 was the company's first year on record without a single injury from an employee with less than three years of service, Lambert says.
Post-offer employment testing (also known as functional fitness evaluation or fitness for duty testing) is a functional assessment of a candidate's abilities compared to the essential requirements of a job. It takes place only after a job offer is made — the hiring is conditional on the candidate successfully passing a functional fitness evaluation. Existing employees are not evaluated; only new potential candidates.
Employers across various industries — including manufacturing, oil and gas, heavy industrial construction, transportation and retail — are using these evaluations due to their ability to reduce injuries. The tests are very good at preventing musculoskeletal disorders (MSDs) — injuries caused by awkward postures, force and frequency that affect tendons, muscles, nerves and joints in the neck, upper and lower back, chest, shoulders,arms and hands.
Workers' compensation boards across Canada report MSDs account for the majority of lost-time injuries.
"There are people out there who don't have the strength or endurance to do the job and so it prevents these people from taking on jobs that they don't have the ability to do," says Elizabeth Chapman, kinesiologist and business development manager for Canada at BTE — the company Post Consumer Brands used for its testing. "And for workers who are screened and get hurt, the cost of injury and the length of time off work is reduced too. It's a win-win for both the employer and the candidate."
Various studies have found significant return on investment for post-offer employment testing. A study of employees at the University of Chicago physical plant found a cost-benefit ratio of $18 saved for each dollar spent on a screening program. A food manufacturing plant reduced the cost of medical care for injuries from $70,000 to $10,000 annually, and lost work days reduced from 700 to seven annually. A large automotive employer in Indiana reported $2,073,000 in injury costs over four years for unscreened workers and a 23 per cent injury rate. This compares to $6,500 and a one per cent injury rate for screened workers.
To determine if a functional fitness evaluation would benefit your organization, start first by looking at injury data.
"It has to be predicated on a safety requirement," says Dan Demers, senior manager of strategic business development at CannAmm in North Bay, Ont. "There needs to be some evidence of injury either within your industry or workplace. Usually, MSDs in the history of your
workplace is the best way to determine whether or not it is legitimate to use these evaluations."
Once you have determined MSDs are an issue, you next need to decide what occupations will be tested. Not all jobs are going to be subject to functional fitness evaluations, just those that are high risk. For example, office workers will likely not be suitable for testing.
Next, the essential duties of each job that will be subject to the evaluations must be identified.
"We see a lot of generic job descriptions that might say 'physical requirement' but they don't drill down deep enough, generally, to what the actual requirements are," says Mike Allegretto regional manager, CBI Workplace Solutions in Victoria. "How much do they have to lift? How often do they have to lift it? Is this once a day or 10 times an hour for six hours a day? What kinds of postures and positions are they in? How long are they in those postures and positions for?"
To determine this, the testing provider visits the work site and assesses and measures exactly what the workers do. This requires extreme detail to ensure employers do not inadvertently find themselves in violation of a candidate's human rights.
"If the employer just says, 'We know it's a heavy job, so we are going to go with the standard definition of heavy: 80 pounds,' but if you haven't measured that in the workplace and proven that is an essential job demand, you could be discriminating against a certain employee population," says Allegretto. "Even if you say 'Lift 50 pounds floor to waist,' is that floor to waist for everybody? For the six-foot-nine guy or the four-foot-six person? Saying that the bin is 72 inches above ground, that's the detail we're looking for."
To establish a bona fide occupational requirement (BFOR), employers must be able to prove it does not discriminate on a prohibitive ground, there is a rational connection between testing and performance, the standard is made in good faith and the standard is reasonably necessary to accomplish the work.
"The larger the scope you try and screen for, you're exposing yourself as the employer to more access points to possible discrimination, so you want to make sure it's essential," says Allegretto.
Sometimes, employers might think something is an essential job function when it really can be modified. For example, lifting an 80-pound box might seem to be a requirement of the job, but can two workers lift it instead of one? Can the box be opened and items taken out individually?
"You need to sort of tease out what the essential function is because if you don't get that right, you can open yourself up to legal issues because really the job is not as heavy as what you're testing for," says Chapman.
Once the physical demands analysis is created, it has to be validated, meaning a sample of workers at the company test it to make sure it accurately represents the tasks they do on a regular basis.
"It helps to work out the bumps in the program before you go live with actual candidates. It's developing protocol and testing on employees so you get that feedback from them and work through things to make sure it's running as smoothly as you would like," says Chapman.
After any necessary tweaks are made and the physical demands analysis is complete, human resources needs to make it clear on job ads that the successful candidate will be required to pass a functional fitness evaluation. This is necessary from a legal standpoint.
Once a candidate receives a conditional offer of employment, he is ready to conduct the fitness evaluation at a clinic. The candidate fills out a health questionnaire and the clinic checks resting heart rate and blood pressure to make sure it is safe for the worker to undergo the testing. The worker will then go through the test by using various machines to lift, carry, push, pull, kneel, reach, twist and climb. There is a safety component built in to the testing whereby candidates start from zero and the load is progressively increased. The clinic monitors biomechanical factors, blood pressure and behavioural indicators throughout the testing.
When the test is done, the clinic prepares a report and the employer finds out if the candidate is fit or unfit for the job. Some employers want to know more information, but that can put them at risk for human rights violations.
"The safest, most defensible argument is: 'They told us he was fit, they told us he was unfit, that's all we know and that's what we made our decision based on,'" says Allegretto.
CBI performs about 8,000 post-offer employment tests per year and 25 per cent of the candidates fail, he says.
If the candidate comes back as fit, then he gets the job. If he comes back as unfit, then the offer is rescinded and the employer often allows the candidate to reapply in six months.
The raw details of the report are kept at the clinic and not shared with the employer. They might come in handy if the candidate lodges a human rights claim or as a baseline if the employee sustains an injury in the future.
If an employer is considering implementing functional fitness evaluations, it's important to strike while the iron's hot in order to get support and buy-in from the organization, says Demers.
"If people are really anxious to do it, they just had an injury, just lost a project and you want to get this in but it takes you three months to implement it, by the third month people are like, 'Why are we even doing this?'" he says. "You don't want to lose that internal momentum… Do it well but do it fast."
More and more employers are conducting functional fitness evaluations, largely due to the changing demographics, says Chapman.
"We have an aging workforce and an increase in obesity and a lot more people are not in as good of shape as they used to be," she says.
Employers in heavy industries are especially interested in functional fitness evaluations to help them beat the competition.
"If they have one extra injury over their competition, they could lose out on multi-million dollar projects; even in a very competitive proposal," says Demers. "If they have the wrong injury statistics, they just don't get the work."
Employers in Western Canada may be seeing more of this type of testing because the construction owners associations are moving towards functional fitness as an evolved fitness for duty site requirement. They aim to accomplish this by developing industry-based physical demands analyses, says Demers. This is expected to be launched in the next couple of years.
It's important to monitor injury statistics after the functional fitness tests are in place. For example, perhaps the back injury rates have gone down but there is still an issue with shoulder injuries. The employer would need to look at what jobs people are getting injured in and maybe adjust the testing program, says Chapman.
The program also needs to change with the company.
"If the physical demands change — they're buying new equipment to do things or they add more workers in so the frequency goes down — it needs to be reflected in the test," says Chapman.
Employers also need to take a look at the demographics of the people who are passing and failing. Are the majority of women failing? Is there a specific minority group that is failing?
"You want to take a look at that and figure out what's going on there… and see how you can improve that," says Chapman.
For example, perhaps there is another way to lift the 85-pound box so that more women can be included in an organization's hiring pool.
When the numbers are crunched, even saving one lost-time injury claim is worth it, says Allegretto. For example, the average cost of a post-offer employment test from CBI is between $100 to $200 and the average claim cost in B.C. is $11,860, he says. That's not taking into account the indirect costs such as increased workers' compensation board premiums, replacement of manpower, reduced profitability and productivity, damage to reputation and costs of internal investigations.
When evaluating the post-offer employment testing program, Lambert from Post Consumer Brands says the company discussed if the cost would be worth it.
"I keep coming back to that one injury in 2009. That $700,000 would pay for (the screening) for the next 10 to 15 years."
Amanda Silliker is the editor of Canadian Occupational Safety magazine.
This article originally appeared in the April/May 2017 issue of COS.