Chair with no padding, ill-fitting suit among challenges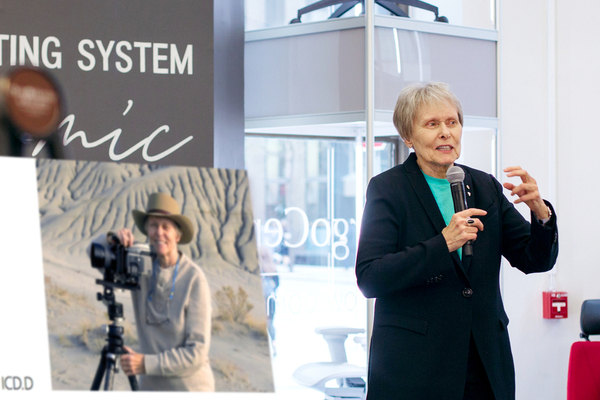 Roberta Bondar was the first Canadian woman in space — but being the first is never easy. Not only are you faced with societal pressure and expectations, you also face many unexpected challenges. Bondar was no exception to this rule when she went to space on Jan. 20, 1992, and some of the issues she encountered were around poor ergonomics.
"If I can't get this to work, they will think every woman in the country can't do this job. If you're the first doing anything, you're going to get, 'You've got to do it well.' I thought, 'I have to do this. I have to suck it up and make these gloves work,'" Bondar said, speaking at an event hosted by ergoCentric, an ergonomic chair manufacturer, in Toronto on May 27.
Bondar was referring to a box of plants on the space shuttle Discovery that had gloves connected to it. The astronauts would put their hands in the gloves to manipulate the plants, but the gloves were much too big for Bondar, so she had to get creative.
"I tried to pretend I was doing some kind of experiment in someone's brain and I only had these ill-fitting gloves. That's all that was given to me. I created a science fiction story so I could actually do the work. I ended up bending my fingers in the side of the finger of the glove to be able to grab the tweezers. I was able to do it, but it was not comfortable, and it took me a little longer. They kept saying, 'Are you done that yet?'" Bondar recalled, who is also a neurologist.
Bondar also faced ergonomic issues with a chair while preparing to go into space — something that made her the perfect speaker at the ergoCentric event where guests were surrounded by various ergonomic chairs.
The rotating chair was to be used in space to study different aspects of how human's move their eyes and head in a microgravity environment. Bondar was selected to test the chair for NASA.
"I thought, 'Right, what if I get electrocuted?' But I didn't want to say anything because I had a backup — you know, you never complain because someone else is going to take your place. So, I thought, 'Suck it up Roberta, again,'" she said.
The chair was "really quite torturous" but she didn't complain. The testing required Bondar to be in the chair on her back for two-and-a-half hours, but it did not have any padding. She ended up herniating her cervical disk into the spinal cord and she had to have her neck drilled and fused.
"Now when I play golf, I cannot get my head over the ball and it's like why? Because I went to space for my country and had a bad chair," she said.
Yet another issue Bondar experienced was an ill-fitting space suit. The orange suits were off the rack but they had to custom fit each astronaut, and as Bondar put it, "anytime you have to retrofit something, it doesn't go very well." To test the suit before takeoff, Bondar was put in the centrifuge machine and was spun around faster and faster. The first attempt was not so successful.
"At this point, I can't see anything because with the G forces, the suit was so ill-fitting that I was like the Michelin man. I was at the bottom of the suit," she said.
After making some more adjustments and testing again, Bondar could just barely see out of the top of the suit, but the response was, "Well, she can see."
Bondar said she hopes that by the time Canadian astronaut Jenni Sidey-Gibbons goes to space, "she can do a spacewalk and the suit will fit."
But she did note that NASA is bound to make a few errors because the working environment can't really be entirely replicated.
"We can't just take a space shuttle up and just practice. We can't simulate free fall. When it comes to the payload operations, we can't simulate those very well either," she said.
During her speech, Bondar stressed the importance of not trying to fit everybody into a certain dimension, whether it be a piece of clothing or a chair, because when this happens, people will be unproductive.
"We are asking people to do things that is not really something they wanted to do because nobody wants to get neck pain, and nobody wants to get injured."