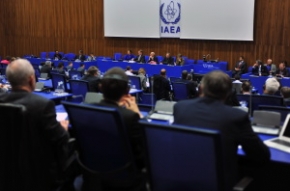 Lessons learned from Japan's Fukushima nuclear disaster was a major topic of discussion at the recently concluded conference of about 60 countries, all pledging to work towards improving safety in their use and operation of nuclear energy to prevent another disaster.

VIENNA, Austria — Countries attending a nuclear safety conference pledged Thursday to act on lessons learned from the Japanese reactor crisis triggered by last month's devastating earthquake but stressed they needed more specifics to do so.

The roughly 60 countries are all party to the Convention on Nuclear Safety that came into being after the 1979 Three Mile Island and the 1985 Chornobyl nuclear accidents and commits members to submit reports on the security of their power plants. The idea is that questioning and peer pressure at gatherings every three years will keep countries on their toes. All states with operating nuclear power plants are parties to the treaty.

The countries said in a statement released at the end of a 10-day meeting at the Vienna-based International Atomic Energy Agency that they are "committed to draw and act upon the lessons of" the March 11 disaster at Japan's Dai-ichi power plant and that they will be holding a special session in August 2012 on the matter.

"The international community recognizes the significance of the Fukushima nuclear accident, which highlights the need to consider new challenges and underlines the paramount importance of safety in the use of nuclear energy," the statement said.

But a vice-president of the gathering, Bill Borchardt of the United States, said more information was needed in order to know how best to respond and proceed in the aftermath of the Fukushima accident that has raised fears over radioactive fallout and questions about the safety of nuclear power.

"There's much more to be learned before we can even understand what the full range of follow-up actions would be for both the regulators in each of the nations and for the operators of the nuclear power plants around the world," Borchardt told reporters. "Many of us are taking actions now based upon the best information we have available today but we realize that information is not complete at this time."

Details that would be important to have include specifics about the conditions inside the reactors at the Fukushima site and what caused the failure of various pieces of equipment, Borchardt said.

According to the statement, which also referenced the need for more information, Japan has committed to providing missing information "as soon as possible."

Li Ganjie of China's National Nuclear Safety Administration who presided over the meeting, said the need to boost the ability of nuclear power plants to resist natural disasters such as earthquakes attracted substantial debate during the conference, most of which was closed to the media.

"At present, natural disasters have (a) wide range of impacts upon nuclear power plants — the Fukushima accident is a typical example," Li said through a translator.