Reducing diesel exhaust through newer technologies, ventilation and sampling can help prevent chronic problems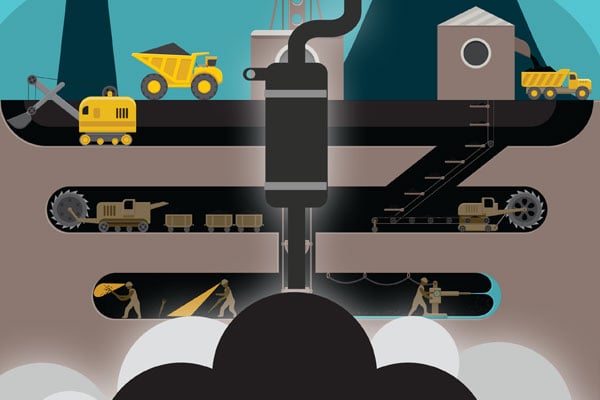 Claude Fortin was an electrician in the mining industry. He worked for Iamgold – Mine Doyon for 16 years. In 2005, in his mid-forties, he was diagnosed with lung cancer. He had lived a healthy life, was active and a non-smoker. His doctors concluded he was suffering from an occupational disease. The cancer had been caused by the diesel emissions produced by the heavy equipment that surrounded him every day at work.
Quebec's Commission de Santé et Sécurité du Travail (now the Commission des normes, de l'équité, de la santé et de la sécurité du travail), the provincial health and safety regulator, agreed with the doctors and granted Fortin compensation for an occupational injury. In 2012, three years after Fortin's death, the Superior Court of Quebec maintained the regulator's decision. It is believed to be the first ruling that fatal lung cancer in an underground miner had been caused by exposure to diesel exhaust.
Underground miners face serious health risks from exposure to diesel particulate matter, contained in the exhaust released from the heavy diesel-powered vehicles and equipment used in mines for hauling, drilling and transporting personnel. The particulate matter can cause irritation of the respiratory tract within a few minutes, while long-term exposure can lead to chronic health problems, including cancer. Mining operators need to know how to assess the hazard level of diesel particulate within their mines and how to limit worker exposure to this serious health risk.
Diesel particulate matter is a component of diesel exhaust and is a complex mixture of soot particles that contain ash, carbon, metallic abrasion particles, sulphates and silicates. Diesel particulate, which is visible as black smoke, is extremely fine. It is easily inhaled and can penetrate deep into the lungs.
Inhaling diesel exhaust causes both short- and long-term adverse health effects, says Cheryl Peters, co-principal investigator with Burnaby, B.C.-based Carex Canada. In the short-term and in high-exposure situations, like confined spaces, inhaling exhaust produces acute symptoms such as headaches, light-headedness and irritation of the respiratory system and nasal passages. Long-term exposure increases risk of cardiovascular disease and can lead to lung cancer. Diesel particulate matter is a known human carcinogen.
"Diesel particulate is one exposure where it's so clear that it's basically one job: underground mining. Because the miners are working in areas where diesel exhaust can't disperse easily, they have this risk factor that's so different from other workers who are exposed to diesel," Peters says.
According to Carex figures on diesel particulate matter exposure in Canada, there are approximately 11,000 underground production and development miners and 2,500 underground mine service and support workers that are exposed at a high-exposure level.
The best way to reduce worker exposure to diesel particulate is to control it at the source, says Michel Grenier, program manager for the Alternative Energy Technology program at CanmetMINING, Natural Resources Canada, in Ottawa. Diesel particulate is extremely small and fine and hard to capture once it becomes airborne. Unlike mineral dust, diesel particulate matter does not settle quickly to the ground and a portion of diesel particulate will likely remain airborne all the way to the mine exhaust.
There are several engineering and administrative controls that can be used to reduce miners' exposure.
For example, mine operators can purchase clean-engine technology, such as modern engines and cleaner-burning diesel fuels. In the past 12 to 15 years, engines have been developed that produce much lower amounts of diesel particulate and gaseous emissions. The United States Environmental Protection Agency's "Tier 4" emission standards have resulted in engines that are 95 to 98 per cent cleaner now than they were 15 years ago.
Tier 4 engines use an ultra low sulphur fuel and reduce particulate matter and nitrogen oxide (NOx), says Marcel Demers, sales manager at Lively, Ont.-based Industrial Fabrication, which manufactures electric mine utility vehicles.
"So it's keeping a close watch on your NOx. Sometimes, I've seen with the Tier 4 or some of the diesel particulate filters, you save on your diesel particulate matter, but your NOx reading goes up," Demers says. "So you have to watch that closely."
CanmetMINING has a list of diesel engines approved for use in underground mines and provides a guide for the selection of clean engines. Approved engines have been tested for emissions and to determine required ventilation volumes. Certification is specified in some provincial regulation.
"Not all engines are Canmet-certified. If you have one that is Canmet-certified, you'll have no issues," Demers says.
Contaminates can be eliminated altogether by replacing traditional diesel-powered equipment with electric, battery-powered machinery. In addition to providing a healthier atmosphere due to reduced fuel consumption, electric-powered vehicles have lower maintenance and ventilation costs. Charging stations are installed based on the range the vehicle is expected to travel in a shift. Battery size depends on the requirements of the specific mine: how far the vehicle has to travel and how much of the distance is upgrade.
"A mining vehicle is much heavier than a surface car, and you're running on ramps, on 20 per cent grades. You do regenerate as you go down, but you use more energy climbing ramps," Demers says, adding some vehicles also have on-board charging, which allows an operator to re-charge a battery during breaks.
Implementing a program of regular inspection and maintenance is very important, too. Routine maintenance can reduce diesel particulate matter exhaust concentration by five per cent, according to research cited by Workplace Safety North. In underground mines, equipment maintenance — of intake filters, leaks, exhaust, engine and cooling — should be performed every 250 hours.
Having a policy of not idling equipment unnecessarily — and impressing on staff the importance of the policy — will also help reduce diesel particulate matter emissions directly at the source, as will the installation of devices such as catalytic converters and diesel particulate filters on diesel engine exhaust systems.
"But if your engine is not tuned properly and it's emitting a lot of black soot, you will plug up your filter in no time. And that's not going to help your cause. Maintenance is the key to everything. You have to have very good maintenance," Demers says.
Many vehicles, especially larger ones such as haulage trucks, which have higher horsepower, also have pressurized operator cabs to provide the operator with filtered, clean air within an enclosed cab.
After limiting diesel particulate matter at the source, it's important to install and maintain an energy-efficient ventilation system, Grenier says.
"It costs a lot to ventilate a mine properly, especially a deep underground mine; it will cost you millions of dollars a year. You want to make sure you are putting that money to good use and using it in those areas where dilution of the contaminants that you couldn't trap at the source takes place and protects the worker."
Air-purifying respirators, which cover the nose and mouth, can also be used to reduce worker inhalation of diesel particulate matter but should, of course, be seen as a last line of defence. They must be used to supplement engineering and administrative controls where these controls are insufficient to reduce worker exposure to the required level or where those controls cannot be implemented.
Miners required to wear a respirator must be evaluated to ensure they are medically able to wear it. Safety managers should also review CSA Z94.4-11 (R2016) on the selection, use and care of respirators. It includes information on fit-testing protocols and training requirements.
Sampling and monitoring
Provincial and territorial regulations require mining companies to measure workers' exposure to diesel particulate matter by calculating the airborne concentration of diesel particulate. Personal sampling is performed to measure the exposure of individual workers. Monitoring exposure is also a good way for a company to assess the effectiveness of its equipment maintenance and of the benefit of its engineering controls.
Sampling is done through the duration of a worker's shift. The worker wears a pump and a filter and the pump sucks in air within the worker's breathing zone, a half-metre radius distance from the person's nose and mouth.
"The pump sucks air at a known flow rate for a known period of time. So then we know exactly the volume — how many cubic metres were sampled throughout the shift. That allows us to end up with a figure of milligrams per cubic metre that we can compare with the provincial limit of exposure," Grenier says.
The traditional method of analyzing diesel particulate matter samples is called the Respirable Combustible Dust method. This test, still used in some provinces, is simple and inexpensive. However, it has the disadvantage that it is non-selective. Some mineral dusts can lead it to underestimate the amount of diesel particulate in the sample of air, while sources of carbon, such as drill oil mists and cigarette smoke, can cause it to overestimate exposure to diesel particulate matter.
Alternatively, the NIOSH 5040 method uses an analytical instrument to measure elemental carbon and organic carbon independently. Because it measures the elemental carbon portion of the total carbon produced, this method is regarded as a more accurate method of measuring diesel particulate matter than the Respirable Combustible Dust method. It is specifically required in Saskatchewan, Ontario, Quebec and Newfoundland and Labrador.
Industrial hygiene guidelines will suggest how often monitoring should be done, based on factors including the likelihood of exposure for the occupational group, number of employees and what they do, Grenier says.
"There are industrial hygiene rules that would prompt you to set up an appropriate occupational hygiene sampling plan for your operation as it pertains to diesel. And the mining inspectors would be looking for such a plan for every mining operation that they oversee," he says.
Over the last 20 years, concentrations of diesel particulate matter underground mines have been reduced significantly, Grenier says. But there is still progress to be made.
"This substance is a known human carcinogen, and there is no safe exposure levels for a carcinogen," he says. "So we need to continue down that road and keep lowering permissible exposure limits on an ongoing basis."
Linda Johnson is a freelance journalist based in Toronto. She can be reached at [email protected]
This article originally appeared in the June/July 2017 issue of COS.