WorkSafeBC offers prevention tips for employers and employees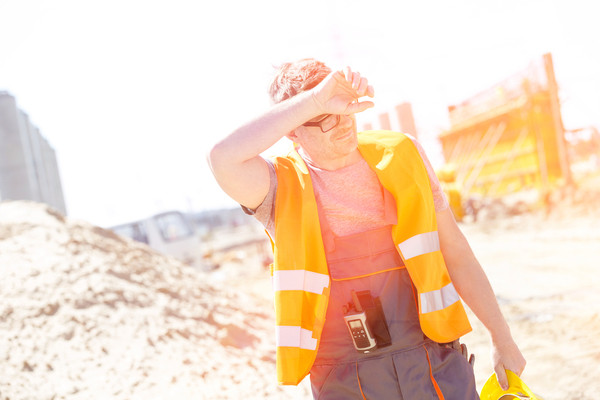 WorkSafeBC is reminding employers and outdoor workers of the risk of developing symptoms of heat stress this summer. Left untreated, heat stress can lead to injuries from heat exhaustion and heat stroke.
In 2017, there were 30 accepted claims for work-related injuries caused by heat exhaustion and heat stroke in British Columbia. The occupations with the highest number of heat stress-related claims last year included: landscape and horticulture workers, welders and metal fabricators, longshore, logging and forestry workers and construction workers.
"People who work outdoors face many risks when the weather gets hot," said Dan Strand, WorkSafeBC prevention field services director. "Employers are required to know if their workers are at risk, and need to perform a heat-stress assessment and implement a mitigation plan accordingly."
Heat stress occurs when your internal temperature increases faster than the body can cool itself. Symptoms of heat exhaustion include excess sweating, dizziness, fainting and muscle cramps. Symptoms of heat stroke include cessation of sweating, an increased breathing rate, confusion, seizures and even cardiac arrest.
WorkSafeBC recommends that employers ensure workers are not working alone when heat stress is a concern and that they continuously monitor heat conditions. There should be adequate first-aid coverage and emergency procedures in place as well as appropriate work-rest cycles. Physical modifications should be made to facilities and equipment to reduce exposure and work practices and policies should be adjusted to limit risk.
The agency also recommends employers rotate work activities or use additional workers to reduce exposure.
Workers can do their part by drinking plenty of water (one glass every 20 minutes); wearing light-coloured, loose-fitting clothing made of breathable fabric; taking rest breaks in a cool, well-ventilated area; and completing hard physical work during the coolest parts of the day, before 11 a.m. and after 3 p.m.
WorkSafeBC encourages outdoor workers to know their personal risk factors, such as medications and any pre-existing conditions, as well as check for the signs and symptoms of heat stress in themselves and co-workers.