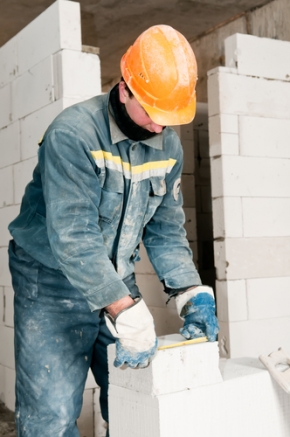 Hazards involving manual materials handling that can lead to musculoskeletal disorders (MSDs) will be the focus of the Ontario Ministry of Labour's month-long blitz in February 2012 at various workplaces across the province.
This month, Ministry of Labour inspectors will target workplaces in the construction, health care, industrial and mining sectors. They will focus on the manual lifting, lowering, pushing, pulling and carrying of materials that can lead to MSDs such as injuries to muscles, tendons, nerves and spinal discs. They will also check on the handling of clients in health care workplaces.
[Watch: A Ministry of Labour inspector explains what to expect during a workplace inspection.]
The blitz is part of the province's Safe at Work Ontario strategy to ensure compliance with the Occupational Health and Safety Act and its regulations.
"We are taking the prevention of these disorders very seriously, not only because they are so commonplace but also because they are so debilitating," Ontario labour minister Linda Jeffrey said in a statement. "Employers must identify the hazards and then work with the employees to eliminate those hazards. Safe and healthy working environments are in everyone's best interest."
In 2010, MSDs accounted for 42 per cent of all WSIB lost-time injuries, 40 per cent of new claim costs and 43 per cent of days lost at work in Ontario.
Since 2008, ministry inspectors have conducted more than 266,000 field visits, 36 inspection blitzes and issued more than 426,000 compliance orders.
During the month-long blitz on manual materials handling, ministry inspectors will focus on the following:
Construction Sector:
Inspectors will check on masonry, rod working, roofing, and electrical work in the homebuilding (low-rise and high-rise) and the industrial, commercial and institutional (ICI) sectors. They will focus on the moving and storage of materials, housekeeping, access and egress to work locations, work being done on ladders and maintenance of vehicles, machinery, and equipment that could lead to extra physical demands.
Healthcare Sector:
Inspectors will check on tasks such as lifting and lowering of items, pushing and pulling of objects as well as the use and maintenance of carts in support service areas such as housekeeping, food preparation and maintenance. They will also check on the lifting, repositioning and transferring of patients.
Industrial Sector:
Inspectors will check on tasks such as lifting and lowering of items, handling of materials on ladders, and pushing and pulling of objects. They will also check on whether work carts are being safely transported and whether storage areas are being organized and stocked properly to avoid unnecessary handling of items.
Mining Sector:
Inspectors will check on how items are being stored and transported, how items such as supplies and equipment are being handled, and whether devices are being used to assist in the handling of objects.