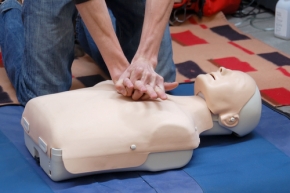 First aid and CPR training in the workplace is a vital component of an organization's overall health and safety. Health and safety professionals are advocating that more employees be certified and the Canadian Red Cross offers some ideas on how to accomplish that.
Compliance is the main motivator for workplaces to certify their employees in first aid and CPR. And while first aid and CPR training is just one component in the large occupational health and safety (OHS) field that companies deal with, its importance should not be overlooked.
There are at least two key aspects to consider with regards to first aid and CPR training in the workplace: first, the significant financial impact of injuries that lead to fines, lawsuits, absenteeism, back-to-work programs and compensation; second, how first aid and CPR training contributes to the well-being and quality of life of employees at work and in their personal lives.
One aspect that employers may be less aware of is that first aid and CPR are based on science and research that evolve over time. When the research findings change, the content of the training should change and, along with it, the skills employees need to have to respond to injuries and illnesses in the workplace.
Every five years, first aid and CPR practices are reviewed and revised to: 1) further reduce injuries and fatalities, and 2) to ensure the skills and principles continue to be the most effective.
The most recent International Consensus on CPR and Emergency Cardiovascular Care Science with Treatment Recommendations were released in October 2010. In Canada, these scientific recommendations are interpreted to fit workplace health and safety laws and local markets. This results in first aid and CPR guidelines jointly issued by the Canadian Red Cross and St. John Ambulance.
It is important for workplaces to know that very few national training agencies update their program with the latest scientific findings. We urge you to check with your training provider to find out when and if their training has been or will be revised based on the new guidelines available.
What has changed since your last certification?
Although there were several changes in the first aid and CPR science, the one that garnered significant media attention was compression-only CPR. The most important thing for workplaces to know is that the CPR they've been trained to perform (compressions with breaths) is still correct. Performing full CPR in conjunction with an automated external defibrillator (AED) immediately following cardiac arrest is the most effective care for a person in cardiac arrest and can greatly increase the person's chance of survival.
The Canadian Red Cross recognizes compression-only CPR is an acceptable alternative for members of the public witnessing an adult suddenly collapse and are unable, unwilling or untrained to perform full CPR—but we will continue to teach full CPR in all of our courses.
Compression-only CPR should not be used in the case of a drowning or when a respiratory emergency may have caused the cardiac arrest (which is often the case for a baby or child). For this reason, full CPR should always be used on babies and children.
There are also some key changes to full CPR, which include:
an immediate start on chest compressions followed by two breaths. Correctly performed chest compressions with minimal interruptions dramatically increase survival rates in out-of-hospital cardiac arrests.
increased compression rate. More compressions per minute with fewer interruptions increase survival rates.
increased compression depth. Deeper compressions result in better blood flow to the heart and brain.
In terms of first aid, there are also changes to areas such as airway obstruction, severe bleeding, heat emergencies, severe allergic reactions and environmental emergencies.
Making a case for more first aid and CPR training
Health and safety professionals indicate a number of challenges to increasing the number of employees trained in first aid and CPR. You can increase the number of employees trained beyond the occupational health and safety minimums by involving other departments. Here are some ideas when making a case for first aid and CPR training:
Employee benefits: companies are starting to include first aid and CPR training in their benefits package, reimbursing any employee for the cost of training. Talk to your group benefits plan administrator or contact your insurance company for more information.
Wellness programs: many companies introduce wellness programs to motivate employees and show their corporate goodwill. Is first aid and CPR training less important than a fitness allowance or a smoking-cessation initiative?
Corporate social responsibility: first aid and CPR training is more than just being compliant and avoiding fines. Providing this training to as many employees as possible could become a vital component of any corporate social responsibility program and receive as much attention as environmental issues or corporate ethics.
We encourage health and safety professionals to go back to the basics—review the corporate strategies and objectives, and find the best fit for health and safety within the bigger organizational picture. Remember: a health and safety professional is the champion for safety within your organization.