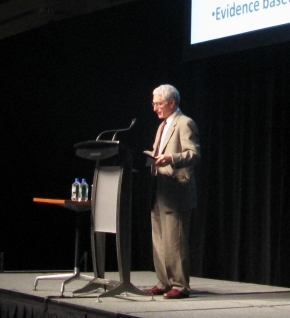 Government occupational health and safety systems no longer meet the challenges of today's workplaces, and policy-makers across Canada and the United States need to adopt a new approach, an OHS expert told a gathering at the Institute for Work and Health (IWH) in Toronto last week.
Michael Silverstein, clinical professor of environmental and occupational health at the University of Washington's School of Public Health, said keeping today's workers safe requires new solutions, including outsourcing inspections and making detailed, comprehensive OHS policies mandatory in all workplaces.

Silverstein is the recipient of the 2012 Alf Nachemson Memorial Lectureship, an annual event presented by the IWH.

Speaking on the topic, Thirty Years after the OHSA: Keeping pace with the changing world of work, Silverstein focused on four themes drawn from the 2010 Dean Report on Ontario's OHS system: the need to focus on prevention; the recognition that the workplace has changed dramatically in the 30 years since the province's OHS Act was passed; the inability of the government to enforce its regulations in every workplace; and the emphasis on evidence-based change.

The primacy of prevention over treatment, Silverstein said, was brought home to him when he worked as a physician in Boston in the 1970s. Children from run-down housing estates were repeatedly brought in suffering from lead poisoning. A senior doctor insisted colleagues ask themselves not just how to treat the disease but to understand its root cause. He learned the children were eating paint peeling off walls, and sanitation codes were being ignored.

"He asked us to dig even deeper," he said, "and he concluded the stress should be on changing society. So children's lives were more valued than landlords' financial well-being."

OHS policy, he said, must adapt to meet the needs of a workplace now characterized by an older, sicker workforce; an increase in work-related musculoskeletal injuries; structural changes, such as the shift from manufacturing and construction to services; a decline in union membership; higher expectations of interpersonal behaviour; a rise in the number of vulnerable workers, such as immigrants; and a decrease in permanent employment.

"New terms of employment are replacing traditional opportunities for lifetime employment with benefits with jobs that are so different that we don't have a common vocabulary to describe them. We talk about contingent, temporary, casual, contract, home-based, marginal or precarious workers. And we don't fully understand the consequences of these changes," he said.

"Research is beginning to show, however, that non-traditional workers have higher rates, frequencies and costs of workers' compensation claims than their permanent counterparts in the same types of work."

Despite these new hazards, Silverstein said, public systems of regulation, enforcement and education have remained largely the same since the early 1970s. Most OHS systems are designed around a conventional paradigm: a set of government rules establishes minimum acceptable performance; employers are expected to comply with these rules; and they are held accountable when the government conducts inspections.

In place of this paradigm, Silverstein offered a new approach to OHS policy. First, he said, every employer should be required to implement a comprehensive health and safety program, including management commitment, employee participation, training, exposure assessment, hazard control and medical surveillance.

"Programs like this only make sense if, at their heart, is a requirement to find and fix hazards with written documentation for what hazards are found, plans for fixing them and timetables for doing so," he said, adding such reporting will help everyone better track a company's performance.

Under the OHS Act, he noted, employers in Ontario are already required to write a health and safety policy, though the requirements remain general and likely difficult to enforce consistently.

Every workplace, Silverstein added, are also required to obtain an annual or periodic certification that its program was sound.

In the new approach, he said, government agencies, which cannot possibly inspect every company regularly, should engage licensed non-government organizations or individuals to do the bulk of inspections and certifications.

While policy must be based on good research that is aimed at identifying underlying causes of injury and disease, it must also be informed by values, Silverstein said.

"Good public policy takes place not simply as something that flows out of good information, out of science or evidence, but it only takes place at the intersection of evidence together with the values people bring to the table and the nature of the political process and the political agendas in the room," he said.

"We have to participate not only as scientists, as union representatives, as business executives, but we have to participate also as people who have values and as citizens with a stake in the political process."

Alf Nachemson was a founding member of the IWH Scientific Advisory Committee. The annual lecture was established in 2002 to honour his work.