Accidental workplace exposure can occur through skin absorption, needlestick, first aid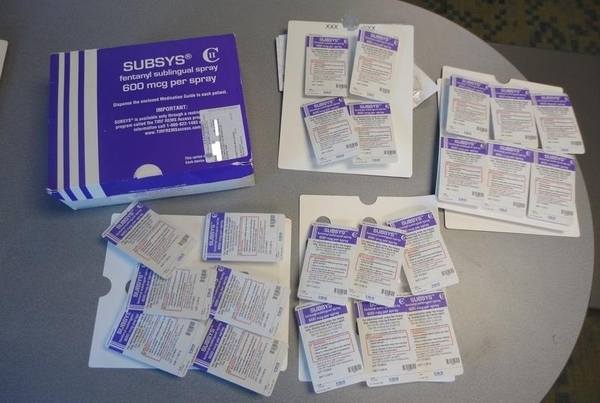 Canada is in the midst of an opioid crisis. According to a Health Canada report, the country saw about 2,458 opioid-related deaths last year and those numbers remain high in 2017.
But it's not just the users who are at risk. Police officers, prison guards, first responders and medical professionals are at risk for accidental exposure to fentanyl — a drug classified as an opioid that's prescribed as a painkiller, but often abused and obtained by illegal measures.
"Fentanyl is up to 100 times more powerful than things like morphine. So it's pretty scary stuff when you talk about exposures," said Ian MacDonald, constable at the Abbotsford Police Department in British Columbia. "Even at the granular level, it can be enough to either kill someone or put them into medical distress."
In July, six prison guards at the maximum security Edmonton Institution were exposed to fentanyl and two were hospitalized. That same month, one guard at Bowden Institution in Innisfail, Alta. had to be hospitalized for 48 hours after coming into contact with fentanyl.
Accidental workplace exposure to the odourless, often-fatal drug could occur through inhaling drug residue, absorbing it through the skin, through needlestick injury, conducting first aid on a user or by handling mail that may contain the substance.
Fentanyl's reach varies from province to province. The West Coast has the most severe rates of fentanyl overdoses. CBC cites that B.C. and Alberta's overdoses skyrocketed from 42 in 2012 to 418 in 2015. In fact, B.C. declared this a public health emergency in April 2016.
Street drugs are often laced with fentanyl or other opioids to make them more addictive and to create a "better high," said Andrea Furlan, senior scientist at the Toronto Rehabilitation Institute. This is why fentanyl and other variations of the drug are often undetected at first glance.
So how does the drug work? Opioids cause central nervous system depression.
"The person would feel immediately very drowsy and the other function of the central nervous system that is depressed is the respiratory system," Furlan said. "They'd stop breathing."
Opioids are generally safe to handle if they're in pill form because the body cannot absorb the drug unless it's ingested. It's when the drug is in a powdered form and particles become airborne, even if it's just a few particles, that it becomes dangerous to anyone handling it, Furlan said.
Toronto Police spokesperson, Mark Pugash, said that during an internal survey looking at all suspected opioid overdoses in the city in one year, the force found that in every case, paramedics were able to arrive and provide care. This extends to providing care in case of emergency for officers, adding that what works in Toronto might not necessarily work everywhere else, such as rural areas.
There are reactive and proactive ways to keep workers safe from accidental exposure on the job.
Pugash said that in the potential case of an officer being exposed, they could count on Toronto EMS to act diligently and swiftly to provide care, but stresses the importance of carrying naloxone, the antidote for opioid overdoses and exposure.
Naloxone blocks the effects of the opioids and reverts the situation, preventing an overdose. The antidote is often referred to by its brand name, Narcan.
MacDonald echoes the importance of naloxone training and carrying around the antidote, but adds that in order to keep a safe work environment, there needs to be a culture of awareness to the problem.
"Whether you're law enforcement or a health-care provider, the best way to keep on top of things is to know about them as they impact other jurisdictions and before they come to yours," he said. "You can always learn from others."
Furlan recommends wearing the proper safety garments including masks, gloves and protective clothing to prevent direct contact with powdered and often fatal forms of opioids, especially when dealing with a person who is under the influence of an opioid. Last December, Halifax police started donning hazmat suits, respirators and double gloves when responding to crime scenes were deadly opioids were suspected.
The Justice Institute of British Columbia launched fentanylsafety.com to outline safe work procedures for handling opioids for first responders. Some recommendations include: understanding your organization's policy on handling opioids; knowing the signs of exposure and being aware of individuals who exhibit those signs; treating all unknown substances as if they contain or are fentanyl; and knowing how to administer naloxone.
This article originally appeared in the October/November 2017 issue of COS.